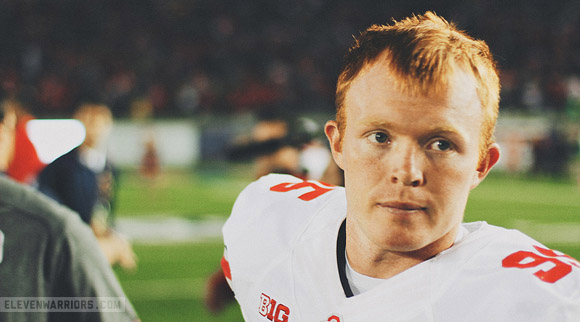 The lifestyle, food choices and climate might be different. But the one constant for Cameron Johnston is punting. Whether he's in Australia or Ohio Stadium, the technique and objective remain the same.
Since Johnston became a member of the Ohio State football team in June, he's become a media sensation. The Australian accent, red hair and booming punts have a way of garnering attention. Urban Meyer, Kerry Coombs and Buckeye Nation have also taken a liking to the punter from Down Under.
During the non-conference schedule, Johnston punted 12 times and gave up zero return yards. It looked like that streak would grow to five games, until Wisconsin returned the last of Johnston's six punts on Saturday night. Jared Abbrederis gained all of three yards.
Punters often go unnoticed, especially in games with large margins of victory. That was the case during Ohio State's first four games. But when he was finally called upon to be a factor in a close game, Johnston delivered with pinpoint accuracy, mimicking Phil Mickelson with a sand wedge.
"The way the quarterback throws the ball is the way we pass the ball [with our feet] back home," Johnston said. "You can be pretty accurate with where you want it to land."
Johnston punted six times. Each boot resulted in Wisconsin starting its drive inside the 20-yard line. Five began inside the 10. The Badgers scored 10 points on the ensuing drives following the poor field position.
The 21-year-old freshman was named the Big Ten's special teams player of the week for his efforts. No punt was bigger – or longer – than his final strike of the night. It traveled 55 yards and forced Wisconsin to travel 90 yards in 1:29 to tie the game. The Badgers ended up 84 yards shy of the end zone.
Johnston's average was less than 40 yards per punt, but distance is not the goal.
"If we want to ooh and aah, we can do that any time," Coombs said. "At the same time, teams that do that have returns that are extreme. We want to cover kicks. We want to split the field and make sure other teams don't return the ball."
It took one close game for Johnston to prove his worth. With another ranked opponent on tap, he could again be a valuable weapon at Northwestern, and a worthy gamble by the Buckeyes.
They had no punter after being spurned by one-time commit Johnny Townsend on National Signing Day. Coombs said they wanted to get the best, and the search took them halfway around the world. Johnston foresaw a college career in the United States, but Ohio may as well have been a village in the middle of the Sahara. Given 50 chances, Johnston could have pointed out the Buckeye State, though he may have exhausted his half a hundred guesses.
"As you would expect from someone coming in from not only a small school but a foreign environment, to come into this environment and perform is going to take a little bit of time," Coombs said. "Without the benefit of spring ball, I think his development is extraordinary."
It was Coombs who very nearly found himself in a foreign country – and on an 18-hour flight. A prospect from ProKick Austrailia sent Ohio State punting tapes, and the content seemed unbelievable. The subject had a leg resembling Paul Bunyan's. All that was missing was Babe the Blue Ox.
Booming punts played on a loop and left the Buckeyes' coaching staff impressed. But they wanted to see what Johnston could do when the pressure rose.
"I had to see him against the rush," Coombs said. "Next thing I know they're sending me video of guys in helmets and shoulder pads and these other jokers running at him. It's still not the same, but at least it showed you something."
The trip was nixed when Ohio State realized they couldn't watch Johnston live. That wasn't the end of the story, though. More aptly, it was the beginning. The Buckeyes offered a scholarship with Johnston happily accepting. He's one of dozens of ProKick's alumni that have played for Division I schools.
Almost four months later, Johnston has become one of the guys. He's popular among teammates for his outgoing personality and endless search for a good time. That voice also seems to attract attention, whether it's coeds who marvel over his voice or teammates who can't understand him.
"No one makes fun of him, but clearly, the way he talks is funny," wide receiver Philly Brown said.
Even LeBron James gave notice to Johnston. He stood near Johnston's practice net for the entirety of the first half. Finally, Johnston, all 5-foot-11 of him, strode over to talk to James. Chances are Aussie Rules Football wasn't part of the conversation. 
"We had a chat on the sideline," Johnston said. "Back home, you always watched him on TV. To actually have him there was a great experience. A few years ago, playing back home, you'd never think you'd meet someone like that."
He probably didn't ever imagine being graded out so sternly either. Even after being honored by the Big Ten and ranking in the top 20 of the nation in net punting and contributing to a top 20 punt return defense unit, Johnston received a harsh below average grade. Meyer said he was a C-. Forget the "A" game against Wisconsin.
"His average hang time was just under four seconds, which is completely unacceptable," Meyer said. "I'm seeing a little more pep in his step. The players love him, so I'm hoping we see a great deal of confidence that he can get the job done."
It's all gravy for Johnston. He's 21, seeing the world and playing a game he's fallen in love with. Now, he has a team – a brotherhood, as the players call it. Some tough love from a coach – or constructive criticism – isn't going to deter him.
"Being here at Ohio State, you get opportunities you don't get pretty much anywhere else in the world," Johnston said.
Plus, the morale is always good when you perform like a veteran in front of 105,000 fans in the Horseshoe.
Said Brown: "He's well-respected on this team by the way he punts the ball."