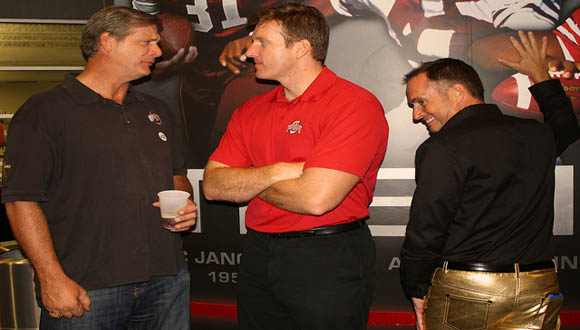 Another Eat Too, Brutus weekend is in the books and these just seem to get bigger and better.
The party started Friday night at the Woody Hayes Athletic Center, where the first Gold Pants Social was held. Guests were treated to amazing food and drink, conversations with Buckeye greats and more, all in a location that dreams are made of. Whether it was discovering Kenny Guiton's locker, learning the finer points of pass blocking from Jim Lachey, or just admiring the man in the shiny gold pants, it was a night to remember.
The best part? You helped us raise over $7,000 for the Gold Pants Club, ensuring Buckeye football players will receive those coveted charms for beating Michigan for the foreseeable future.
Saturday brought the fourth annual Eat Too, Brutus tailgate. 300 of you showed up to eat, drink and be merry, all while raising money for DownSyndrome Achieves. And you killed it. We will hand over more than $13,000 to the charity, easily surpassing our contribution from last year.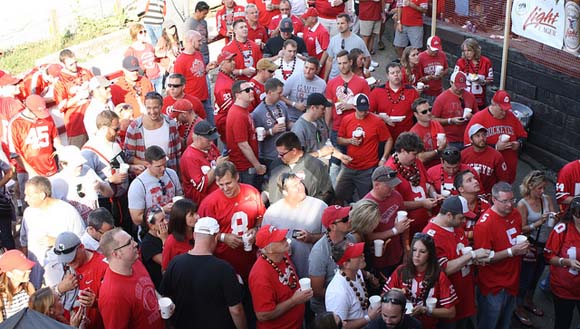 Whether it was an ensemble from The Ohio State University Marching Band kicking off the tailgate in style, the incredible food and drink, a loaded raffle, VIPs mingling with attendees, Mekka Don doing his thing, the perfect weather or any of the other amazing aspects to the event, it was a day to remember.
Just as importantly, the Buckeyes improved to 4-0 against ranked teams following Eat Too, Brutus. Virginia Tech, we're eyeing you for 2014, so consider yourself on notice.
We couldn't have done it without you guys and your passion for this school and the charities we all hold so dear, so thank you. It was awesome meeting so many of you – too many to name, sadly.
So, thank you to the best fans on earth. Thank you to all of our wonderful sponsors: City Barbeque, The Columbus Distributing Company, Land-Grant Brewing Company, and The Chop House. Thank you to guys like Bryan Hardy, who was kind enough to make and ship custom cornhole boards for the event and to guys like "Abe Froman" for showing up with the best bacon we've ever had. Thank you to the parents of players for stopping by to share stories about your sons. Thanks to all of the former players that showed up at the WHAC Friday night. Thanks to Dave Farris for snapping two days of wonderful photos. Thank you to the members of TBDBITL for rocking our socks off early Saturday. Thanks to Kevin Hampton and Michael Gutter for all of their hard work with tailgate prep. And thanks to everyone who contributed to help make these events a raging success.
Thank you, thank you, thank you.
We can't wait to do it again.