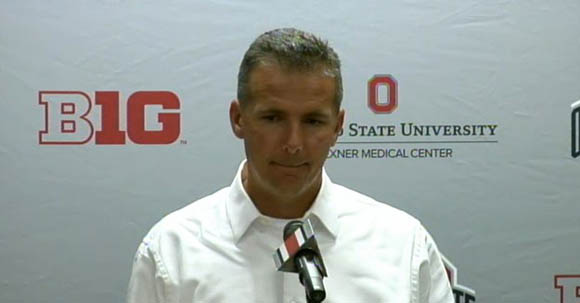 It's been more than a decade since an Ohio State-Northwestern game garnered this much hype, and 18 years since College GameDay set up in the humble northern Chicago suburb of Evanston. But come Saturday, all eyes will be trained on the picturesque Northwestern campus – GameDay in the morning and a football game in primetime on ABC.
Both schools are undefeated and ranked in the top 16. The Wildcats entered the season as an under-the-radar pick to steal the Legends Division. But just four games into their season, they've already shot to favorite status. For Ohio State, Saturday night is about a continuation of the previous week – defeating a ranked opponent and staying on the path to Pasadena.
The defense will attempt to corral a high-powered Northwestern offense that features one of the best backfields in the Big Ten with quarterback Kain Colter and Venric Mark. The Buckeyes will do so without its biggest leader on the unit – Christian Bryant. The senior safety and captain suffered a gruesome broken ankle injury on the penultimate play of Ohio State's 31-24 win over Wisconsin.
It will take a week of practice for Everett Withers to come to a decision on who will replace Bryant. For the first time in weeks, zero questions surround the quarterback situation. Braxton Miller razzled and dazzled the third-largest crowd in Ohio Stadium history.
Believe it or not, it will take another A-game performance for the Chase to march on.
Urban Meyer
Offensive champions: Marcus Hall, Devin Smith, Evan Spencer. Co-players of the week were Philly Brown and Jack Mewhort.
Defensive champions: Adolphus Washington, Michael Bennett, CJ Barnett and Ryan Shazier (player of the week)
Special teams player of the game: Devin Smith
Meyer said the wide receiver position is the area that's improved the most on the team, dating to last season.
"Very pleased with the effort. We had a shot to our team losing Christian Bryant, but the sign of a good team is how do we respond… I can't say enough good things about Christian Bryant."
Tommy Schutt is still a couple weeks away. Other than Schutt and Bryant, Meyer said Ohio State is healthy. 
Meyer doesn't believe there's a possibility Bryant could return next year, but he added that he's going to look into the sitation. 
Pittsburgh Brown, Tyvis Powell and Vonn Bell are the next guy's up. Kerry Coombs said as of now, Brown will be the starter. 
Meyer said it's difficult to replace Bryant, a guy who's a good player and valued leader. "That's where I trust the assistant coaches. I have great confidence in them this year. This week we face a very complicated offense. Last week we had errors in checks and communications and we can't have that. That's where Pitt Brown has an advantage."
In practice last week, Meyer said Braxton Miller performed as well he ever has. "I thought his accuracy on the deep ball was excellent. I thought he did well."
Meyer said Roby didn't play up to "Roby standards" Saturday, adding that the he was put on an island because Ohio State keyed on stopping the run so much. 
One of the biggest wins of Meyer's career at Bowling Green came at Northwestern in 2001. It helped jump-start his career and remains one of the top wins in BGSU history. Meyer went on a couple minute spiel, reliving nearly every detail of the game. He said the Falcons celebrated in the locker room for more than two hours after the game. 
"We have to get Hall more involved, those are our top 2 backs and that's what we're working on – we need to get Jordan more involved."
"It's awesome [to have multiple running backs]. What's difficult is when you don't have the pieces you'd like. It's hard when you've got a kid who works hard and does everything right not getting the ball. That's why we worked so hard to get Spencer the ball a couple of weeks ago."
Meyer said the only way Ohio State was going to lose the game once it staked a 17-point fourth-quarter lead was turning the ball over, hence the conservative play-calling.
Philly Brown is the leader in the wide receivers meeting room, according to Meyer. He said there's a reason Brown and Smith constantly grade out as champions. Meyer said at this time last year Brown didn't have much of a future at Ohio State. Now, he's become the biggest turnaround on the team.
"Our kids can get open and we can complete the deep ball. That's a big part of who we are. We have more explosive pass plays than I think I can remember ever."
Cameron Johnston had not allowed a return yard until Saturday night. Still, Meyer said he was only a C-, in his opinion. That changed after he pinned Wisconsin inside the 20 six times. His last punt made the Badgers have to drive 90 yards to tie the game. They gained six yards. 
Tom Herman
"He's probably the closest thing we have to a rah-rah guy." -Tom Herman on Philly Brown.
Brown didn't take his work in the classroom or on the field too seriously last year, Herman said. He said he was only 75 percent in.
Herman said there were justifiable reasons for the offense slowing down with a 17-point fourth-quarter lead.
There was never a doubt Carlos Hyde's carries were going to increase, Herman said. But he didn't plan on Jordan Hall to only get one carry. Herman said it was his fault that Hall only received one carry. Said he fell back into some old habits as a play-caller.
"We failed him a little bit. It certainly wasn't by design." -Herman on Hall.
Miller's big-time throw to end the first half never would have happened last season, Herman said, because Miller did not trust himself. "He worked his as...tail off to correct himself." Still, Miller didn't grade out particularly well. Herman said there were too many mistakes.
Herman says Guiton is one of the most amazing human beings he's ever met. He proceeded to tell all employers to hire Guiton.
Herman said message boards exist for fans to discuss things that will never, ever be talked about by coaches in meeting rooms.
Kerry Coombs
Said he is encouraged by Cameron Johnston's progression. Coombs said it's tough to come into foreign environment and perform.
"He had a great game on Saturday, but I believe there are better days ahead for him. He can kick it a mile, but it's not our philosophy. Hang time is critical, and he is getting much better at that.
"Obviously, we look through Ohio for all of our players first. But we had to find the best one we could. Urban said go find a punter. We had film coming in from everywhere. For some reason, punters from Australia have had success. This kid happened to already be 21 and also have played Australian Rules football. We brought him here and had to figure out if he could handle a rush.  But I really like the kid.  We put a great amount of pressure on these kids but he is hard to crack.  It was against the rules to watch him punt in person.
Coombs said Bradley Roby had 27 production points in Saturday's game before some points were taken away. "You have to understand the context of our defensive strategies. It's not unrealistic to expect him to shut guys down. We put him on an island and accomplished what we needed to accomplish – stop the run."