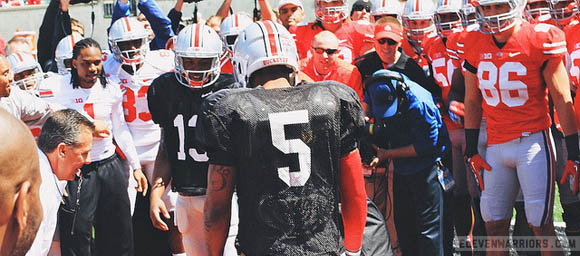 The opponents might not be topnotch. Someone who doesn't care, though, is Kenny Guiton. His job is to relieve starting quarterback Braxton Miller and attempt to minimize the talent drop off. But raising it – that seems impossible.
Not if you're Guiton, someone who's been doubted more than once. Never again after a three-game streak that's included a 68-percent completion percentage, 643 passing yards, 12 touchdowns, two school records and one national player of the week honor.
All that doesn't change the fact that Miller is most responsible for Ohio State's undefeated season in 2012, even with Guiton's heroics against Purdue. While the Heisman Trophy has bid Miller adieu for this season, he's still a dynamic playmaker that gives the Buckeyes an added dimension in a sport where difference makers can provide the slim margin between win and loss.
It's why head coach Urban Meyer hasn't budged on the situation at quarterback.
"[Miller] is our starting quarterback," he said. "Our backup quarterback has earned some time. I can't begin to tell you [how much]. I've been going through some scenarios in my mind and I don't know what it is. I'm going to see how we practice this week. But Braxton is our starting quarterback."
What Guiton has done is make Meyer's decision difficult.
"He's been everything, really, to be honest with you," tight end Jeff Heuerman said about Captain Guiton.
It's possible you could see Miller and Guiton on the field together. Guiton is a master at running the option and Miller's world-class speed is a weapon. Don't think Meyer doesn't want to keep opposing defensive coordinators guessing, either. However, the more likely development is Guiton receiving a few reps each game.
"We didn't have that dilemma a year ago. Or not dilemma, but luxury," Meyer said about Guiton's services. "We're in the conversation about that right now. If he's one of the best 11, you have an obligation to get him on the field a little bit."
In his first career start last week at Cal, Guiton orchestrated 52 points and the longest play from scrimmage in school history. He followed it up with a school-record six touchdown passes against Florida A&M. And they all came in the first half.
Guiton has become a folk hero and captain at Ohio State, and a national sensation. He spoke to his parents for over an hour last week discussing the journey to today. It's gone from Eisenhower High School in Houston to Columbus with several detours and near diversions along the way.
"He's been everything, really, to be honest with you." 
Prairie View A&M was going to be Guiton's destination until the Buckeyes came calling with an offer in the 11th hour. But after three years at Ohio State, Guiton's dream scenario almost came crashing down. A poor attitude rubbed the new coaching staff the wrong way, and as Meyer says, it nearly earned Guiton "a one-way bus ticket" back to Houston.
"If you knew where he was in January, a year and a half ago; can you imagine being his parent right now – how cool that would be," Meyer said. "If you buy stock, buy stock in Kenny Guiton, because what he's going to do after football someday, it's going to be really neat."
Miller's sprained MCL is either worse than previously thought or continuing to improve. On College GameDay, quarterback guru George Whitfield said Miller's knee is almost 100 percent, but the coaches wanted to hold him out. Following Saturday's game, Meyer had a different version. He said Miller didn't want to play because his knee still wasn't healthy enough.
"I wanted to play him," Meyer said. "Braxton felt like he couldn't go. He tried really hard. We had a good week of pushing him through, but with good athletes those are tough injuries."
Said senior center Corey Linsley, who doubles as a captain: "He's good. He's been getting his mental reps. You can see the look in his eye. He's excited about getting back in there."
The bruised knee could hamper his mobility, which is a big component in Miller's repertoire. Designed runs and eluding pressure make him one of the nation's top quarterbacks. Miller has been fitted with a knee brace, and Meyer said he's getting used to the restrictiveness of it and being limited laterally.
Miller's throwing is deceptively good. He threw for more than 2,000 yards and 15 touchdowns last season with only six interceptions. All told, he was the Big Ten's second-most efficient passer. His running, though, gives Ohio State a distinct advantage in the slow, prodding Big Ten.
The Buckeyes face two ranked foes in consecutive weeks – Wisconsin and Northwestern. Each game factors in greatly in both the conference and national championship race. The notion of Ohio State going undefeated sans Miller before the season would have elicited eye rolls. But now the whispers have grown louder, reaching a crescendo after another record-setting day by Guiton.
His fan club now counts millions as members. Losing a starting job due to injury isn't the norm, though some say Miller is too fragile. Should Meyer bench the nation's leading touchdown passer?
This isn't the first time a quarterback controversy – real or perceived – has made its way to Columbus. Kent Graham-Kirk Herbstreit, Bobby Hoying-Bret Powers, Stanley Jackson-Joe Germaine, Troy Smith-Justin Zwick and Todd Boeckman-Terrelle Pryor have been battles of the past, with end results that often undermine the team.
"I'm a team player," Guiton said. "I've been a team player for five years. That won't change. But playing has helped me be more of a leader. Now I know I can have an impact here."
Incredibly, Guiton is the quarterback that's become a darkhorse Heisman contender.
"I don't know how many snaps he played before our staff got here," Meyer said, referring to Guiton, "but he probably didn't play any and it's not because the staff was screwing him over, he just wasn't very good in a lot of areas.
"He's an underachiever. And to an underachiever, that's fighting words. He's an efficient player right now, an incredible manager. He was prepared and [Tom Herman] and him did a very good job. It's not by accident that this thing happened now. It's not because he had the buckeye in his pocket or his lucky T-shirt. It's because he worked hard with the position coach to get ready for his opportunity, and, boy, did he."
Guiton chooses to call the moments that not even he foresaw blessings.
"The guy is the best in the business," Herman said.
Even so, his moment in the sun is beginning to cool off.