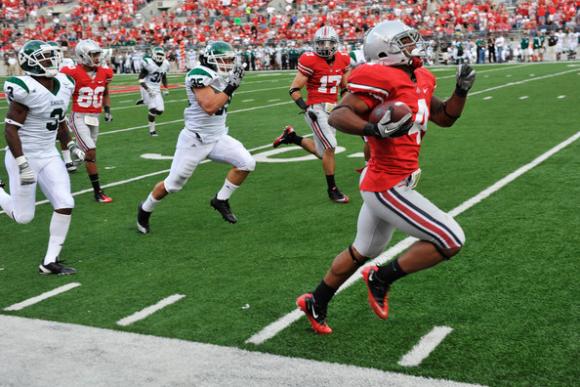 Once upon a time in 2007, the University of Michigan thought that it would be a cool idea to put the twice-reigning FCS champions Appalachian State on their schedule to start their season. We all know how it turned out, but for the purposes of this story I thought I'd look up the game preview from the AP:
Michigan, entering its 128th season, made Appalachian State its 138th opponent when the school wanted to rearrange the schedule to add an eighth home game and 12th overall.

The Wolverines, who hadn't played a Division I-AA program, agreed to pay their opponent from Boone, N.C., about $400,000 as a tuneup before hosting Oregon, Notre Dame and Penn State the next three weeks.
Early season non-conference games against crappy opponents are always couched in jargon like this. There's always an implicit apology by the media for what people are about to witness, a mention of upcoming opponents that you actually want to see the team play, and a reference to the money that the school is shelling out to whatever patsy is willing to take an ass-kicking on national television.
Ohio State has scheduled and subsequently destroyed many unranked, out of conference opponents from both the FBS and the FCS since 2007. Tomorrow they're going to do it again, will likely win by a gajillion points, and soon the memory of the Florida A&M Rattlers will fade like so many episodes of Grace Under Fire from my memory. And that's sad, because I think a day is coming soon when we're going to have to take these games much more seriously than we do right now. The dark specter of parity is upon us, and Appalachian State was just the beginning.
But I don't want to lose the memories of these games, and because of that I thought that just for today we could pay homage to the beautifully and brutally stomped out of conference Buckeye opponents since 2007.
What that goal in mind, I identified 21 just straight up assy Ohio State opponents in the last six seasons that they were expected to roll. The average score of those games was a maybe-surprising-but-probably-not 40-11. 40-11 is the kind of score you look at in the newspaper the next day because you fell asleep halfway through the third quarter (and apparently subsequently traveled to a magical world where print isn't dead) and go "Huh. Yeah that seems right."
And for most of these games you'd be justified getting your beauty sleep rather than watching Rob Schoenhoft go 3/6 for 8 yards of passing.
But buried in those 21 craptacular games are little moments and incidents where you wouldn't, moments that justify a game that's essentially the football equivalent of porn: generally disinterested actors going through the motions for a paycheck (as an aside, there are like a million fun ways you can add on to that analogy).
In 2007, for instance, Louis Irizarry made his triumphant return to Ohio State by leading his Youngstown State Penguins to a 38-6 defeat in the season opener. Irizarry had been kicked off the team in 2004 for jumping and robbing another OSU student at 3 in the morning. Tailback Ira Guilford was also involved, and subsequently cut bait and testified against Irizarry, sending the latter to prison.
I'm not sure what Irizarry is up to these days, but back in August he tweeted a picture of a baby turtle so things can't be going too badly for him.
The next season Ohio State played the Ohio Bobcats, and for one brief moment in time Ohio QB Boo Jackson put together one of the most hilariously effective drives in cupcake history.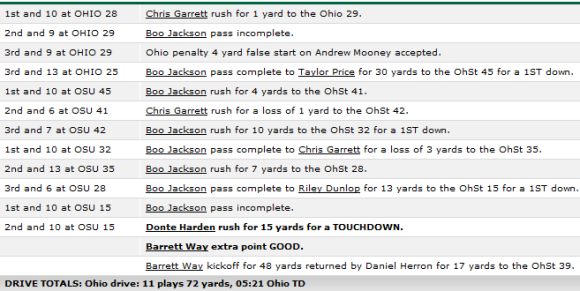 That drive is easily one of the funniest things I have ever seen on a football field. With any Jim Tressel game you always figured that the team had about a 30% chance to lose no matter what the opponent, but watching the collective buttholes of 105,000 people clench over the course of 72 yards as a lightly regarded Bobcat team looked kind of awesome while taking a 7-3 lead in the second quarter was incredible.
For five minutes and 21 seconds, Boo Jackson was a football god. Then of course the universe righted itself, and Boo would only complete six more passes for the rest of the game. Also Boo's Twitter sadly does not contain any pictures of infant sea creatures. Such is life.
The 2009 game against Navy was won through a last second pick of a two-point conversion by Brian Rolle. Ohio State fans mostly just discussed the travesty of the fact that the INT was necessary but in retrospect the whole thing was pure beauty from start to finish, not in the least because it prompted this exchange between Chris Spielman and Bob Griese:
Griese: I don't like the call.

Spielman: Woah, why?

Griese: I don't like the call. Y-You're taking, you're the weak- you're askin' your little quarterback to throw uh, a pass in... the secondary where all these little guluguhl all these buccaneers, all these... GUYS are back there!
Mmm you certainly do have a way with words Mr. Griese.
I was actually at the Eastern Michigan game in 2010, serving as Eleven Warriors' beat writer in those dark ages before we could hire dudes to do fun stuff for us. Most people remember that as the day Jim Tressel decided to punish Ron English to the tune of 73 points, but I'll always remember it as the day that Ohio Stadium got its first real taste of the Kenny Guiton experience.
It wasn't the first time that Guiton got snaps in his career, but it was the first touchdown drive that he led, and the shot I was able to get of Terrelle Pryor hugging Kenny G and yelling YAAAAAAAYYY is hopefully going to be etched on my tombstone. Also notable about that game: I parked too far away from the stadium so Tim May gave me a ride back to my car. I like Tim May.
---
That's not the end of it, of course. There's a thousand other weird little things that sportswriters try to wrong out of a game that most people consider to be an afterthought, but because our attention spans usually aren't long enough to ruminate for hours on the implications of a sweet stiff arm by Beanie Wells, so eventually that's what they all become unless something truly ridiculous happens.
Maybe that's why these cupcake games are a little sad. College football is entertaining because it has a purposefully hierarchical system that we love to see upended... as long as it isn't when our favorite team is playing. So we're forced to root for boring and predictable, and our soul dies just a little bit.
My take on it is this: enjoy it for what it is. No, Florida A&M is probably not going to put up even a little bit of a fight, and yes, having universities offer up their crappy teams as sacrificial lambs for big school money is weird and kind of wrong. But there's humor to be had, dammit, and maybe that's reason enough.
Because with the way the FCS is improving, at some point this will be us and it will be less ha-ha funny and more "oh God what is going on" funny:
Even though the Wolverines are expected to win easily Saturday at Michigan Stadium, they're treating Appalachian State with respect.

"They have won two consecutive championships, so obviously they have a good program," linebacker Chris Graham said. "They may not be at our level, but they have athletes that can hurt us if we overlook them."
Haha aw geez!