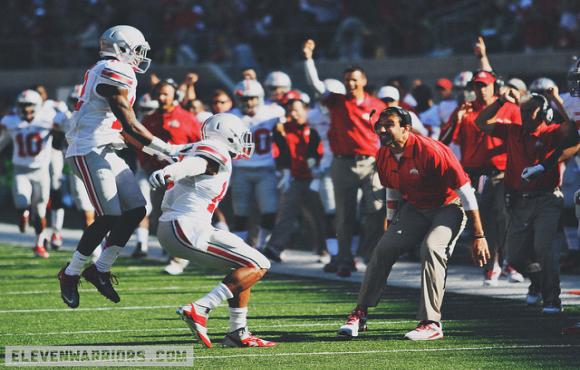 It wasn't until three minutes remained in Ohio State's romp at Cal that head coach Urban Meyer finally felt comfortable. When the final score is a three-score margin, Meyer's thinking might elicit a few sideways glances. But when the opponent has numerous big plays and totals more than 500 yards, comfort is not the operative word.
Following a 52-49 win over Indiana last season, Meyer steamed. The performance was so bad that the offensive-minded head coach, made famous by driving opposing defensive coordinators silly, took a larger role on the other side of the ball. The Buckeye defense steadily improved and ended the season as the second-ranked unit for the month of November.
The first two weeks of 2013 yielded positive results, and then Cal went an spoiled the party. The Bears' first two scoring drives ended on 61- and 42-yard pass plays. Ohio State notched a 52-34 victory, but Cal ended the night with 503 yards of offense and broke 16 – yes, 16 – tackles.
"We want single-digit missed tackles," Meyer said.
This isn't the first time the Buckeyes had issues with missed tackles. It wasn't even the first instance the problem has arisen against Cal. Ohio State defeated the West Coast school by a slim seven-point margin last year, thanks in part to a plethora of failed wrap-up attempts.
The escaped tackles led Meyer to institute tackling drills in practice each day of game week. The process has been repeated ever since. It's one of the game's simplest fundamentals, yet proper tackling technique has become a lost art.
"One thing I take personally is poor tackling," former Buckeye linebacker Chris Spielman told the Detroit News. "I tell little kids, 'Hit with your eyes.' If you wrap up, there's a chance of knocking out the football and securing the tackle. Tackling is atrocious. There is so many missed tackles. Head up, wrap up, stay off the head — you need to hold them to that standard. We need to keep preaching that message to high school players."
Meyer and defensive line coach Mike Vrabel have made sure the Buckeyes don't fall victim to a growing trend in football. In a game where wins and losses are decided by a few plays, one missed tackle can ruin a season.
"We talk about trying to have less than 10 missed tackles a game," Vrabel said. "If we can do that, we're probably going to win the game. The yards after those missed tackles are kind of what kills you."
Vrabel and linebacker Ryan Shazier each confessed that Cal plays a style of offense that promotes missed tackles. It gets receivers in space and forces defenders to make tackles on an island. It's different than lining up against a power team and bringing down ball carriers in the B gap. 
Meyer's overall thoughts on the defense were mixed, even verging on positive. This isn't the defense of the first half of 2012. It took the Bears 90 plays to get all their yards, and while many would point out they ran 90 plays because the Ohio State defense allowed it, the Buckeyes managed to force four punts. Their own eight scores also contributed to Cal's play total, which meant an average of 5.5 yards per play.
What Meyer witnessed on the field, though, wasn't a defense that came unglued. He saw promise and continued growth. Aside from a veteran secondary, the Silver Bullets could just as easily be called the Green Bullets. The linebackers and defensive line are young and inexperienced.
Curtis Grant and Joshua Perry have only started a handful of games combined at linebacker, while Adolphus Washington, Michael Bennett, Joel Hale and Noah Spence have all started less than five career games.
"The thing that I always look at is effort," Meyer said. "I felt like at one time last year there was a bad one. I don't believe there's an effort issue. As a matter of fact, I thought our guys played very hard.
"We knew they were going to get their yards. You're crazy if you think you're going to just shut them down."
Shazier, who earned Big Ten defensive player of the week honors after collecting 12 tackles, a sack and a forced fumble, admitted Cal caught them off guard. Uncharacteristic foolishness from Shazier, a team captain, caught Meyer off guard.
Shazier chased quarterback Jared Goff out of bounds, but kept pursuit and hit him a yard off the field. It drew a 15-yard personal foul penalty and a tongue-lashing from Meyer.
"That was a dumb thing I did," Shazier said. "I saw him still in bounds a little bit, so I just took my shot. I shouldn't have done it."
He also should have ended up with more tackles, according to Meyer. When those 16 missed tackles were added up, five were credited to Shazier, who was deemed a culprit.
"They were bound to break a couple runs and get a couple of big plays," safety Christian Bryant said. "It happens."