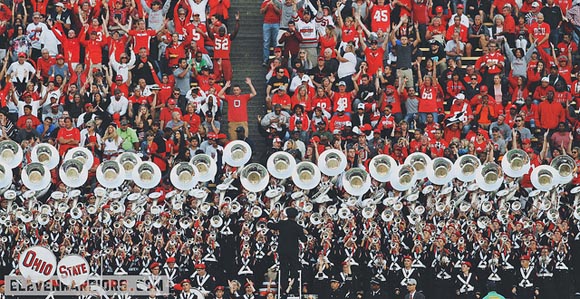 Do you like offense? You do? Well, you're in for a treat as we take a look at 12 GIFs that tell the story of Ohio State's 52-34 win over Cal Saturday.
Ohio State fed off the energy of a pseudo home game, with many later commenting on Twitter about the massive turnout of Ohio State fans.
Kenny Guiton and Devin Smith got the party started early, hooking up on this 90-yard pass and catch – the longest play from scrimmage in Ohio State history – on the Buckeyes' second offensive play of the game. Smith finished with three receptions for 149 yards and two touchdowns.
There's nothing quite like seeing freshman speedster Dontre Wilson get the corner on a defense. Wilson carried the ball five times for 59 yards Saturday, good enough for 11.8 a pop.
Smith's second touchdown reception of the game, putting the Buckeyes up 21-0 six minutes into the game. Guiton was 3-3 for 141 yards and two touchdowns at this point, good enough for a burly 714.8 quarterback rating.
Ryan Shazier is held, doesn't matter, and gets an early sack, causing a fumble, which Michael Bennett recovered.
Cal's first touchdown stopped the bleeding somewhat. Freshman quarterback Jared Goff finds James Grisom over busted coverage and Grisom takes a shove from Bradley Roby 61 yards for six.
After a Kenny Guiton fumble, Cal coach Sonny Dykes got greedy and dialted up a flea-flicker. It fooled nobody and Christian Bryant made the Bears pay with an interception.
Cal's second touchdown came at the end of the first quarter on this nifty 42-yard screen pass to Chris Harper.
After Cal had cut Ohio State's lead to 11 at the half, Kenny Guiton picked up a huge first down on 4th-and-1, running the option beautifully.
A closer look at the Guiton run shows center Corey Linsley killed a man.
On Ohio State's next possession, Guiton finds Philly Brown for a pretty pass and catch to put Ohio State up 45-20.
Jordan Hall caps Ohio State's scoring with this 2-yard plunge – his third touchdown of the afternoon.