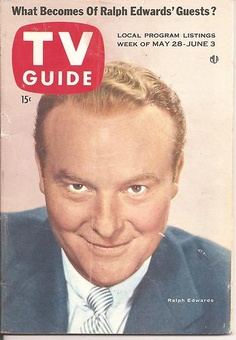 A mostly bare and uninteresting Week 2 gives way to a game week full of compelling matchups in the 2013 college football season. In addition to the marquee non-conference matchups of the week, notably the four-part Big Ten-Pac 12 War on Saturday, there are couple SEC conference games to dominate their time slot. The headliner is clearly Alabama at Texas A&M, which is being billed as a "rematch" by people who have zero understanding of how conference and divisional scheduling work.
This week's TV Guide cover features Ralph Edwards, a 1935 graduate of the University of California at Berkeley whose creation of the Truth or Consequences game show in 1940 changed the nature of television, and this town in New Mexico, forever. He also helped charter, and produced, People's Court, another first of its type.
Here is your schedule for this weekend.
Thursday
Texas Christian @ Texas Tech (ESPN, 7:30 p.m.). Thursday night football features at least one top-25 team when the no. 24 Horned Frogs travel to Lubbock to play the Red Raiders, or Airraiders, if you will. The offense-defense distinction between both programs will be the narrative of this game, other than David Pollack and Jesse Palmer spending at least 30 percent of the telecast talking about the Alabama and Texas A&M game.
Texas Tech's offense has been fine-tuned with the addition of alumnus Kliff Kingsbury and departure of Tommy Tuberville, who was never quite dedicated to the Airraid offense but was smart enough to know he was not in a position to completely overhaul what Mike Leach had done before him. Across the field, Gary Patterson is still one of the country's greatest defensive minds, certainly with the nickel defense. The game could be a "unstoppable force v. immovable object" type of contest, to borrow that ancient logical paradox that I will always attribute to Gorilla Monsoon.
Maybe I am overselling the contest. While Gary Patterson is an innovator of the nickel defense, his Horned Frogs are a shell of what they were during Texas Christian's 2010 undefeated season. It is hard to know too much about the Red Raiders at this juncture, though it currently is the second best passing offense in the country. It waxed a FCS team by almost 50 points last week, but that win against Southern Methodist to begin the season does not look good right now. Southern Methodist beat Montana State, a FCS team, by one point last week.
Your other viewing options kick off concurrently with this game. Troy plays at Arkansas State, a game to be shown on ESPNU. Louisiana Tech hosts the Tulane Green Wave on Fox Sports 1.
Friday
Air Force @ Boise State (ESPN2, 8:00 p.m.). Friday night football features, surprise, Boise State. The blue turf of Boise will be the setting for this Friday night Mountain West Conference game. Anyone remember Boise State? The Broncos went from being an up-and-coming football team about which everyone had to discuss every Saturday, to simply a decent mid-tier team of which everyone forgot.
Games like Boise State's Week 1 humiliation in Seattle, following a feeble season-opening loss last year at Michigan State, have not helped Boise State's case. In fact, the loss at Washington led this Boise State beat reporter to lament that Boise State's signature offense has been stripped of its "Boise State-ness".
But fear not, Broncos fans. Swagger is high after Boise State beat some dude named Tennessee-Martin, 63-14, last week.
"The 'stache is back," senior quarterback Joe Southwick said at Monday's press conference," so look out."

Southwick, whose mustache coincided with his hot play in the final four games last season, went scruffy for the opener against Washington. He returned to the mustache for the UT Martin game and tossed five touchdown passes.

"It's back and I think the mojo was working," Southwick said. "I threw a couple touchdown passes, we scored a lot of points, so it's sticking around."
Boise's back in the saddle, baby.
Saturday​
Stanford @ Army (CBS Sports Network, 12 p.m.). The no. 5 team in the country, the Stanford Cardinal, is visiting West Point in a game that resembles an exhibition contest you would play in your EA Sports game. The Cardinal may or may not be on your radar this season, but there is at least some curiosity on my part to see how Stanford, which may arguably have the best front seven in the country, deals with death by a thousand cut blocks. Army is not a great football team, but service academies mess with everyone. Just ask Indiana.
Louisville @ Kentucky (ESPN, 12 p.m.). What was college football's story of the summer? I could make a case for the consideration of Kentucky, of all programs. A reliable cellar-dweller in the Southeastern Conference, Mark Stoops, Kentucky's new head coach, is trying to use the conference's luster to Kentucky's benefit, much like Vanderbilt climbed from the gutter with James Franklin through a similar appeal.
The result, so far, is a recruiting raid on Ohio that has been somewhat soul-crushing for the Big Ten's mid-level programs and has led to a lot of braggadocio from Kentucky fans otherwise used to huffing and puffing #BBN on Twitter during basketball season.
Kentucky followed summer's momentum with a season-opening loss to Western Kentucky, cementing itself as no greater than the second best team in the Bluegrass State. A (likely) loss to Louisville would bump the Wildcats to third best.
Kentucky gets a bye after this game against no. 7 Louisville. Thereafter, it hosts no. 18 Florida, goes to no. 13 South Carolina, and hosts no. 1 Alabama in succession. Ouch.
Akron @ Michigan (BTN, 12 p.m.). A week after a thrilling late night victory against the Fighting Irish, Michigan goes from prime time to noon time against another MAC team. Is it too much to ask Devin Gardner to follow that derptastic interception against the Irish with a similar bone-headed play against the Zips? I hope not.
Western Illinois plays at Minnesota, and Michigan State hosts Youngstown State, at the same time on BTN. Odds are BTN is showing the Michigan-Akron game.
Tulsa @ Oklahoma (ESPN2, 12 p.m.). Is anyone paying attention to the Sooners? Oklahoma is the annual college football power that everyone forgot still plays football. After beginning the season with a ho-hum 34-0 shutout of Louisiana-Monroe, Oklahoma won a conference game against West Virginia, 16-7 in Norman. Last year, the Mountaineers and Sooners' game in Morgantown ended in a 50-49 Sooners win. Both left their offenses in Morgantown.
Blake Bell, aka "the Belldozer", or "Trailer Park Tebow", will start this game for Oklahoma, following a knee injury to Trevor Knight.
UCLA @ Nebraska (ABC, 12 p.m.). This is the first game of four between the Big Ten and Pac 12 on Saturday.
Remember Nebraska's defense last year? Of course you do, because it was hilarious. Ohio State fans had fun throwing kerosene on that dumpster fire in Columbus, but arguably not as much fun as UCLA fans had. This is the return leg in a home-and-home series that saw UCLA run over Nebraska's defense in the Rose Bowl last year. The "Blackshirts" conceded 653 yards to UCLA last year, split somewhat evenly between 309 passing yards for the then-freshman UCLA quarterback, and 344 rushing yards.
This is one of two games on Saturday featuring two top 25 teams.
Boston College @ Southern California (Pac-12 Network, 3 p.m.). Most college football fans just assume Lane Kiffin's dismissal by Pat Haden is a fait accompli. Perhaps, but that his sacking should be expected within the next few weeks seems premature of college football fans, who are now instinctively about instant gratification. Should the Trojans struggle with Boston College or, worse yet, lose to Steve Addazio's squad, then, yeah, I can envision Pat Haden firing Lane Kiffin during a post-game press conference that will probably be done on YouTube.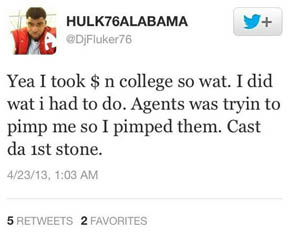 Alabama @ Texas A&M (CBS, 3:30 p.m.). Enough has been said about this game, the second of two games on Saturday to feature two top-25 teams. It will be Uncle Verne and Gary Danielson's triumphant return to television this college football season. So, if you like guffawing, or people who were used car salesmen in another life, this is the crew and the game for you.
Tennessee @ Oregon (ABC, 3:30 p.m.). Remember when Tennessee tried to chicken out this game at Oregon? Credit the Volunteers for at least maintaining the commitment to this home-and-home series. Expect Tennessee to flex its SEC muscle early in this game. Then, expect Oregon to score a fillion points.
This happened in the 2010 game in Knoxville, for those of us that remember watching this game in detail. Tennessee won the first quarter and took a 13-3 lead with less than a minute expired in the second quarter. This led to the ESPN2 crew to talk up the SEC difference, about which Oregon was unaccustomed. Thereafter, Oregon scored 45 unanswered points and won the game handily.
Nevada @ Florida State (ESPN, 3:30 p.m.). The no. 10 Seminoles make their return to college football after taking a bye following the season-opening Monday night game at Pittsburgh. It is hard for Jameis Winston to play much better than he did against Pitt's defense that night. His 25/27 passing performance, for 356 yards and four touchdowns already has the redshirt freshman in Heisman consideration.
If you need further proof that Heisman voters and college football pundits love bright, shiny things and the new hotness, I honestly do not know what else to tell you.
Georgia Tech @ Duke (ESPNU, 3:30 p.m.). Who are we kidding. You're not watching this.
Washington @ Illinois [in Soldier Field] (BTN, 6 p.m.). Is Illinois "back"? Illinois was last a conversation in 2007, though that was a function of the upset win at Ohio Stadium more than it was for a regular season that included a home loss to Michigan and a loss at Iowa (which was awful that year).
Illinois' upset win against Cincinnati, a double digit favorite in that contest, has given renewed optimism to the Tim Beckman experiment in Champaign. A win against no. 19 Washington, a team in contention to compete with Stanford and Oregon in the Pac-12 North, would be job security for Tim Beckman before the Big Ten season starts.
Central Florida also plays at Penn State at this time slot on BTN. My guess is you will get the Washington-Illinois game instead. It is the second of four games in Saturday's Big Ten-Pac-12 War.
Iowa @ Iowa State (Fox Sports 1, 6 p.m.). During the summer, Northern Iowa leaked a helmet decal that accentuated its contention that "Iowa is a Panther State". The Northern Iowa Panthers followed that with a season-opening upset victory against Iowa State in Ames.
Should Iowa State beat Iowa, for the third year in a row, then a FCS team becomes state champion of Iowa. How prescient is Northern Iowa now?
Ohio State @ California (FOX, 7 p.m.). This is the game you are watching. Make sure to stay tuned to Eleven Warriors for further coverage of this game for the Buckeyes. It is the third of four games in Saturday's Big Ten-Pac-12 War.
A member of the 11W Commentariat is free to correct me if I am wrong, but I think this is the first regular season Ohio State football game to be broadcast on FOX. Ohio State played three bowl games on FOX from 2006 to 2008, though we will not belabor those any further. Ohio State last played a regular season game on a FOX Sports Network in 2000 (at Arizona), but that is not FOX proper.
While we are on the topic, Ohio State last played on CBS in 1998 (at West Virginia) and on NBC in 1996 (at Notre Dame, obviously).
Kent State @ LSU (ESPNU, 7 p.m.). Does LSU play cupcakes at any other time of the day on Saturday?
Vanderbilt @ South Carolina (ESPN, 7 p.m.). So, Jadeveon Clowney's Heisman campaign is effectively over as soon as it began. Two meager outings against North Carolina and Georgia, punctuated with that decisive defeat in Athens, means there will be no Heisman for Clowney.
I mentioned this in a season preview feature, communicating in very thinly veiled language that Clowney's hype and Heisman conversation was just about the dumbest story of the offseason. For as good as Clowney is, he takes himself from games and even great defensive ends can be effectively neutralized.
That was on display against North Carolina and Georgia, and, by in large, it was also on display during the Outback Bowl. "The Hit" was a missed assignment, not entirely a moment of brilliance for Clowney. Michigan ran over him on the next drive. North Carolina and Georgia ran away from him. However, I think Jay Z got to Clowney's head. Clowney is now giving recommendations to Steve Spurrier and Lorenzo Ward on how to best utilize him.
The Gamecocks will get an opportunity to put one in the win column against Vanderbilt, a key SEC East division game for both teams.
Mississippi State @ Auburn (ESPN2, 7 p.m.). If a tree falls down...
Notre Dame @ Purdue (ABC, 8 p.m.). Another week, another primetime game for Notre Dame on the road in a Big Ten stadium. Remember: Notre Dame is opting out the series with Michigan because, among other things, Michigan isn't a traditional rival for Notre Dame. Not like Purdue, the very last team you will remember if pressed on the spot to recite all the teams in the Big Ten.
Mississippi @ Texas (Longhorn Network, 8 p.m.). A week after conceding a school record 550 rushing yards in a blowout loss to Brigham Young, Mack Brown fired his defensive coordinator, replaced him with Greg "GERG" Robinson, and will host a Hugh Freeze offense. Good thing for Texas fans this game will be on Longhorn Network, so no one will see it.
Western Michigan @ Northwestern (BTN, 9 p.m.). Northwestern is building serious momentum toward its highly anticipated clash with Ohio State in Evanston. Good thing this game is a sure thing in the win column, because I just care about @glopknar's latest video right now.
Wisconsin @ Arizona State (ESPN, 10:30 p.m.). If you are feeling game for an all-nighter, you may want to grab a coffee pot (or a few beers) for this contest. It is the fourth and final contest of Saturday's Big Ten-Pac-12 War.
Wisconsin has pitched two straight shutouts to begin the season, the first year for new head coach Gary Andersen and the 3-4 front he brought with him from Utah State. However, the two opponents for which Wisconsin has received praise for its performance are objectively terrible. Massachusetts is arguably the worst team in FBS and Tennessee Tech has won just two games since the start of the 2012 season against teams at the FCS level. The challenge is much greater against the Arizona State Sun Devils, coached by Todd Graham and his, yes, "high octane offense".