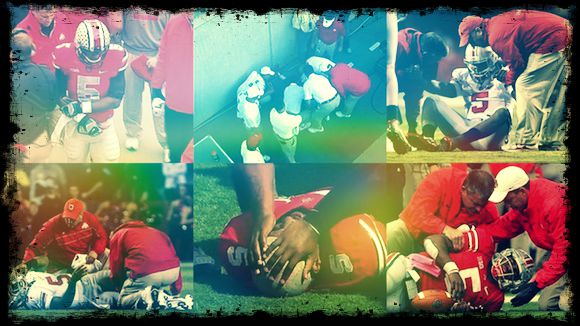 Braxton Miller will soon be playing football again instead of watching it from the sideline.
Once he returns to live action he is bound to get hit hard, because that is what defenses do to quarterbacks. Miller might have to leave the game again for a spell while all of us hold our collective breath.
He will eventually return. Later on, perhaps not until the game that follows, all of that same drama will repeat itself. This should all seem somewhat familiar to Buckeye fans by now.
Call it an unfair prediction or an educated guess based on ample precedent, but Miller's durability is a topic because his frequent game exits have forced it to become one.
We now understand there are three unique sides to the Buckeyes' enigmatic star quarterback: Off the field and behind the microphone there's the almost-robotic anti-Manziel who is no threat to embarrass himself or the university. He's boring. You're okay with it.
On the field and under behind center there's the athletic freak show with video game ability that led to him winning the Big Ten's highest individual honor as a sophomore.
This is the side of Miller you saw on all of those preseason magazine covers. He's as captivating as off-the-field Braxton is dull. You're okay with that side too.
The third side is what you see pictured above being attended to by staff on various stadium floors. Last year in East Lansing he thought he felt something in his knee and proceeded to drop a live ball on the turf without being touched.
It turned out to be nothing and he finished the game. A quick, fortunate whistle prevented the Spartans from scoring what could have been the decisive touchdown. Three weeks later he hit the ground hard against Purdue following a long run and was taken to the hospital in an ambulance. He turned out to be fine.
As a freshman in 2011 he went down awkwardly at Nebraska and had to leave the game with a comfortable lead, which of course resulted in Joe Bauserman's infamous night of inexplicable Jim Bollman pass-happy infamy.
Miller was back a year later for the revenge game with the Huskers and was tackled from behind following a long run. A similar play occurred against Michigan in the finale on the same side of Ohio Stadium. In both instances his spectacular long runs were punctuated by being gingerly led to the bench afterward.
Unfortunately, Miller's third side is this one we're stuck discussing while Kenny Guiton continues to unleash his cruel efficiency all over Ohio State's unprepared opponentry.
As the exits accumulate, Miller solidifies his reputation as the Buckeyes' Italian sports car: When he's not impressing the hell out of everybody he's in the shop for repairs lesser cars don't usually need. National pundits haven't taken to calling him Breakston yet, probably because they're too enamored by his two other sides.
Or perhaps they're just distracted by Guiton, who appears to be the Buckeyes' Toyota: Not all that sexy, but reliably operational. He played hurt for most of Saturday.
So the debate has been simplified: Is Miller's threshold for physical pain too low, or is he - as his teammates and coaches have insisted - actually tougher than he appears when he's routinely exiting games with non-or-slight injuries?
The answer might actually be more about us than it is about Miller. Look at Archie in the 1976 Rose Bowl: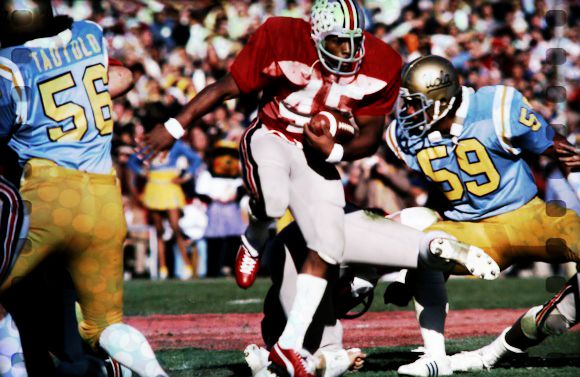 For those of you too young to remember this game (I'm one of you) that left hand cradling the ball is broken. There's no invisible cast covering it; that's how he played.
Griffin fractured it on the first drive diving to recover a pitch from Corny Greene that didn't quite go where it was supposed to. He played the entire game, rushing for 93 yards on 17 carries - and he definitely felt it. Broken bones have a way of drawing your attention.
You're probably old enough to remember Luke Fickell playing in the Rose Bowl 21 years later with a torn pectoral muscle. It was completely detached, gruesomely hanging inside his chest cavity rendering him a one-armed defensive lineman.
He played the entire game that way but had to miss all of those senior showcase games later in January. His teammate and game MVP Joe Germaine led the Buckeyes on the game-winning drive with his chin split open.
A year later Germaine could have filed assault charges against Florida State defensive end Andre Wadsworth in the Sugar Bowl. But he kept picking his battered body up off the Superdome concrete and kept leading the team.
The list of unbreakable Buckeyes could fill a Jack Park encyclopedia, and it does: Derek Isaman, like Archie, played with broken bones. He also sparred with Mike Tyson when Mike Tyson was Mike Tyson. Antoine Winfield gave up pounds and inches to everyone he ever faced and still got the best of them.
Craig Krenzel took monster hits and always popped up from them quickly. Troy Smith routinely absorbed beatings that probably rearranged his organs, but they only seemed to make him play better.
The under-appreciated Terrelle Pryor played injured (not hurt) regularly and wore one of Ohio State's greatest poker faces in holding back even the hint of a grimace. His worst injury came toward the end of the 2011 Sugar Bowl when he took damage to ligaments in his foot and ankle that was serious enough to require surgery.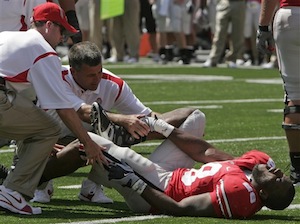 Trainers taped up Pryor's ankle and he finished the game on one leg. For the second BCS bowl victory in a row he was Ohio State's MVP. He could not walk on his own, but he still played.
So is Miller's threshold for physical pain low? It's quite possible our threshold for tolerating his pain has been unfairly distorted by the freaks that preceded him.
We love our warriors. We worship at the altar of the tough guy, be it one-armed Fickell wreaking havoc on Arizona State's offensive line or Germaine throwing touchdown passes while covered in his own blood.
Archie was targeted and arguably took more hits than anyone in school history, and he played his final game as a Buckeye with that broken hand. If he can do it, anyone can. Right?
Miller isn't just felled by run-of-the-mill ouchies as it seems to some. It might just be that those guys capable of playing through significant physical trauma are the true freaks. They're the exception, not the standard for athletes. But for us, they're the standard. That's what we expect.
Beanie Wells was the last Buckeye star who seemed to be dinged up more often than we would prefer. He'd tweak his ankle, dent his shoulder, bang his arm and would have to exit games a little too often for our demanding tastes. That was the tradeoff for having Beanie's ridiculous talent
He once pulled a hamstring jumping over a player while covering 16 feet in distance. Beanie can't do super-human things without hurting his hammy? What is he, mortal?
What's confounding for us with Miller is that he's actually at his most human when we witness him in pain. The robotic, boring kid behind the microphone and the clairvoyant conductor of Ohio State's offense both appear to be neither mortal nor human.
Miller is actually at his most human when we witness him in pain.Miller just can't find it in himself to be exactly we expect: The uncompromising fulfillment of our immortal offseason fantasy. He's probably not going to play with blood gushing out of his chin or with a pectoral muscle flapping around in his chest. And that's just the beginning of what he's not going to do.
Miller is also not going to play with an unprotected broken hand, nor is he going to say or do something off the field that will make you cringe. He won't errantly launch 10 clock-stopping passes into the stands with a three-touchdown lead, he has zero chance of losing his competitive edge and he will never, ever become comfortable with exiting a game prematurely.
He will also never buy into the idea that an Ohio State loss is inevitable. Not while he's there, anyway.
Because that's who Miller is. He's the quarterback who isn't content to just be an efficient game manager. He's also a guy who often tries to do it all because he knows - just like you - that he's capable of doing it. Sometimes it gets him hurt.
There are three sides to this kid, and they cannot be separated from each other. It was a package deal from the outset. You have to take them all.
That's who the Buckeyes are stuck with at star quarterback. You should be okay with it.