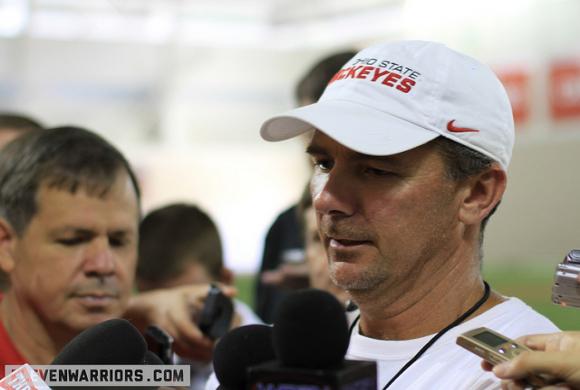 They say teams improve most from Week 1 to Week 2. It might just be an old football cliché, but it could ring true for the 2013 Ohio State Buckeyes.
When a handful of players, including multiple starters, miss any game, let alone the opener, results tend to be mixed. As Ohio State prepares for San Diego State, it also welcomes back Bradley Roby, C.J. Barnett and Rod Smith. Corey Linsley is also slated to get more playing time.
The addition of the aforementioned players will quickly put an up-and-down performance against Buffalo in the rearview mirror. The secondary will see the most dramatic improvement. Last Saturday saw two first-time starters in Armani Reeves and Corey "Pittsburgh" Brown, and Tyvis Powell also received his most extensive playing time.
Meyer didn't commit to Roby starting yet, but he did indicate Barnett is good to go. Smith will play, while Linsley's playing time will involve judgment from the coaches.
Notes:
Jordan Hall will start at running back, according to Meyer. He doesn't know who the second option will be.
For the time being, Dontre Wilson will be utilized more as a wide receiver. Meyer said a majority of his time has been spent playing receiver in practice and meeting in their room.
Carlos Hyde is meeting all the demands from coaches, Meyer said. He said Hyde is currently working on both punt teams and expects that to continue once his suspension ends.
Meyer said Taylor Decker performed OK in his first start at right tackle. He said he can definitely improve, but added that he didn't believe Decker played bad.
The Buckeyes probably won't play as much nickel this week, Meyer said, due to the style of offense they'll face. Josh Perry will start at SAM linebacker.
Meyer said going forward Ohio State needs to protect Braxton Miller better. The quarterback was under duress several times against Buffalo.
Christian Bryant has displayed good leadership skills on the field, Meyer said. Last Saturday, Bryant was the lone returning starter on the field for a majority of the game.
It's Week 2 now – no more excuses, Meyer said.
Curtis Grant said his confidence level was raised by lessons from Zach Boren. Grant said Boren did what was needed. There weren't excuses. He's trying to be the same type of player.
Being the second linebacker on the field when Ohio State uses the nickel defense is a validation of sorts for Grant. He knows that his play is moving in the right direction and feels good about his game.
Grant said San Diego State running back Adam Muema is a shifty, quick running back. The Aztecs' loss to Eastern Illinois does not change Ohio State's perception of the opponent. They respect San Diego State and haven't taken them lightly this week.
The Buckeyes took their foot off the gas defensively last week, Grant said. The early lead made them play soft. Grant said it can't happen again.
Cramping was a major story coming out of the first game. Grant said everyone's body reacts differently, so it's hard to completely remove cramps.
Grant and Ryan Shazier came to Ohio State in the same recruiting class. Their careers have diverged significantly since they arrived. Grant said Shazier is the clear leader in the linebackers room and in the huddle. Called him a great on-field leader.
Marcus Hall said the team was able to shake the rust off in Week 1. Now they know what to improve upon and have done so this week.
The offense was able to see how certain plays and formations can work/not work against defenses, according to Hall. This week they are able to tinker with some things.
Like Grant said about the defense, Hall said the same about the offense – they got soft because of the big lead. Hall said the offense will tie up the loose ends.