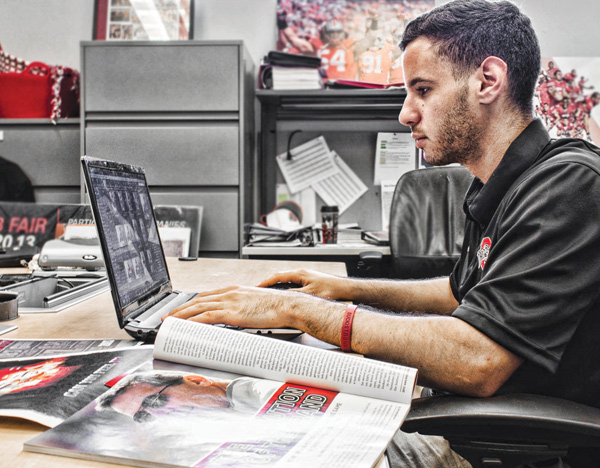 Sammy Silverman is probably the best graphics designer in college football today. (Works can be found HERE, HERE AND HERE.) Don't just take our word for it, however, let someone whose sterling track-record of talent evaluation speaks for itself:
Great article on the best graphic designer in college football @SammySilv http://t.co/Pkz53sDIw2

— Mark Pantoni (@markpantoni) September 4, 2013
The Youngstown native has been killing it since his arrival to campus, and Ohio State's secret recruiting weapon is getting some well-deserved recognition:
From his sketch book and office iMac in the football fortress that is the Woody Hayes Athletic Center, he creates promotional graphics bound for mailboxes and email accounts of Buckeyes' recruits.

His work is new to the OSU athletic department, an innovative way to reach out to prospective student-athletes.

"People have realized that these players get a lot of letters and it's nice to provide them with visuals," Silverman said by phone recently. "It's definitely a new aspect of college football and it's something I've never really seen. A lot of people have come up to me and said that it's something new and really interesting and it's engaging."
For comparison's sake, here's what Rutgers is working with.