After the first week of the college football season, the Big Ten is 10-2. And yet, something is unsatisfying.
Setting aside the Buffalo game, the most of the conference had lackluster performances against a weak slate. Big Ten and ACC fans like to make fun of themselves with ironic usage of the #B1G and #goacc hashtags, but at least Clemson had a kickass victory over No. 5 Georgia. Compare that to the Big Ten's best victory, either Syracuse or Cal.
If you want to practice some ill-advised trolling, nobody lost to an FCS school and the Big Ten is currently two games better in the loss column than the SEC. Take that, seven straight national championship winners!
PENN STATE 23, SYRACUSE 17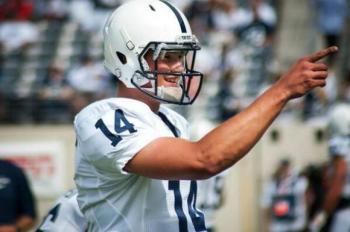 One of the top questions this offseason was whether Penn State could build on last year's 8-4 record with five-star freshman quarterback Christian Hackenberg. In spite of some patchy play, Hackenberg threw for 278 yards and two touchdowns as Penn Stateheld off Syracuse to win at MetLife Stadium in East Rutherford, NJ.
Neither team could get anything going on the ground. Penn State averaged only 1.5 yards on 38 carries, and Syracuse was marginally better at 1.9 yards per carry. Passing and special teams were the difference, as Syracuse's Drew Allen was a subpar 16/37 for 189 yards, no touchdowns and two interceptions while Penn State's Sam Ficken continued his rapid improvement from last season by going 3/3 on field goals.
Penn State plays Eastern Michigan next week.
NORTHWESTERN and CALIFORNIA, late

Northwestern/Cal ended at 2:28 AM, so at press time – oh, right. We're online, so no newspaper deadlines. Seriously though, if you stayed up for this one you've earned your chops as a college football diehard.
NORTHWESTERN 44, CALIFORNIA 30

Collecting the Big Ten's second best scalp was Northwestern, which won a rollicking, back and forth game against California. After combining for 1,056 yards of offense, turnovers were key: Collin Ellis' two interception return touchdowns allowed Northwestern to build a 37-27 lead, and despite Trevor Siemian giving California a chance to tie with a late interception, Northwestern's third pick against Jeff Budzien killed the Golden Bears' chances and let the Wildcats add an insurance touchdown.
Congratulations on the win, but Northwestern players pretending to have cramps and sitting down on the turf to throw off California's offensive rhythm was lame, pun intended. Next week Northwestern plays Syracuse, which for some reason schedules two Big Ten teams every year.
illinois 42, southern illinois 34

The Big Ten suffered no mortifying losses, unlike the SEC (Kentucky versus Western Kentucky), Pac-12 (Oregon State versus Eastern Washington), or Big 12 (Kansas State versus North Dakota State), but Illinois gave it a go.
After nearly blowing a 22 point lead against a FCS team, Illinois survived thanks to a  last minute goal line stand. Nathan Scheelhaase had a tremendous game with 416 passing yards, but... come on, it's Southern Illinois.
Meanwhile, Illinois's athletic department was so thrilled about snapping a nine game losing streak that it produced this image: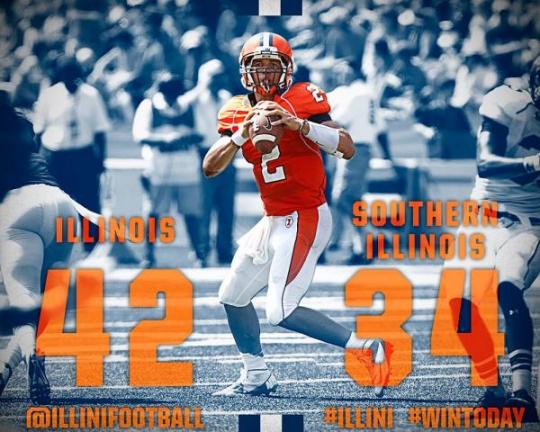 I'm not sure if karma exists. I am sure that commemorating a horrific near-loss is a terrible idea. For this brazen celebration of mediocrity, Illinois wins the Most B1G Team Of The Week Award. Rest assured, there will be a photoshopped trophy sooner or later.
Fortunately, Illinois plays Cincinnati next week. It's not as though Cincinnati would destroy a Big Ten also-ran, right?
cincinnati 42, purdue 7

Yes, Cincinnati would destroy a Big Ten also-ran.
Darrel Hazell's coaching debut went poorly as Cincinnati ran roughshod over the Boilermakers. The game was relatively close through the first half, with Cincinnati leading 14-7 at halftime on the strength of two Munchie Legaux passing touchdowns. After a third quarter touchdown run by Cincinnati's Ralph Abernathy, a 41 yard interception return thrown by Purdue's Rob Henry would end any chance of a comeback.
Purdue's woeful offense is the biggest thing to take away from the game. Purdue rushed for only 65 yards on three yards per carry, and Henry completed 18/35 passes for 161 yards, no touchdowns and two interceptions. Purdue's next game is against Indiana State, which ought to give the offense a one game reprieve.
wisconsin 45, massachusetts 0

You may recall Wisconsin struggling in every out-of-conference game last year. Not so in 2013.
Gary Andersen's Wisconsin debut went far better than Hazell's as Wisconsin dominated with 393 rushing yards including 144 from Melvin Gordon, 143 from James White, and 101 from Corey Clement. Wisconsin connected on four touchdowns of 50+ yards, and Jared Abbrederis finished with 122 receiving yards on two touchdowns of 57 and 65 yards. Quarterback Joel Stave was otherwise inconsistent, finishing 9/17 with only 75 passing yards besides the Abbrederis touchdowns.
It is abundantly clear that Wisconsin's strength is power rushing, and that will continue as it plays Tennessee Tech next week. There will blood, and it won't be Wisconsin's.
michigan 59, central michigan 9

Michigan beating an overmatched opponent by fifty and putting up its most points in a season opener since 1905 is, unlike what most of the conference did this week, pretty impressive. Quit messing up the narrative, Michigan.
Devin Gardner's day was mixed, as he threw for 162 yards and a touchdown for a pretty good 10.8 yards per attempt but also had two interceptions. They didn't matter, though, as Central Michigan was no closer to the lead than 15 points after the first quarter. In garbage time, Derrick Green had a solid debut, rushing for 58 yards and a touchdown.
The Wolverines plays Notre Dame next week in the Big Ten's marquee matchup. How Gardner fares against the Notre Dame secondary will have more effect on the game than anything else.
NEBRASKA 37, wyoming 34

This week's theme was "struggling against opponents you have no business struggling against." Case in point, Nebraska's close call against Wyoming.
Wyoming outgained Nebraska 602-530 and torched the secondary for 383 passing yards and four touchdowns. The Cornhuskers had the game in hand after ever-efficient Taylor Martinez's third touchdown pass with 11:38 left gave them a 37-21 lead, but two late turnovers allowed Wyoming to cut the lead to a field goal. Nebraska recovered an onside kick to preserve the game.
Nebraska plays Southern Mississippi next week, and it would behoove them to not to allow a jillion yards.
northern illinois 30, iowa 27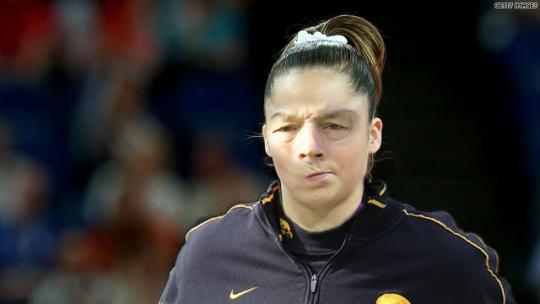 This is the worst result of the week. Nice going, Iowa.
Iowa shut down the dynamic Jordan Lynch in the first half and showed some punch on offense, but second half stagnation allowed Northern Illinois to escape Iowa City with a win on a 36-yard field goal with four seconds remaining. Positives: Mark Weisman rushing for 100 yards, new quarterback Jake Lorbach looking competent, and a fumble return touchdown in the first half. Negatives: letting Lynch break free for 331 yards of offense and three touchdowns, Greg Davis's playcalling, and being stuck with Kirk Ferentz for the next eight years.
Ferentz is virtually untouchable, much to Hawkeye fans' displeasure. Because the idiots negotiating his contract neglected to make the buyout any cheaper than his yearly coaching salary, Iowa is on the hook for $4 million a year until 2020 if they fire him. At least they'll have the chance to regroup against Missouri State next week.
michigan state 26, western Michigan 13

In the sole Friday night game, Michigan State pulled out an ugly, ugly victory that made even noted sunshine pumper Mark Dantonio sour.
Michigan State's offense was every bit as staid and stiff as you'd expect a Jim Bollman offense to be, accumulating only 297 yards. The Spartans were bailed out by their phenomenal defense, which held the Broncos to 204 yards of offense and produced the winning margin with an interception return and fumble return touchdowns. A bright spot for Michigan State was Jeremy Langford, who rushed for 94 yards and their only offensive touchdown; a not-so-bright spot was quarterback Andrew Maxwell, who was 11/24 passing for 78 yards and a ghastly 3.5 yards per attempt.
In a lucky break, Michigan State plays South Florida next week, which got McNeese'd in Week 1.
MINNESOTA 51, UNLV 23

In the first of two results from Thursday night, Minnesota defeated UNLV in a game closer than the scoreboard suggests. UNLV outgained Minnesota 419-320 and had four more first downs, but Minnesota benefited from phenomenal special teams play after going into halftime with a narrow lead. Marcus Jones returned the second half's opening kickoff 98 yards and Martez Shabazz returned a blocked field goal 51 yards to give Minnesota a 30-13 edge. An 89-yard interception return in the fourth quarter didn't hurt, either.
Minnesota plays at New Mexico State next. Considering the Aggies' penchant for drilling motioning receivers in the head with shotgun snaps, the Gophers should be able to handle them.
INDIANA 73, INDIANA STATE 35

In the other Big Ten result from Thursday night, Indiana had an offensive explosion against Indiana State, putting up 632 yards of total offense in a result far more impressive than 2012's 24-17 squeaker.
Indiana raced out to a 45-7 lead, but Sycamores cut the lead to 45-28 after three touchdowns in 62 seconds of game time. After that, though, Indiana's four consecutive touchdowns ended every threat.
Nate Sudfeld led the Indiana offense with four passing touchdowns, while Tevin Coleman had 169 rushing yards at 12.1 yards per carry. A fun reminder: Indiana scored 25 more points in this game than it did in the Sweet 16 against Syracuse, which let it get some backup playing time. Extended scrub time could be useful for Indiana's depth as it plays Navy next week.
So there you have it, Week 1. The schedule isn't much better for Week 2; aside from the Ohio State game, make sure to check out Michigan vs. Notre Dame, Northwestern vs. Syracuse, and Indiana vs. Navy.