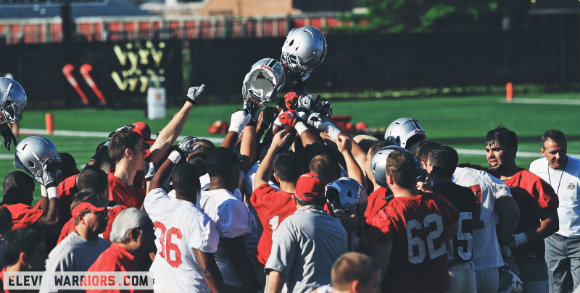 Love stats? Be sure to check out the Buffalo charting thread and consider volunteering to chart future games. 
---
It's game week. From that first team huddle at the start of camp until now, the team has worked to solidify its identity, discover some new play makers, and get the right mindset for a 14-0 season. 
But Urban wouldn't want me talking like that – while it's good to have a goal like the national championship, there's an opponent in the here and now that needs to be tackled first. Buffalo isn't a good team by any stretch of the announcer's commentary, but this is where the team can both lay its foundations and avoid upsets. 
There's no need for another 2008 Ohio, 2009 Navy, or even 2012 Cal. So what numbers ensure that the Buckeyes steer clear from a near upset?
Ross has already shown you what he's looking for offensively, but here are the things that I'm looking for statistically. 
As I mentioned, there shouldn't be too much drama in this game, as Buffalo has sat on the negative side of the F/+ rankings for quite some time. Of their four wins last season, the largest margin of victory was over Morgan State, with a score of 56-34. I'll wait while you google Morgan State. None of their top six receivers had a catch rate of over 58%, their quarterback is returning with a 51% completion rate, and their offensive line is comprised of two-star and unranked guys.
I understand that you're not here to truly get in to the deep numbers for Buffalo, but we have to understand that a) the Buckeyes will post big numbers and b) these numbers might not be indicative of the rest of the season.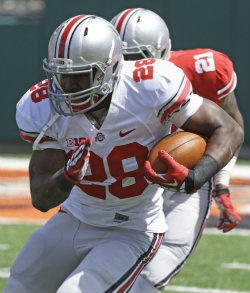 But with that disclaimer out of the way, I'm still looking for the Buckeyes to post certain statistics that indicate their off season growth. Here are the quotes I'm looking to validate: 
"Jordan Hall is the best running back on our team right now" - Meyer 
Jordan Hall managed 40 carries and 218 yards last season in limited time between injuries. More importantly, however, Hall managed to lead all ball carriers (with 40 or more carries) in running back success rate (RBSR) at 73%. 
As a refresher, RBSR measures a running back's efficiency, or efficient carries divided by total carries. More specifically, 
A play counts as a "hit" if it gains 40% of yards on first down, 60% of yards on second down, and 100% of yards on third down. If the team is behind by more than a touchdown in the fourth quarter, the benchmarks switch to 50%/65%/100%. If the team is ahead by any amount in the fourth quarter, the benchmarks switch to 30%/50%/100%.
I'll be looking to see which running backs can not only hit explosive plays, but can also pick up first downs consistently. If Hall is running like Meyer has reported, then we should expect a number north of 67% with a few explosive plays mixed in. 
Buffalo runs an interesting 3-4 defense that resembles a Bear look and is particularly strong against the inside zone. The inside zone is Meyer's bread and butter, so it will be interesting to see how efficient Hall, Dunn, Ball, and company are able to be against this front. 
"We're much more well-oiled, if you will, with our jet pace and our up-tempo stuff. - Herman
Last season the Buckeyes averaged 70 snaps a game and held on to the ball for slightly over half the game. Time of possession by itself is a fairly overrated statistic, but tempo is an extremely important strategic tool that offenses can leverage against a weary defense. 
Herman said over the offseason that the Buckeyes' jet pace is making him sleep better at night. Will this translate to more snaps per game or maybe a lower time per snap? This year I'll be looking at time per snap, which is just the time of possession divided by number of offensive snaps. This metric gives a slightly more in depth look at tempo. 
Last season the Buckeyes averaged one play for every 26 seconds that they held on to the ball. How will this change as Braxton operates the jet pace more efficiently? My instinct is that it shouldn't change too much because the Buckeyes will vary tempo significantly throughout the game. 
"The first time we went against them we were kind of shocked and surprised when we saw some of the things they were able to do." - Shazier. 
Everyone associated with the team has raved about the freshmen skill players like Dontre, Jalin, Elliot, and Clark. They are supposed to come in and "fully weaponize" Urban's death star. 
One way we can measure their contribution to the offense is in yards after reception and with adjusted completion percentages. The charting project will allow us to measure both of these things. In future weeks I'll be able to break down Braxton's completion percentage by five-yard increments as well as measure how receivers are getting extra yards after catching the ball. 
If Dontre and company are truly making an impact on this offense, I'd hope to see Braxton's completion percentage jump to at least average levels for passes greater than ten yards. Further, I'd hope that each of the receivers is able to take short passes further this season. 
"I want an aggressive defense, not a bend but don't break unit" - Meyer
Last year's defense was underachieving in some ways, with Indiana and Nebraska both putting up more points that Fickell and Withers would like. Besides a still unsettled linebacking core, the defensive coaches have raved about the young defensive line and experience in the secondary. 
It's fair to say that I have high expectations for this unit in terms of forcing negative plays and turnovers, but how efficient can this defense be? 
I'm pretty fond of the points per play metric for defensive efficiency, which is simply the total number of points allowed divided by the opponent's total offensive snaps. The Buckeyes averaged .32 points per play allowed last season, but elite defenses are typically in the low .2 region. Alabama's defense allowed an average of .18 points per opponent play last season. 
The Buckeyes shouldn't have too much trouble keeping Buffalo around .2 points per play, but it will definitely be a point to watch nonetheless. 
Another defensive statistic I'll be looking at is the number of three and outs forced. There has been some research that suggests offenses that have more than two three and outs per game will not be happy. Can the Buckeye defense force the Bulls in to multiple three and outs? I'm looking for at least four three and out series.