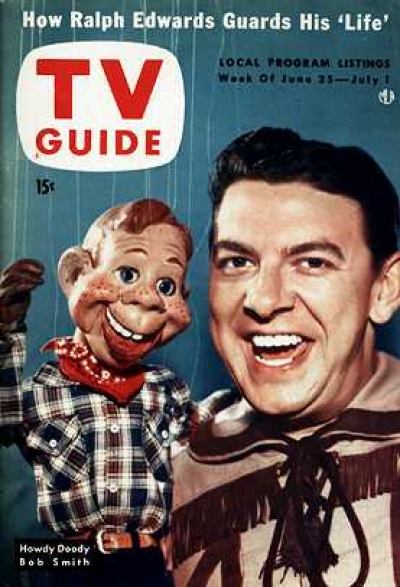 Welcome to the first TV Guide of the 2013 college football season.
Regular readers of Our Honor Defend may remember this feature when I ran it there. In short, the TV Guide, as I do it, will be a public service announcement about the TV schedule and ongoing games of interest for each week of the college football season. It comes complete with comments about the matchup and an old timey TV Guide cover, sure to make our younger readers just how old I am and/or if I am a crazy, old cat lady. Your attention every week is focused on Ohio State's game on Saturday. The guide will be handy in making your TV schedule.
Eschewing my normal tendency to go right to Welcome Back Kotter TV Guide covers for the first week of the college football season, the inaugural TV Guide cover is "Buffalo" Bob Smith. As the name indicates, Bob Smith, and the famous Howdy Doody television show, originated from Buffalo, New York.
Here is your schedule for the weekend.
Thursday
North Carolina @ South Carolina (ESPN, 6:00pm ET). The first game of the season is an inter-Carolina showdown over which school can lay claim to the non-directional shorthand of "Carolina". The answer is clearly North Carolina and the outcome of the game, a very likely South Carolina victory, will not change that. All eyes will be on Jadaveon Clowney. While I expect him to perform well, watch to see if he dominates the game from play to play. This was my criticism of him when I suggested that he will not have an all-game impact necessary to secure Heisman votes.
UNLV @ Minnesota (Big Ten Network, 7:00pm ET). Indiana State at Indiana will be happening at the same time on BTN, but my guess is this will be the first Big Ten game (and first game with the Maryland-I) you get to watch. Judging from this write-up by Las Vegas sportswriters, put your life savings on Minnesota and take the points.
Utah State @ Utah (Fox Sports 1, 8:00pm ET). The Ohio State fan may have no reason to care for the outcome of a game between two teams from the Beehive State, but this is Fox Sports 1's inaugural football game. You may be curious just for the presentation.
Mississippi @ Vanderbilt (ESPN, 9:15pm ET). ESPN will follow an SEC non-conference victory with an SEC conference game in the late evening. Ohio State fans may remember that Vanderbilt was supposed to be in Ohio Stadium to begin its 2013 season, but had to cancel that game (and a game at Northwestern too) on short notice in order to fulfill its obligations to the SEC. You may be rooting for Ole Miss for that reason, but I would caution against that, or rooting for anyone in this matchup.
Rutgers @ Fresno State (ESPNU, 10:30pm ET). Rutgers will be the first Big Ten team to travel to Fresno State since Illinois in 2010. Okay, maybe Rutgers is not B1G yet, but you better believe it will be if it wangs this game on national television. Incidentally, Illinois lost that game at Fresno State in 2010 too.
USC @ Hawaii (CBS Sports Network, 11:00pm ET). If you are awake at this time, you may want to find your way to CBS Sports Network to see what Lane Kiffin has in store to follow that dreadful 2012 campaign. The preseason AP #1 team, USC finished 6-7 in Lane Kiffin's first year of bowl eligibility. Taylor Graham, a former Ohio State backup quarterback, is the projected starter for the Rainbow Warriors.
Friday
Western Michigan @ Michigan State (Big Ten Network, 8:00pm ET). Both Michigans in the Big Ten are starting their seasons with directional Michigan schools. For Sparty, it's Western Michigan. You may want to watch this just to see if Bollman's "Midas touch" had any immediate effect on Michigan State's offense.
Florida Atlantic @ Miami (ESPNU, 8:00pm ET). Both teams will honor Howard Schnellenberger's legacy this game. Schnellenberger has one of the most underappreciated coaching legacies in the history of the game. He birthed a dynasty in Coral Gables and started a Florida Atlantic program from scratch.
Texas Tech @ Southern Methodist (ESPN, 8:00pm ET). Guns up! Kliff Kingsbury, who I have no doubt added "is handsome" to his vita when he applied for the job, will lead the Red Raiders to Dallas to play June Jones' Mustangs. If you like offenses, this may be your matchup. It will be an Airraid vs. June Jones' Run and Shoot affair.
North Dakota State @ Kansas State (Fox Sports 1, 8:30pm ET). I have zero comments about this matchup beyond the fact that it's football and it's on TV.
Northern Arizona @ Arizona (Pac-12 Network, 10:00pm ET). See above. Does anyone have Pac-12 Network? Anyone? Bueller? Bueller?
Saturday​
Buffalo @ Ohio State (ESPN2, 12:00pm ET). Ahhhhh. Feels good. Preview will come tomorrow. Your crew in the booth will be Beth Mowins and Ohio State alumnus Joey Galloway.
Massachusetts @ Wisconsin (Big Ten Network, 12:00pm ET). If it's an interesting non-conference game, then it's just not Wisconsin football.
Southern Illinois @ Illinois (Big Ten Network, 12:00pm ET). Heh.
Purdue @ Cincinnati (ESPNU, 12:00pm ET). My hope is Ohio State pounds Buffalo early so I can dedicate some energy to watching this game. It will be Darrell Hazell's coaching debut in West Lafayette. Across the field is Tommy Tuberville, who left Texas Tech in the dead of night to take a job with a Big East... err: "American Athletic Conference" team that, if it's not the "cradle of coaches" like its rival Miami of Ohio, is at least the "motel of coaches". Hazell's goal for this year's Purdue squad is to be in the fourth quarter of every game. That will be a tough task here. Cincinnati is projected as a 10-win team in its league.
Rice @ Texas A&M (ESPN, 1:00pm ET). Johnny Manziel was suspended for the first half of this game. I am not sure if that is a suspension or a 30-minute timeout. I mean, he was going to play only a half of this game anyway...
Mississippi State vs. Oklahoma State [@ Reliant Stadium] (ABC/ESPN2, 3:30pm ET). This might be one of the more interesting matchups in Week 1 of which positively no one has said a word. Understandably, the way Mississippi State has played of late is not the route a team should go in order to generate buzz. The fact remains that Mississippi State is SEC, and is "'sposed to be SEC". Oklahoma State is the preseason #13 team in the country. If the Bulldogs bomb this game, I expect Dan Mullen's proverbial hot seat to flicker. Not only did he concede Northwestern's first bowl win last year in 65 years, but in-state rival coach Hugh Freeze is running laps around him in recruiting.
Temple @ Notre Dame (NBC, 3:30pm ET). Notre Dame has an interesting schedule this year, just not this week.
Central Michigan @ Michigan (Big Ten Network, 3:30pm ET). Michigan will try to make the Big Ten two for two in games against directional Michigan schools. The assumption is Michigan State beats Western Michigan on Friday. At least, I would think...
Syracuse vs. Penn State [@ Met Life Stadium (ABC/ESPN2, 3:30pm ET). Your weekly ABC/ESPN2 slot includes another neutral site game. Penn State and Syracuse renew their rivalry to begin their respective seasons. It will be Syracuse' first season without Doug Marrone, who left the Orange to coach the Buffalo Bills. Meanwhile, maybe Penn State will have named a starting quarterback by this game...
Brigham Young @ Virginia (ESPNU, 3:30pm ET). You may at least want to glance at Brigham Young's team this year. The defense should be very good. The Cougars will wander into the Big Ten's orbit when BYU visits Wisconsin in November.
Northern Illinois @ Iowa (Big Ten Network, 3:30pm ET). Northern Illinois, last year's darling from the Mid-American Conference, will try to do something it could not do last year: beat a 4-win Iowa team.
Virginia Tech vs. Alabama [@ Georgia Dome] (ESPN, 5:30pm ET). Good luck, Virginia Tech. We're all counting on you. Maybe we shouldn't. Virginia Tech is fielding a team, 40% of which are freshmen and redshirt freshmen, to play the two-time defending national champions. Alabama returns just about everyone of consequence, minus some offensive linemen. I expect Alabama's fans to be Rammer Jammering by the end of the first quarter.
Washington State @ Auburn (ESPNU, 7:00pm ET). College football games are the best when they resemble random exhibition games you would pick on your EA Sports game. This is one of them. Neither team is interesting, but the matchup is.
Georgia @ Clemson (ABC, 8:00pm ET). This is your game of the week, and the game that attracted the first ESPN College Gameday of the 2013 season. It is also only one of two games featuring two ranked teams (Georgia: No. 5, Clemson: No. 8). Georgia is a slight favorite in a game projected to feature a lot of points scored. If, somehow, Clemson wins this game and Tajh Boyd looks good doing it, he becomes a much more potent Heisman challenger for Braxton Miller. Boyd is in everyone's top ten list for Heisman candidates, with the implicit assumption his team will play him out of Heisman contention. Georgia will be as tough as it gets for Clemson. If Clemson wins, the preseason projection of how the college football season unfolds changes. However, Clemson is as Clemson does. It still has to visit Columbia to play the Gamecocks.
Wyoming @ Nebraska (Big Ten Network, 8:00pm ET). It will be the start of Taylor Martinez' farewell tour. Ohio State does not play Nebraska this season in interdivisional play, though there is a distinct possibility the two teams meet in Indianapolis. How many freshman-level interceptions and QB 101 mistakes does senior Taylor Martinez have in him? Hopefully at least one this game, just for old time's sake.
Louisiana State vs. Texas Christian [@ JerryWorld] (ESPN, 9:00pm ET). Remember Jeremy Hill's battery incident? Probably not, because no one really had anything to say about it when Urban Meyer was too busy being responsible for everything Aaron Hernandez has done wrong since 2007. Jeremy Hill, the Tigers' starting tailback, sucker-punched a guy outside a bar. The incident was clearly documented on a video camera. He was already on probation for forcing a 14-year old girl to perform a sexual act on him while he was a senior in high school. His punishment? Well, Les Miles put that to his teammates to vote. Unsurprisingly, they voted to reinstate him to the team. Texas Christian's head coach, Gary Patterson, blasted Les Miles for that being a hilariously feeble thing to do. If anything, watch this game for the post-game handshake. This is your second of two games this weekend featuring two preseason top-25 teams (Louisiana State: No. 12, Texas Christian: No. 20).
Boise State @ Washington (Fox Sports 1, 10:00pm ET). There is probably more that can be said about this game than most people have time or energy (or interest) to say. Remember when Boise State was important? It's still a quality program, just no longer important. As for Washington: how much longer can Washington fans (I'm sure they are out there) tolerate mediocrity under Steve Sarkisian? This is Sarkisian's fifth year for a program he has never guided to more than seven wins in a season. It's easy for younger fans to forget that Washington was the only consistently good program in the Pac-12 (then: Pac-10) in the 1990s. It won the league's only national championship of the decade (1991), and only the second since John McKay's national championship for USC in 1972. It is worth noting that Washington will be breaking in its newly renovated Husky Stadium this game.
Northwestern @ California (ESPN2, 10:30pm ET). I think this is the game every Ohio State fan is itching to see after its game against Buffalo concludes. Ohio State plays both California and Northwestern, on the road, and in late afternoon/evening kickoffs. On paper, they present the most intriguing matchups for Ohio State in an otherwise uninspiring schedule. Ohio State is projected to win both games, and California is projected to finish last in its division in the Pac-12. Still, I expect a lot of us to take mental notes from this game.
Sunday​
Ohio @ Louisville (ESPN, 3:30pm ET). This is not the most interesting matchup, on paper. It is college football on Sunday, though. Watch Teddy Bridgewater this game. The consensus top NFL quarterback recruit, I expect him to be a challenger to Braxton Miller for the Heisman.
Colorado vs. Colorado State [@ Sports Authority Field] (CBS Sports Network, 6:00pm ET). Don't be that guy that looks a gift horse in the mouth. It's college football on Sunday.
Monday
Florida State @ Pittsburgh (ESPN, 8:00pm ET). The final game of Week 1 is the ACC's Labor Day night game ritual. Florida State will play visitor to Pittsburgh in the Panthers' first game since jumping ship to the Atlantic Coast Conference. Here's a drinking game for you if you're watching the game at home. Take a drink for every Pittsburgh fan you see in attendance. I can guarantee you that you won't get drunk. Welcome back college football.