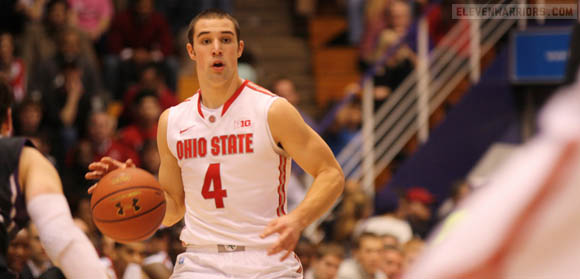 The 10th season of the Thad Matta era – and 102nd in school history – will feature 10 games on ESPN or CBS.
The highlights of the non-conference schedule are games against Marquette, Maryland, Notre Dame and Ohio University.
The game against the Fighting Irish is part of the Gotham Classic and will be played at Madison Square Garden.
The Buckeyes are slated to play at least 11 games against 2013 NCAA Tournament teams. Seven of those games will be played away from Value City Arena. Ohio State also has four games against teams that made the NIT last season.
Matta has engineered the Buckeyes to three of the last four Big Ten regular-season and tournament titles. The quest for another conference championship will begin at Purdue on New Year's Eve.
"The makeup of our team this year gives us another opportunity to be successful in the Big Ten and nationally," Matta said. "Once again our league is extraordinarily talented across the board. We are fortunate to have a veteran group this year who have been through the rigors of the conference season and have been successful in postseason play."
The full schedule (home games in bold):
DATE
OPPONENT
TV
TIME
NOVEMBER
3
Walsh (exh.)
TBA
4 p.m.
9
Morgan State
TBA
Noon
12
Ohio University
TBA
8 p.m.
16
at Marquette
TBA
TBD
20
American
TBA
7:30 p.m.
25
Wyoming
TBA
7 p.m.
29
North Florida
TBA
5 p.m.
DECEMBER
4
Maryland 1
ESPN/2
7 p.m.
7
Central Conn. State
TBA
4:30 p.m.
11
Bryant 2
TBA
7:30 p.m.
14
North Dakota State 2
TBA
8:15 p.m.
18
Delaware 2
TBA
7 p.m.
21
vs. Notre Dame 3
TBA
7:30 p.m.
27
Louisiana-Monroe 
TBA
7 p.m.
31
at Purdue
ESPN2
1 p.m.
JANUARY
4
Nebraska
TBA
Noon
7
at Michigan State
ESPN
9 p.m.
12
Iowa
CBS
1 or 4:30 p.m.
16
at Minnesota
ESPN2
9 p.m.
20
at Nebraska
TBA
7 p.m.
23
Illinois
ESPN/2
7 p.m.
29
Penn State
TBA
7 p.m.
FEBRUARY
1
at Wisconsin
ESPN/2
Noon
4
at Iowa
ESPN/2
7 p.m.
8
Purdue
TBA
6 p.m.
11
Michigan
ESPN
9 p.m.
15
at Illinois
TBA
8 p.m.
19
Northwestern
TBA
7 p.m.
22
Minnesota
TBA
6 or 8 p.m.
27
at Penn State
ESPN/2
7 p.m.
MARCH
2
at Indiana
TBA/CBS
Noon/4 p.m.
9
Michigan State
TBA/CBS
Noon/4:30 p.m.
13-16 
Big Ten Tournament 4
TBA
TBA
1 Big Ten/ACC Challenge, Columbus, Ohio
2 Gotham Classic, Columbus, Ohio
3 Gotham Classic, Madison Square Garden, N.Y.
4 Big Ten Tournament, Bankers Life Fieldhouse, Indianapolis