"No pressure, no diamonds." - Some guy, somewhere, probably.
When you're the future of Ohio State football at quarterback, the pressure is very real. It's suffocating to anyone but the strongest personality and it has crushed more than its fair share of dreams. There's expectations that come with donning the scarlet and gray and taking the snaps in front of 106,000 people, both on and off the field.
There's a gravity to knowing that the hopes and dreams of millions of people rest on your ability to read a defense and make an accurate throw into coverage. Knowing the vicarious successes and failures of an entire state and one of the largest alumni bases in the country is a tall order, and it's certainly not for everyone.
Don't tell that to Massillon freshman quarterback Danny Clark. Don't tell that to Jeff Clark, Danny's father, either. This is exactly what the phenom  — dubbed "the Prototype" — was made for, and the 6-foot-3, 205 pound 15-year old relishes the chance. He's working in earnest for a chance to become the starting quarterback on the varsity team at Massillon as a true freshman, an almost unheard of opportunity at one of the country's most recognizable high school programs. Playing football for the Tigers could be the best thing for him as he enters his high school career with immense pressures — like the presumption that he'll be Ohio State's quarterback in 2017 — because at Massillon football is a way of life. Football is life, and that's just fine with Danny Clark.
"I love everything about the game. When I'm out there on the field, all I think about is my team, and winning with my brothers," the younger Clark said. "My training routine is the same as every other varsity Tiger football player. My offensive co-ordinator is my quarterback coach also. So right now I train six days a week with my teammates, and have quarterback classroom study on Sunday, usually. It's a normal Massillon football schedule."
A normal schedule for a high school student just about to step onto his high school campus for the first time hardly involves quarterback classroom study on a Sunday afternoon, but there's not much "normal" about Danny Clark, and there's hardly ever been according to his dad, a former high school prospect himself that originally signed with Northern Illinois out of high school. 
"I realized Danny had a lot of ability, a lot of potential, when he played his first year at six-years old. He was just a lot bigger, stronger, and more aggressive when it came to contact," Jeff Clark said of his son. "I always said that if he was solving calculus problems at six, we would have done our best to cultivate that interest; it just so happened that football was where he showed the most talent. There is a book by Malcolm Gladwell called "Outliers," and a lot of my parenting views, especially when it comes to sports, or exceptional talent in general, come from that book. As Danny's coach up until 7th-grade, I pushed him very hard, but always made sure he knew that I loved him very much. Youth football was crazy for us, we had to drive over an hour away to play in a league with no weight rules for the ball-carrier so Danny could still carry the ball. A lot of people don't know this, but Danny was a tailback until 5th-grade. He could always sling the football, but we needed him in other places on our team. Then when 7th-grade started, I handed him over to the middle school coaches, and stepped back into a Dad role. At this point all I can do is be as supportive, and positive as possible with my son. We know there is a lot of pressure from the outside for Danny to live up to the hype. He says he doesn't think about it and I believe him. I don't do anything to add undue pressure or stress. I ask him how it went at practice. He tells me, and I tell him to keep it up. That's about it."
As Danny tries to take the reins at Massillon, those "dad days" are becoming more prevalent for Jeff and the challenge of remaining regular high school student — that just so happens to be blessed with well above regular physical talents — gets tougher for the Prototype, especially in a town where football is your first love, your first religion and your first words.
"My dad always tells me to be humble, and to appreciate the fact that people want to take time out of their day to talk to me about football, and tell me "good luck," Danny said of his growing recognition. "I love being a Massillon Tiger, we have the best fans in the world and I love talking to our fans about football. You find Tiger fans in every restaurant in Massillon, but I don't feel any fame, necessarily, I just feel like a lot of people love the Tigers, and want to see me do well. People think I live my life training for football non-stop, but that's not true. I have a girlfriend, I hang out with my friends and go to bonfires like everyone else and I live a pretty normal life. Except with people stopping me often to ask if I'm Danny Clark."
The Clark's are aware that football is just one avenue for Danny's potential success, not the only one. They are focused however on the positives of Danny's abilities, the knowledge that if things are done the right way the future is limitless for the left-handed signal-caller. 
"We don't entertain any negative thoughts of any kind regarding what may or may not happen," the elder Clark said when considering his son's future. "If you think like that, you're preparing to fail. If I were to worry that any offer — whether Ohio State or anyone else — won't come, then we're selling the idea that another man on this planet can do what Danny can't, and we simply don't believe it. I've been coaching football, and I have been a football fan as long as I can remember and I have never seen a kid at 15 years old who can do what Danny can do, or one that is as physically developed as he is. Most of the coaches in the Big Ten, and several SEC coaches have told us that as well. We're very, very confident that we are right where we want to be as long as he continues to make the right decisions on and off the field."
The learning process on the field for the younger Clark has the feel of a baptism by fire, but it's something he relishes and realizes will help him down the line. 
"I think the the most challenging thing about (adjusting to) varsity will be the defensive reads with teams trying to disguise coverage against me," the quarterback said of his transition to high school football. "In our spread offense there are a lot of keys, and reads that determine where to go with the ball, and I would say that would be the biggest change from last year. More complex defenses."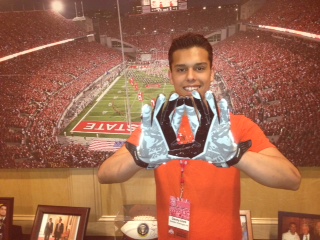 "Right now my only goal is to help Massillon win a state championship this year. I don't feel any added pressure being younger. I'm treated like every other varsity player on our team. A lot is expected from every Massillon Football player, and we expect a lot from ourselves. When you put that "Massillon" on your chest, something magical happens. You want to play hard not only for every person in the city, but for the guys who made our program what it is for the last 122 years."
It's clear that Clark "gets it." He's got a maturity beyond his years to go along with his impressive physical stature. Danny is becoming a bit of a celebrity, but that's not taking his focus off of what's important for him and his Tiger teammates. Still, the occasional brush with college football dignitaries impact him as it would any teenager; he's been left star-struck and pondering a future in the stadium he grew up dreaming about a few times recently.
"The first time I met Coach (Urban) Meyer I was just star struck. I had this whole plan of what I wanted to say to him, but when he shook my hand I could barely even speak. It was like meeting a famous actor or something. It was crazy," Clark said, unable to hide his affection for Ohio State football. "The Buckeyes have always been my team. I grew up in Columbus and I have always dreamed of being a Buckeye. When me and my brothers were little, any time we would drive down 315, where we could see the stadium my dad would say the same thing. 'There it is boys, there's where you'll be living. In the towers where the football players stay,' now the football players don't live in the towers, but we still look over every time we go down 315."
"When I was little when my dad would tuck me in bed he would tell me a story about a boy who was the greatest football player ever born. He would talk about how this boy would dominate football all of his life, and then go on to lead the Buckeyes to a national championship," Danny continued. "At the end of the story my dad would have tears in his eyes, and tell me the story was about me. I would go to sleep thinking about that and I never forgot those stories. My dad has always told me and my brothers we can do anything. Whatever our dreams are, just go make them happen."
Danny Clark is just like most of the young men who grew up in Ohio rooting for the Scarlet and Gray, but he's just a bit different, too.
He's ready for his chance to shine on the big stage at Massillon this fall and where ever his dreams take him after that.