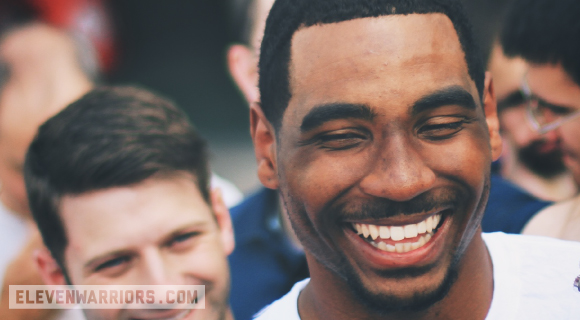 Mysteries surrounding the Ohio State football program are coming to an end. Bradley Roby's suspension? One game. Rod Smith? One game. On Monday, cornerbacks coach Kerry Coombs revealed another note: Armani Reeves will start in place of Roby. And, yes, Reeves still has his rattail.
Reeves said he'll be nervous, but also excited. Whether it's defense or special teams, he said his attitude doesn't change. Reeves will be going 100 percent.
Doran Grant will be starting at cornerback on the other side. Coombs raved about him, saying he earned the job. When Coombs scans the field and finds the corners, he sees speed, explosiveness and physicality.
All the starters are known on offense, but quarterback Braxton Miller is still the talk of the team. Offensive coordinator Tom Herman said Miller is head and shoulders above where he was last year. Herman said he sleeps much easier at night.
There was some confusion at times last year. Now, Herman said he and Miller speak the same language. Miller understands the offense and the terminology, speeding up the learning curve and making certain aspects second nature.
Tight end Jeff Heuerman was asked what he expects out of Miller this season. His response: the Heisman pose. Braxton said the Heisman is not discussed.
Miller completed 58 percent of his passes last year. Herman said 70 percent is the goal this year, but he'd be happy with 67 (two-thirds). Herman pointed out that'd only be an improvement of one more pass out of 10.
Herman said Miller's pitfalls last season are as much his fault as they are Braxton's.
On Saturday, Urban Meyer said the team wasn't ready to play a game yet. That still might be the case, but Braxton said they are on the right track.
When Meyer told the team they were going to have nine practices in six days, Miller said some guys on the team were wide-eyed. He said it was crazy, but it made the team better and helped bring them together.
Braxton had trouble at times with fumbles last year. It's been a point of emphasis during fall camp, he said. Herman makes sure he doesn't carry the ball too low.
It's been evident that Miller is more comfortable in front of the media. When asked about it, he said SID Jerry Emig has helped coach him. It drew laughs and playful insults, to which Emig responded, "Two more questions."
Timing and ball placement are the two of the main things Braxton said he's worked to improve. He said he can read defenses much better, as well. In practice today, he said he read Vonn Bell's body and burned him on a throw.
Luke Fickell said Ryan Shazier, Curtis Grant and Josh Perry are the starting linebackers. Fickell added Grant will be the guy in the nickel. He was very vague about Grant's injury (concussion).
Staff continuity is an important factor in any team's success. Only 18 schools have staffs completely intact dating to last season. One of them is Ohio State. Herman said it's a huge advantage for the Buckeyes. There's no better place to work, he added.
The improvement from the veteran wide receivers – Evan Spencer, Philly Brown and Devin Smith – is one of the biggest reasons why the offense will be so good this season, according to Herman.
Herman also said he'd challenge anyone in the country to try and produce two better all-around tight ends than Heuerman and Nick Vannett. Their versatility adds a dimension that wasn't present in last season's offense and gives Miller more freedom.
Tight ends coach Tim Hinton said Heuerman and Vannett are 1a and 1b. They can do it all and are well-developed.
And, of course, there are the freshmen playmakers that haven't even been discussed yet. All told, Ohio State's entire offense will be looked at very different this year. Much more dynamic.
Tyvis Powell is No. 1 at "star" right now, but Coombs said Vonn Bell is pushing him.
At dime, Pittsburgh Brown, Devan Bogard and Cam Burrows are battling for the top spot.
New tight end J.T. Moore is adapting well, Heuerman said. Obviously, he's a better blocker than pass catcher at this point.
Heuerman said his only goal in camp is to work hard and keep his mouth shut. It's his third year in the program, so he wants to lead and be more consistent.
Much was made of Braxton's scrambling ability last year. Heuerman said he's going through three and four progressions sometimes before he tucks it and runs.