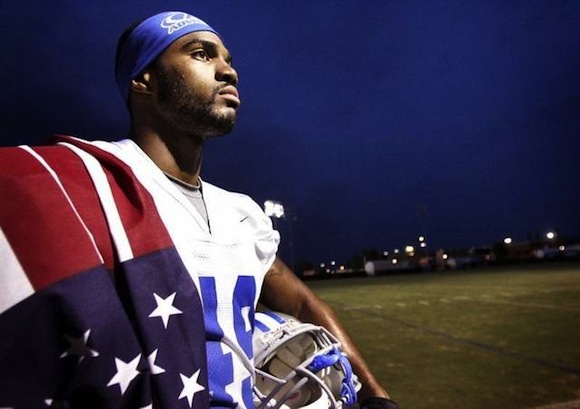 Steven Rhodes (above) served our country in the Marine Corps. He did so ahead of his dream of playing college football.
The NCAA is deferring that dream, because...well, just because.
But not long after arriving on campus, Rhodes was told that his participation in a military-only recreational football league in 2012 would hinder his immediate eligibility to play Division I college football, per an NCAA rule.

Despite his age, military service and complete lack of college football experience, Rhodes must take a mandatory redshirt and not play a single game for MTSU this season.
Rhodes finished five years of active military service and was accepted by MTSU's coaches over the summer. The snag with his eligibility was unexpected, though you have to credit the NCAA for continuing to come up with unique ways to be unmerciful assholes preserve amateurism.
The league Rhodes played in that is delaying his college football career sounds like it was intense:
"Man, it was like intramurals for us. There were guys out there anywhere from 18 to 40-something years old," said Rhodes, chuckling and shaking his head. "The games were spread out. We once went six weeks between games."
Well done, NCAA. You've done it again.