Few teams in college football have the expectations entering the 2013 season that Ohio State has. Those who have questioned whether or not the Buckeyes can live up to those expectations often site a lack of depth at key positions as the reason why.
A lack of depth is typically only a problem if a team is hit with injuries, but it's a legitimate concern for Ohio State. Football is a violent sport and a second teamer is only one play away from becoming a starter. Do the Buckeyes have enough depth to pull off a title run? Well, that all depends upon what position you're talking about.
Ohio State's depth is sufficient at running back, wide receiver, safety and tight end, and the Buckeyes have one of the nation's most experienced and smooth backup quarterbacks. There are also a lot of bodies on the defensive line, albeit inexperienced bodies.
Depth is a real issue at linebacker, offensive line and cornerback.
We covered the special teams last week. Let's take a look at Ohio State's depth chart on offense and defense.
OFFENSE
Quarterback: Duh. Unless you've been living under a rock (and maybe even then), you know that junior Braxton Miller is the man and Kenny Guiton (and his smooth, smooth jazz) is the capable veteran backup. All Miller did during his sophomore year was set school records for total yards (3,310) and rushing yards by a quarterback (1,271). His rushing total was the second most by a quarterback in conference history. Miller completed 58.3% of his passes (148/254) for 2,039 yards and 15 touchdowns, with just six interceptions. He averaged 5.6 yards per carry and scored 13 rushing touchdowns. He was good enough to be named the conference MVP by the Chicago Tribune.
Guiton was an outstanding backup, generally leading his team to scores whenever spelling an injured Miller, and leading the Buckeyes to a dramatic come-from-behind win over Purdue. Guiton completed 13 of his 23 passes (56.5%) for 139 yards and two touchdowns, with one interception. He ran for 32 more yards on nine carries. But what really made Guiton valuable was his calm leadership, coming in cold off the bench in very chaotic circumstances. He was a leader, which is exactly what you want your quarterback to be.
Beyond Kenny G is redshirt freshman Cardale Jones. Freshman J.T. Barrett is highly touted but he's coming off an injury and may redshirt this season. Other than that, it's preferred walk-on freshmen Luke Morgan and Reid Worstell.
Running Back: The depth chart at tailback is going to change when Carlos Hyde's suspension ends, but Hyde will be the No. 1 guy when he returns. Despite missing two games with injury last year, Hyde ran for 970 yards, narrowly missing becoming Urban Meyer's first 1,000-yard running back.
In his absence, look for Rod Smith and Jordan Hall to split time with the first team (after Smith's own 1-game suspension). Smith is a bruising runner that has displayed only two holes in his game — a lack of ball security, at times, and he often displays a too-high pad level when carrying the rock. Hall ran for 218 yards and a touchdown in seven games last year, while Smith picked up 215 yards and two scores in nine games. Hall will probably play some tailback as well as the hybrid position until Hyde returns.
Sophomore Bri'onte Dunn and redshirt freshman Warren Ball will push for playing time. Talented true freshmen Ezekiel Elliott and Dontre Wilson are probably too talented to keep off the field. Wilson is turning heads in camp and will line up somewhere, possibly in Hall's hybrid slot early in the year. If walk-on sophomore Levi Ratliff sees the field in a competitive game, it's probably not a good sign.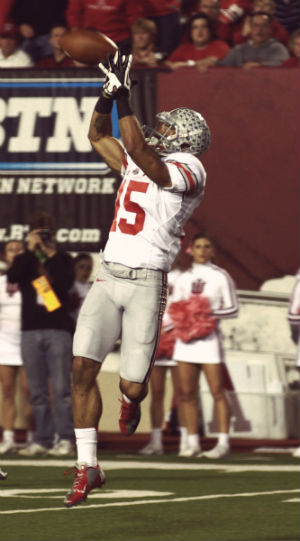 Wide Receiver: Senior Philly Brown and junior Devin Smith are returning starters and by all accounts in camp they've improved. Brown caught a career high 60 passes a year ago for 669 yards but scored only three touchdowns. One was against Michigan though, so it counts as five. Or something. Smith had 30 receptions for 618 yards and six scores and was the team's deep threat. Senior Chris Fields was named a starting slot receiver by Urban Meyer after the Spring Game. Fields made only four catches for 55 yards and a touchdown, appearing in eight games in 2012. His touchdown was kind of a big one though — it came in the dying seconds against Purdue and it combined with Jeff Heuerman's two-point conversion to force overtime and preserve the undefeated season.
Junior Evan Spencer has been singled out this camp for his improvement by Meyer and OSU Receivers Coach Zach Smith. Spencer caught 12 passes for 136 yards last season, without a touchdown. Sophomore Michael Thomas has not yet lived up to his Spring Game 2012 performance. Thomas played in 11 games last year, but was held to three receptions for 22 yards.
Several youngsters will push the returning players, including junior college transfer Corey Smith and freshman Jalin Marshall. Preferred walk-on freshman Joe Ramstetter eschewed a baseball scholarship to play for Ohio State and was the first of the outstanding 2013 recruiting class to earn the removal of his black stripe. Redshirt freshman Frank Epitropoulos is another option and someone I really want to succeed so I can give him the nickname "The Galloping Greek."
Tight End: Ohio State has two outstanding tight ends returning this season in sophomore Nick Vannett and junior Jeff Heuerman, and both will play a lot. Vannett and Heuerman finished 2012 with only nine and eight receptions, respectively, but every catch seemed to be an important one. Vannett gained 123 yards but did not score, while Heuerman tallied 94 yards, a touchdown, and a very important two-point conversion against the Boilermakers. Both figure to improve their stat lines in 2013 as the offense uses more of Tom Herman's playbook.
Freshman Marcus Baugh will start the season on suspension, but he's an athletic tight end who will push for snaps in 2013. Defensive lineman J.T. Moore has moved to tight end to provide added depth. Junior walk-on Charles Kinzig rounds out the tight end position.
Offensive Line: The only mystery entering camp was whether Taylor Decker could hold off Chase Farris and seize the starting right tackle position. That has happened, and the sophomore joins seniors Jack Mewhort (LT), Andrew Norwell (LG), Corey Linsley (C), and Marcus Hall (RG) on the first team. The Buckeye starting line should be one of the best in the country, but it would benefit future teams if Meyer can get some experience for his backups.
Speaking of the backups, Ohio State is just starting to recover from the Jim Bollman era. Farris is a second teamer along with redshirt freshman Kyle Dodson, sophomore Jacoby Boren, freshman Pat Elflein, and junior Darryl Baldwin. Sophomore Tommy Brown is also in the mix for the two-deep. Beyond that, it's still a bit thin.
DEFENSE
Defensive Line: The D-line lacks experience, but not talent. Junior Michael Bennett has had some injury woes in the past, but he's the most experienced and polished player on the defensive line. Sophomores Adolphus Washington and Noah Spence will join Bennett on the starting unit, and junior Joel Hale appears to have grabbed a starting spot as well, although sophomore Tommy Schutt is pushing him hard. Freshman Joey Bosa looks to have snared a spot in the dime package and a second team D-line position. Others vying for the second team are junior Steve Miller, sophomore Chris Carter, and freshmen Tyquan Lewis and Tracy Sprinkle.
Linebacker: Junior Ryan Shazier is a starter. In fact, he'll likely be one of the best linebackers in the country this season. Shazier led Ohio State in tackles (115) and tackles for loss (17). He had five sacks, an interception for a touchdown against Penn State, 11 pass breakups, three forced fumbles and three quarterback hurries. He was a machine. Junior Curtis Grant has finally taken the starting Mike linebacker role and sophomore Josh Perry will be the third guy when Ohio State goes with a 4-3. Grant played in eight games and made eight tackles and Perry made five tackles in 10 games.
Freshman Mike Mitchell and sophomore Cam Williams appear to have locked down second-team spots, while freshman Trey Johnson and sophomore Craig Fada are also in the mix for the second unit. This is an untested position group, and probably the most worrisome entering the 2013 season. However, the Buckeyes are expected to play more 4-2-5, which would help cover the weakness. That won't be possible against power running teams, but Luke Fickell has a few games to get ready for that.
Star: In the 4-2-5, redshirt freshman Tyvis Powell has laid claim to the star position. Senior Pitt Brown is battling freshman Vonn Bell to be Powell's backup. Brown had 17 tackles a season ago in a reserve role.
Cornerback: While junior Bradley Roby is a sure-fire first team corner, but he'll start the season on suspension. Roby is a preseason All-American and perhaps the best defensive back in the nation. His presence often cuts the field in half for opposing quarterbacks. When the other team does throw (or run) his way, bad things can happen to them. Roby was third in tackles (63) for Ohio State in 2012. He made two TFLs, picked off two passes and broke up 17 others, recovered a fumble and blocked a kick. Junior Doran Grant will be the other starter. Grant made 19 tackles in a reserve role last year, with one interception, a pass breakup, a sack and a fumble recovery.
Freshman Gareon Conley and sophomore Armani Reeves are the favorites to back up Roby and Grant.
Safety: Seniors C.J. Barnett and Christian Bryant start in Ohio State's most experienced defensive unit. Bryant (70) and Barnett (56) were second and fourth, respectively, in tackles for the Buckeyes a year ago. The duo combined for three interceptions and 18 pass breakups. Sophomore Devan Bogard and freshman Chris Worley are manning the second team.