To know your enemy, you must become your enemy. Or at least know a little bit about them. That's why we've brought you this first edition of the opponent preview, giving you the rundown on the opening four games of the slate.
Buffalo
The Buffalo Bulls have seen better days since their 2008 MAC title, but that doesn't mean the Bulls wont be a potential sleeper team in the MAC this season. The squad returns nine starters on offense and eight starters from one of the Mid American Conference's best defenses in 2012.
OFFENSE: On the scoring side of the ball, the Bulls return three of their starters on the line. Running behind them will be senior RB, Branden Oliver. The Miami, FL native had a monster 2011 putting up 1,395 yards and 13 TDs. Unfortunately an injury last season caused Oliver to miss five games, yet he still was able to lead the team in rushing with 821 yards and 5 TDS. 
There is less certainty at QB where sophomore pocket passer Joe Licata will compete with the senior scrambler Alex Zordich for playing time. Whoever, gets the snaps, look for them to get the ball to senior WR Alex Neutz. The Bulls No. 1 wide receiver had 65 catches for 1,015 yards and 11 TDs last season.
DEFENSE: The Bulls D definitely put up some impressive numbers last season, finishing 33rd in the nation in tackles for loss and 15th in sacks. The line will be led by Colby Way, a 1st teamer on Phil Steele's preseason All-Mac team. To give a little perspective, Way had two sacks in the Bulls 2012 opener against Georgia. Very impressive. At linebacker, the Bulls feature Khalil Mack, who may very well play his way into a first round selection at the 2014 NFL Draft. In the secondary Buffalo returns a pair of scrappy CBs in Najja Johnson and Cortney Lester. The two combined for nine of the teams 13 picks in 2012.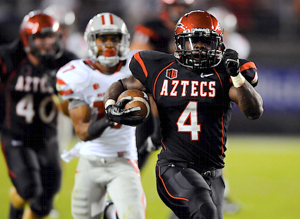 PLAYER TO WATCH: RB Branden Oliver. The kid put up 111 yards and 1 touchdown against Georgia last season. When he's healthy, he's dangerous.
San Diego State
The Aztecs went 9-4 last season with a win against #19 Boise State. To end the year, SDSU went 7-0 before a 23-6 loss to BYU in the Poinsettia Bowl.
OFFENSE: In 2012, the Aztecs' offense was one of the best in school history averaging nearly 33 points per game. In 2013, redshirt junior QB Adam Dingwell returns to lead the attack. Dingwell came in during the last four games of the season to replace senior Ryan Katz. While Dingwell helped the Aztecs win their last five games of the season, but the attack was largely driven by then sophomore RB Adam Muema (1,458 yards and 16 TDs). Muema will be the No. 1 option for the Aztecs throughout the season. The only question-mark at RB will be who will spell Muema when he needs a rest. Right now its looking like sophomore Chase Price.
DEFENSE: The Aztecs return nine starters on a defense that is Head Coach, Rocky Long's baby. Long was the defensive coordinator under Hoke until his ascension to the top position in 2011. Since Long has taken this group under his wing where they came in at 42nd in the nation in points against, only giving up 24.4 points per game. The defense is led by arguably the strongest linebacking group in the Mountain West Conference. The Aztecs return their entire LB corps with senior Nick Tenhaeff in the middle (52 tackles, 13 for loss), and juniors Derek Largent (61 tackles 6.5 for loss) and Jake Fely (90 tackles 7 sacks) flanking him.
Up front the defensive line will return everyone including Sam Meredith, Jordan Thomas, Cody Galea and Dontrell Onuoha. Widely regarded as one of the best lines in the MWC.
PLAYER TO WATCH: Adam Muema. The 5'10'' 205 lbs back out of Covina, CA had some monster games last season including a 202 yard 1 TD game against San Jose State and a 255 yard, 4 TD game against Wyoming.
California
For the first time in over 10 years, the Cal Golden Bears will field a new head coach in Sonny Dykes. The former Louisiana Tech head man will look to take the reigns of a 3-9 team, though Cal looked a lot tougher than that during their Sept. 15th trip to Columbus last season. Dykes hails from the Mike Leach coaching tree, and his 2012 Louisiana Tech offense led all of college football last year averaging 578 yards per game and 52 points.
OFFENSE: QB Zach Maynard has graduated, leaving a vacuum at the quarterback position. Stepping in to fill his shoes will likely be redshirt freshman Zach Kline, though freshman Jared Goff and junior Austin Hinder will push him for playing time. Behind the QB will be junior RB, Brendan Bigelow. The 5'10'' 180lbs back gave OSU fits last season rushing for 160 yards and 2 TDs but failed to maintain that momentum throughout the season finishing 2012 with 431 yards and 3 TDs (yes Bigelow had over a quarter of his production against the Buckeyes).
Also in the mix are WRs Bryce Treggs, Chris Harper and Richard Rodgers. The three combined for 1,048 yards receiving and 4 TDs.
DEFENSE: 98th in the country in points against (33.1) a year ago, Cal is switching to a 4-3 defense, and the change could affect some of the returning players early, specifically the outside linebackers who will be forced to convert to DE. The best player on the defense (team?) is nose tackle Deandre Coleman. He's a top NFL prospect named to the 2013 Outland Trophy Watch List. In 2012 he tallied 48 tackles including a team-high 8.5 tackles for loss and 3 sacks. 
Other standouts for the defense include junior LB Nick Forbes  (73 tackles, 1 sack), sophomore CB, Stefan McClure (22 tackles, 1 INT despite missing 6 games) and junior DE Brennan Scarlett (36 tackles, 2.5 sacks despite missing 5 games).
A big loss for the defense comes in the form of an indefinite suspension for DE Chris McCain. The junior led the Bears in sacks last year with 3.5 though cited academic issues could keep him off the field for an extended period of time.
PLAYER TO WATCH: Brendan Bigelow. The RB gave the Buckeyes fits last season in their own house. Now he gets the Scarlet and Gray on his own turf.
Florida A&M
Not much exists about the Florida A&M Rattlers on the interwebs, so this preview might be short and sweet. The team is coming off of a 4-7 season that saw them lose to the likes of Tennessee State, Oklahoma, Southern, Howard, South Carolina State, North Carolina A&T and Bethune-Cook.
OFFENSE: The Rattlers QB is sophomore Damien Fleming. Fleming put together a 2,157 yard 16 TD 2012 and will look to improve on those numbers in 2013. Behind him is senior RB Eddie Rocker who rushed for 694 yards and 1 TD in 2012. The team will lose their leading receiver in Travis Harvey (808 yards and 7 TDs) but will retain their second leading WR in Lenworth Lennon (699 yards and 4 TDs).
DEFENSE: Gone is the Rattlers' top tackler in LB Brandon Hepburn (86 total tackles). Stepping up to ill the void will be LBs Brandon Denmark (54 tackles) and Mike Ducre (52 tackles. The team also returns their second leading tackler in DB Jonathan Pillow (66 tackles). The defense as a whole gave up 23.1 points per game in 2012.
PLAYER TO WATCH: Honestly I have no idea. Trying to cobble together this preview was pretty tough. As of Aug. 14th here's the team's official roster. Yeah you saw that correctly, according to this the Rattlers only have five players on the team including a wide receivers coach, strength training coach and another wide receivers coach. I'm serious when I say coming up with the three paragraphs above took me roughly an hour. #GoRattlers UPDATE: Official roster now appears up-to-snuff #GoRattlers