There's been much made in recruiting and coaching circles about Ohio State's recent recruiting efforts within the Buckeye state's borders. High school coaches and players alike lament what appears to be a seismic shift in recruiting ideology between Urban Meyer's "think national, cherry pick at home" mentality versus the "secure Ohio and then cherry pick nationally" approach employed by his predecessor.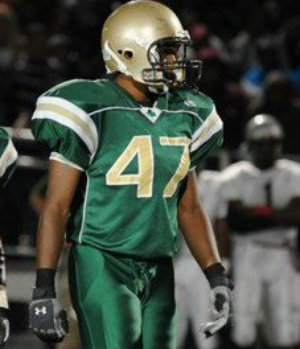 Of course anyone who digs even just below the surface knows that the Buckeyes have still fought tooth and nail to keep Ohio's best in scarlet and gray since Meyer's arrival, but perhaps the issue lays not with Meyer's approach but with what has been a few "down" years in Ohio high school football? In less than two full months of recruiting in the 2012 class, Meyer was able to land (or keep after Ohio State's transition from Luke Fickell) five of the state's top 10 players, according to 247Sports.com's rankings. With a struggling Buckeye football team embroiled in controversy, Brady Hoke and Michigan capitalized and picked up commitments from Ohio's second, third and fourth-ranked players in 2012.
In 2013, the Buckeyes landed a lauded class, ranked in the top two nationally but only landed four of the state's top 10, the same number as their rivals in Ann Arbor. Ohio State offered three of the four players who chose to sign with Michigan, including Trotwood-Madison linebacker and Buckeye legacy Michael McCray, but they couldn't sway them to stay home. In fact, were it not for a late-in-the-cycle switch of Massillon's Gareon Conley from the Wolverines to the Buckeyes, Ohio State would have been less successful in the top 10 from Ohio than Michigan, a sobering thought.
While Michigan's momentum in the state of Ohio has slowed as they've regained some national lure, 2014 is showing similar issues for the Buckeyes within the Heart of It All, although it appears things are a bit more Tresselian than previous years. Ohio State currently has commitments from five of the state's top 10 — and if Marshon Lattimore ends up a Buckeye as most expect, it would be a clean sweep in the top five — a reassuring sign that Meyer does value Ohio talent, despite the naysayers cries. Michigan has received only one commitment from the state's top 10, St. Clairsville LB Michael Ferns, who had a Buckeye offer. He joins Cincinnati LaSalle wide receiver Derek Kief as players who were offered by Ohio State but chose elsewhere; Kief chose Alabama this summer.
2015 is shaping up to be a special year in Ohio, and the Buckeyes have recognized it early. Who are their main targets in-state and what are the odds these players land elsewhere? 
As college football grows bigger and bigger and college coaches turn to a national recruiting base to take advantage of television exposure that showcases their programs from coast-to-coast, we're seeing an increase in the number of high school kids that are not "in love" with their home school, keeping the door open for other schools to swoop in and steal one away from the home team. As the SEC's prominence and dominance continues to litter the airwaves, as long as Michigan, Notre Dame, Tennessee, Louisville, Kentucky and other programs are on the rise — or back on top in the case of Michigan, Notre Dame and Tennessee — Ohio State's tasked with an increasingly difficult chore: convince the state's best that Ohio State's tradition, combined with their current ascension to the top of the polls under Urban Meyer, still makes the Buckeyes the place for any Ohio prep star who earns a chance to don the scarlet and gray.
The names to know for 2015 have already started to creep up, but the Buckeyes will find themselves in a fight for many of the state's top players, especially a couple of the top five. 
Justin Hilliard // Cincinnati (Ohio) St. Xavier // LB //
Hilliard is — according to many who've seen him — the best player in the state of Ohio, and he's got the offer list to prove. At 6-foot-2, 225 pounds he has prototypical size to be a knockout linebacker in college. Initially regarded by most — and still regarded by most — as a long shot to end up at Ohio State, the Buckeyes put their hats squarely in the ring by coming through with an earlier than expected offer, necessitated by Hilliard's offers from Notre Dame, Michigan and the dark horse for his services, Iowa, where his brother C.J., a running back in the 2014 class, has committed to play football. Ohio State will be looking to add a couple of linebackers in 2015 and Hilliard is at the top of the list in-state.
Jerome Baker // Cleveland (Ohio) Benedictine // LB/RB //
Baker, who dazzled at tailback during Ohio State's Friday Night Lights camp in late July, grew up in pro-Buckeye Cleveland but found himself rooting for Penn State as a child and the Nittany Lions, combined with Michigan, are both serious threats when it comes to landing the versatile athlete. Thought to be a linebacker candidate early by the Buckeyes, who offered Baker in April, he impressed Ohio State's running back coach Stan Drayton at FNL​ enough to make him a serious candidate at tailback in 2015. Baker could play linebacker, safety or running back and could be the best in the state at any of those positions if it were his primary focus. Things have started to move towards Ohio State for his commitment, but the Buckeyes will have to continue to make him a priority.
Hjalte Froholdt // Warren (Ohio) Warren G. Harding // DT //
We introduced you to "Yelda" back in May prior to his first visit to Ohio State, and the story of this Dane has continued to evolve. The Buckeyes became one a nearly a dozen schools to extend an offer to the Danish foreign exchange student before he departed the United States in July. Now back in Denmark, the 6-foot-5, 280-pound talent will try and get back to the states in order to continue his American football career, but if he is to return to the US there's no guarantee what city, state or high school he will land in. One thing is for sure, if and when he returns the Buckeyes will be very interested in his services. Michigan made a big impact on him during his multiple visits to Ann Arbor and may be the biggest threat here. You can never find enough or have too many high-end defensive tackles, and the Buckeyes will make Froholdt a priority.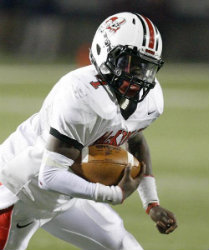 There are a number of other players in the state's top 10 that Ohio State has yet to offer who have garnered widespread attention and offers from others elite programs. Hubbard running back Larry Scott is a star and could very well end up with an Ohio State offer, one he'd likely not turn down were it to come his way. Others like Lakewood St. Edward's defensive back Shaun Crawford (probably Michigan bound), Toledo Central Catholic linebacker Chris Green, Cincinnati Moeller defensive tackle Elijah Taylor, St. Ed's wide receiver/defensive back David Dowell and Jackson linebacker Regan Williams will all get serious looks throughout the fall. 
As the leaves turn and football gets back in the air, it's a certainty that new names will pop up and new evaluations will be levied, but one thing that's for sure is that Ohio State is paying attention. Ohio's borders have never been more important and Ohio State's meticulous coaching staff will make sure that Ohio State's football team is where Ohio's best football players land.
---
Canton McKinley's Eric Glover-Williams, conspicuously absent from this list, is not included as I think his eventual commitment to Ohio State is a slam-dunk.