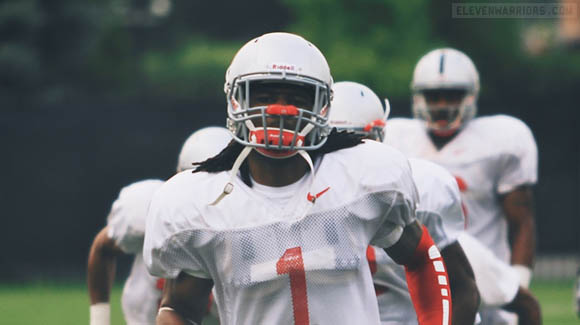 On Nov. 16, 2011, a private plane touched down in Columbus. The stealthy maneuver had the makings of a covert operation akin to shuttling the President of the United States around. But there was no president onboard this Gulf Atlantic Airways flight.
The passenger was offering a fresh start for a nation of millions, but one thing he couldn't bring with him was speed. More than 20 months and one season later, Urban Meyer believes he has the jets to mimic the explosive offenses he orchestrated at Bowling Green, Utah and Florida. 
"I see very similar qualities, certainly on offense," Meyer said of his Gators and now Buckeyes. "I feel a little bit of a jolt."
Meyer came to Ohio State with a reputation for winning a lot of games by a lot of points. Buckeye fans knew that all too well. Something else that was evident was speed. The college game had been changing for a decade. The halcyon days of wide-bodied linemen, pro-style quarterbacks and 25-carry-per-game running backs were in the rearview mirror.
Nimble linemen, dual-threat quarterbacks and versatile backs and receivers are now the direct route to a national championship. Meyer is familiar with the process. Two national championships at Florida convey that message loudly.
It's hard to be critical of an undefeated season. Anyone who watched the Buckeyes' 12-0 campaign in 2012 knows what was missing, though. Team speed and an offensive gamebreaker were nonexistent, except for a handful of occasions.
The 2013 recruiting class has put an end to that, while some current players improved their lateral movement and quickness.
Said Meyer: "You'll see a different style of offense this year if we stay healthy."
"If you don't play, it's because you're not good enough. It's not because we're saving you."
"Two guys who stand out are Dontre Wilson and Jalin (Marshall)," senior safety C.J. Barnett said. "A lot of time freshmen come in they are confused and a little slow and hesitant, but Dontre is full steam ahead."
On the football field, Wilson resembles a jitterbug. All one can see is a small figure weaving through traffic and dodging defenders – a real life silver bullet. He's so good so soon that he could start from Day 1.
"Our theory is you go play, not redshirt," Meyer said. "If you don't play, it's because you're not good enough. It's not because we're saving you."
Asked if he was a home run threat, Wilson didn't hesitate, "Yes, sir. I would like to think so."
Wilson speaks softly but carries a big stick. He presents himself as a confident player with a swagger that doesn't allow him to be intimidated. Wilson played against some of the best competition in the country in high school, accumulating 2,645 yards of offense and 46 touchdowns.
Fellow Texan Mike Mitchell delivered the first bit hit on Wilson in practice. But the diminutive back jumped to his feet, brushed himself off and went back to chewing up yardage and crossing the goal line. Ohio State averaged 37.2 points per game last year. That number is expected to be dwarfed this season, thanks to the fine-tuning via the speedsters.
The offensive coaches want to utilize the velocity they have and create mismatches, a central component to Meyer's version of the spread offense. Yards after contact and catch are critical. That's where Wilson, Marshall, Philly Brown and others come into the conversation. Not only do their abilities improve the offense's overall level, it takes pressure off Braxton Miller.
Miller took a beating throughout the 2012 season. Some of the rough contact was his own fault; he wasn't prone to running out of bounds. However, even Meyer admitted that he ran the quarterback so much because he was the only dynamic player on the offense. Miller truly was a do-it-all tour de force for the Buckeyes. Now that Wilson – and Marshall and James Clark and Corey Smith and Ezekiel Elliott– is entrenched, Miller can create plays without his legs.
"Ab-so-lute-ly," he said, when asked if he was excited for Wilson's arrival. "Definitely. He's a special kid. He goes all out. You could tell from the first day of camp, he was like a bolt of lightening. Now he's kind of slowing down and getting used to that college life. He's back getting massages right now. We've got to get our bodies right."
If not for Chip Kelly leaving Oregon, chances are Wilson, a one-time Oregon commit, wouldn't even be at Ohio State right now. He said Tom Herman was relentless in his contact with him, even after he committed to the Ducks. Still, Herman kept growing the relationship. It got to a point that Wilson described as annoying. But he admitted he'd rather be bothered than not receive any calls.
The moment Kelly left for Philadelphia, Wilson said a Columbus, Ohio, phone number showed up on his phone. The next month he committed to the Buckeyes.
"Who wouldn't like to get coached by Urban Meyer?" Wilson said.