Though the hype associated with virtually every incoming freshmen class at the truly elite football factories across the college football landscape often reaches seismic levels, it's incredibly rare for a high volume of true freshmen – or even redshirt freshmen for that matter – to establish themselves as big time contributors right out of the gate.  
That's not to say a handful of freshmen can't immediately add some depth or make a marginal impact on special teams but to come in and be a big-time impact player from day one is the exception, not the rule. 
With Urban Meyer's 2013 class ranking in the top two nationally and generating a buzz thanks largely to the collective speed of the group, we recently looked at the top freshman seasons in Buckeye history and even glanced at the last five freshman classes to come through Columbus in an effort to gain some perspective. 
Both exercises showed that while it's certainly plausible to catch lightning in a bottle as Ohio State recently did with guys like Braxton Miller and Terrelle Pryor, it's more realistic that the vast majority of the young kids must learn to crawl before they run. 
Of course, that's never been Urban Meyer's way. He recruits kids to play and play early, provided they are good enough. With that notion against the backdrop of his much heralded 2013 class, we take a look at which true freshmen could carve out big roles on a squad coming into the season with national championship aspirations. 
SUDDEN IMPACT: DONTRE WILSON & CAMERON JOHNSTON
Not even midway through fall camp, it's impossible to know exactly what the future holds for all the members of the 2013 class but the safest bets to be legitimate, big-time factors in year one are ATH Dontre Wilson and punter Cameron Johnston. 
Wilson has had the attention of Buckeye fans ever since he flipped from Oregon to Ohio State following Chip Kelly's departure for the Philadelphia Eagles. The speedster from Texas has only seen his stock rise since Braxton Miller, among others, heaped praise on the burner during B1G media days back in July. 
Meyer himself tried to quiet the talk in Chicago but after the first week of practice, even he couldn't hide his excitement for what the kid will bring to this year's offense. Running backs coach Stan Drayton is certainly expecting things recently offering, "His ability to explode, to make people miss, is exciting. He brings surprising maturity. He's an unbelievable addition to this team."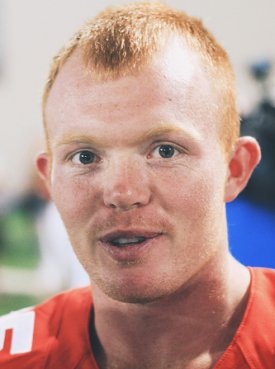 Expected to see time at both running back and at the pivot, Wilson could also find himself back deep on kickoff returns as Ohio State looks to exploit his blazing speed and shifty moves in the open field. 
For his part Wilson seems to be handling the hype pretty well. During Sunday's OSU media day, Wilson discussed the recruiting process and his goals for year one saying, "I'm glad I landed here. I chose the right place. I want to get on the field and play. The ultimate goal is to play for a national championship team."
With Jim Tressel no longer at the helm, it's a bit shocking that a freshman punter could generate much buzz but that's exactly what has happened thanks to Johnston's bionic leg. 
A former Australian rules football player and a student at the renowned Prokick Australia, an academy that puts kids through a year-long program prepping them for American football, Johnston fell into Meyer's lap months after Johnny Townsend left the Buckeyes at the signing day altar. 
Upon arrival, Johnston has wowed both Meyer and Kerry Coombs with both his leg and his stellar athletic ability. Coombs could barely cobble together a coherent sentence as he gushed about the 21-year old kid with four years of eligibility during media day saying, "He's gifted. He's special. He can do all the kicks right now," just days after Meyer tabbed Johnston the starting punter summarizing his first day in practice as "ridiculous". 
Bottom line, both Wilson and Johnston appear to be the two "can't miss" recruits in their class that will undoubtedly have significant roles this season. 
POTENTIAL ROTATION GUYS: JOEY BOSA, MICHAEL HILL AND JALIN MARSHALL
With Wilson and Johnston most likely to be major factors this year, the next level of contributors is potentially comprised of defensive linemen Joey Bosa and Michael Hill and WR Jalin Marshall.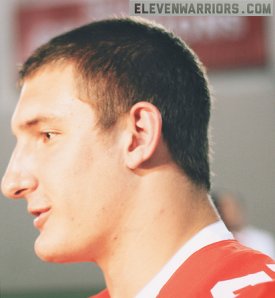 Bosa, a four-star defensive end according to Scout, received a vote of confidence recently as Meyer noted, "I imagine he'll play this year. We're playing with him inside and outside."
His chance to play early is only strengthened by Ohio State's need to replace all four starters from the 2012 defensive front and the fact the defensive staff prefers to employ a rotation to keep players fresh, provided the talent is there. 
The Florida product's versatility has clearly caught the staff's eye and though it appears Noah Spence, Joel Hale, Adolphus Washington and Michael Bennett have virtually locked up starting spots, there will undoubtedly be reps for the taking. 
Hill, a lifelong Buckeye fan out of South Carolina, has also made noise in camp drawing raves from Meyer and BTN's Tom Dienhart also came away impressed during a recent visit.
It's possible Hill is slightly bigger reach to contribute consistently as a freshman since he might not be quite as versatile but early returns combined with the notion the staff would probably love to have 7+ guys they are comfortable using up front put Hill in the conversation.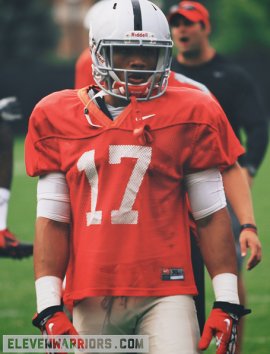 Marshall, a high-school quarterback out of Middletown, has shown flashes of being great according to WR coach Zach Smith.
It will be interesting to see if a concussion reportedly suffered last Thursday has any negative impact on his development in camp because the kid has impressive upper body size to go along with even more impressive wheels. 
The five-star was Ohio State's 2nd commit in this class and has shown excellent hands and no fear in going over the middle in traffic.
The problem for Marshall is that so many other guys at the skill positions are stepping up.
Wilson and Jordan Hall seem to have a firm grip on the bulk of snaps coming from the pivot, allowing Philly Brown to move back to the outside, where the Buckeyes already feature names like Devin Smith and the fast-improving Evan Spencer, among others (Michael Thomas?!). As such, it might be tough for Marshall to be much more than a rotation wide receiver in year one. 
That said, Marshall could find himself in the mix on kickoff returns and he appears up to the task after taking one to the house in Ohio State's fourth practice tough Meyer didn't mention him when rattling off possible return men when he addressed the media this past Sunday. 
FIGHTING THROUGH DEPTH
A slew of other freshmen could absolutely contribute to this season's bottom line though their chances to do so appear much more cloudy for a myriad of reasons, most notably the insane amount of talented depth that Meyer and staff are attracting and developing. 
Defensive true freshmen Eli Apple, Vonn Bell, Gareon Conley and Mike Mitchell could all find their way onto the playing field – outside of contributions on special teams – should their talents and ability to grasp the schemes collide just right with opportunity while big hitter Chris Worley and fellow defensive back Cam Burrows might find their only chance to contribute come as members of the coverage teams. 
Apple enrolled early and shined during spring drills but with Roby relegated to 2nd team reps as a form of punishment, Conley was the man the defensive staff inserted opposite Doran Grant and he's drawn nothing but positive reviews. That's not to say things won't change but for now, it appears as if Conley has earned first dibs on Roby's reps during the duration of an expected few-game suspension. I personally believe Apple is the one most likely to emerge as a star player over the long haul in comparison to Conley or Burrows but time and change will surely show.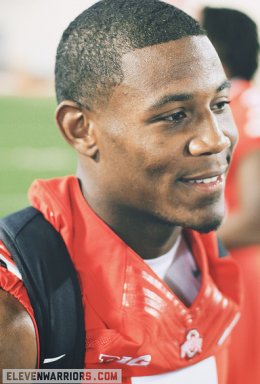 When it comes to Bell, I share the same view as Tony Gerdeman who recently opined that the fact Bell has been working mostly at Star is a good indication the coaches would love to find room for him in the defensive backfield this fall. Bell is a born safety but with Christian Bryant and C.J Barnett firmly entrenched as starters, only injury and blowouts will create reps on the along the back line. Of course, redshirt freshman Tyvis Powell has done nothing to lose hold of his Star spot thus far and man, is it easy to root for that guy. 
Mitchell has reportedly shown a solid football IQ plus an ability to blitz the passer and with Curtis Grant still a bit of a wildcard at the Mike, maybe it's a bit premature to think the five-star freak from Texas couldn't emerge as a fixture in the middle over the course of the season. 
Billy Price has gained some mention from the coaches on occasion thanks to his early work on the defensive line but with Hill and Bosa seemingly coming on, he likely needs to step up his production to make a bid for meaningful rotation play, as does early enrollee Tyquan Lewis. 
On the offensive side of the ball, guys like Ezekiel Elliott and James Clark ooze potential but could be on the outside looking in when it comes to serious playing time thanks to the aforementioned depth Meyer is stockpiling.
Projected as a running back, Elliott lost his black stripe Monday and looks like he's the real deal but with names like Hyde, Hall, Rod Smith, Bri'onte Dunn and Warren Ball also vying for carries, he's got his hands full. I absolutely expect great things over the long haul from Elliott but being a factor in year one might be a tough chore. His best chance to contribute this year will most likely be in the kickoff return game and it's not hard to envision him cranking out a few big plays in such a role.
Clark also looks to be a long term contributor to the team but will have his hands full this year thanks to the plethora of receivers and return men bidding for time.