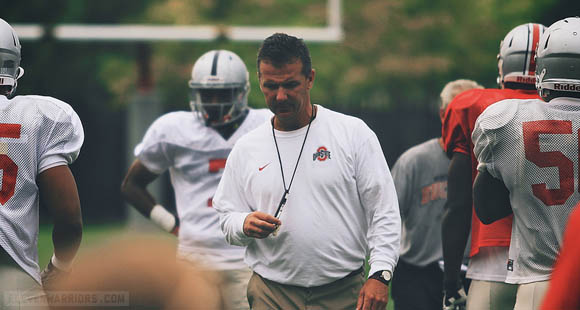 Years pass, players and coaches come and go, but the expectations always remain the same in Columbus. In 1955, Ohio State fans clamored for an undefeated season. The same holds true for 2013. 
Luke Fickell has been inside the Buckeye football program for 18 years. His playing days ranged from 1993 to 1996 – a resurgence for the Buckeyes. When he graduated, Fickell left Ohio State as one of the winningest players in program history. He returned as a coach and, not surprisingly, winning was still the top priority.
A young graduate assistant on the 1987 coaching staff saw what can happen when great expectations meet distractions: a train wreck. The Buckeyes were a top 5 team entering the season. They ended the previous year winning nine of 10 games, including a resounding win over Texas A&M in the Cotton Bowl.
Visions of Pasadena quickly disappeared, though, when star wide receiver Cris Carter was ruled ineligible for signing with an agent. Ohio State tied LSU early in the season and then lost to Indiana, a loss Earle Bruce referred to as "darkest day" at Ohio State.
"I've known about Ohio State football since I was a freshman here in 1949," he said. "This is the darkest day in Ohio State football since I have been associated with it."
Three straight losses in the final weeks of the season doomed Bruce, but he went out on top with a win over Michigan. Urban Meyer, the aforementioned GA, also lost his job. He learned a lesson as well; outside commotion can disrupt any season, no matter how good the team is.
"I was here in '87, and at the start of the season we were preseason No. [5] in America," Meyer said. "Our staff got let go and it wasn't really a positive year. It's not because of bad coaches, it's not because of bad players, it's because of distractions."
That message is being pounded into the current players. All was well in Buckeye Land until the past month, when four separate incidents took place involving players running afoul with the law. Suddenly, a promising season seemed on the brink of collapse.
But Meyer and athletic director Gene Smith issued an ultimatum that's been well received, even with the recent revelations regarding Najee Murray. When hype is the operative word to describe the upcoming season, the head coach is wise to be stern.
"You just try to create a culture," Meyer said. "Our clientele is 18-to-21-year-olds. If you recall, they kind of get distracted. We've just got to make sure that they stay focused."
It wasn't an issue during the first week of camp. As he briefed the assembled press at media day, Meyer rattled off bullet point after bullet point. Almost every attribute was indicative of a good football team. A year ago, Meyer delivered a message that was more subdued in tone.
Back then, his quarterback's skills remained in the shadows, as did the play of the offensive line. And don't forget about the underwhelming wide receivers. All that is way in the past now. 
The reviews of Miller's game are good every time a coach or player is asked to comment. The all-around nature of his game – performance and leadership – creates a heaping pile of excitement.
"I love Braxton Miller," Meyer said. "He and Tom Herman have something really special going right now. You can see it on the field. He's just a different guy. He's always been a great guy, but now he's got some confidence to him."
It's contagious right now. Taylor Decker spoke of the newfound confidence he has in himself, admitting it just wasn't there during spring practice. After stewing over not seizing the moment, he's taken hold of the starting right tackle position after one week of fall camp.
"Taylor Decker has solidified himself as a starting candidate," Meyer said. "If we played tomorrow, he would be the starting right tackle."
There's still three weeks, though. Even with so much assurance traveling through the locker room, using the next three weeks to refine the play on both sides of the ball is a must. That doesn't mean the players are going to like it.
The Buckeyes will have nine practices in six days, and it won't be enjoyable. They're moving to the notorious Ackerman Road fields, simulating an NFL training camp. There are no amenities, just grass. But it creates an atmosphere conducive for bonding and laughing at adversity later in the season.
"This next week is tough," Meyer said. "The 2013 Ohio State Buckeyes will be determined by this week coming up. We'll be going over to the Ackerman Road fields. There are a lot of reasons why we do it. The most important reason is you have to feel bad before you can feel good. You have to appreciate what you've got. I would like to go away, but that is hard to do with all of your video equipment and your teaching facilities here. The university has been gracious to let us use the Ackerman fields."
So with football at the forefront, Ohio State will shelve distractions and focus on its one-day-at-a-time motto. There will be competitive excellence and four to six seconds of relentless effort. That's what Meyer asks of everyone. This season, those four to six seconds might pass by a little quicker.
"We're a faster team," Meyer said.
"That whole part of the offense did not exist, which is tough. If you examine last year on offense, we were a pro offense. There were not a lot of read components. The equation where if there is an extra guy in the box and you read it one way, which is the essence of spread football, did not exist for us."
One year later, so much has changed. But the welcome constant remains the lack of season-altering distractions.