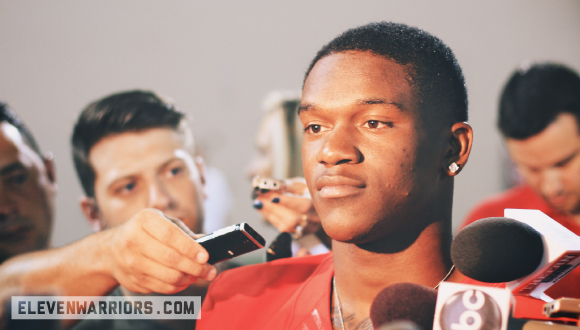 Dontre Wilson has been billed as an incredible playmaker. The one-time Oregon recruit made an instant impression on his upperclassmen teammates at Ohio State when he enrolled over the summer. Braxton Miller and Christian Bryant both raved about the Texan's big-play ability.
But fellow Texan Mike Mitchell was one step ahead of Wilson in practice earlier this week, delivering a crushing blow. It drew 'oohs' and 'ahhs' from those watching and slaps on the back by teammates. It was a Welcome to College Football moment for Wilson.
The diminutive speedster elaborated on his recruiting process, saying Tom Herman was so relentless in pursuing him that it became annoying. He said there was contact throughout the time he was committed to Oregon, and when Chip Kelly left for the NFL, Herman was calling soon thereafter.
Urban Meyer has craved a Percy Harvin-like player, and that's exactly what he told Wilson. The intent is to turn Wilson into a playmaking missile. The reviews have been positive so far.
Wilson said he and Bradley Roby are the two fastest players on the team. Wilson referred to himself as a "home run hitter."
"I want to get on the field and play. The ultimate goal is to play for a national championship team." -Wilson
Running backs coach Stan Drayton said Carlos Hyde has shown great humility in camp. He said he's been coaching the young guys even as some disappointment has crept in. Drayton praised Hyde for his vision on the field and said that's one thing he's passing down.
"Carlos is forced to take on a leadership role and he's taking the young guys under his wing." - Drayton
Jordan Hall's appearance in the backfield is all a matter of adding depth, according to Drayton.
Drayton said Hall is the No. 1 guy at the moment. 
"(Wilson's) ability to explode, to make people miss, is exciting. He brings surprising maturity. He's an unbelievable addition to this team." -Drayton. He said the freshmen bring an added dimension to the running back's room. 
The offense should execute faster this season. 
To earn more playing time, Drayton said Bri'onte Dunn must improve his productivity. 
In talking about Braxton Miller's quietness last season, Tom Herman said it had to do with Miller not having his own house in order. Because he wasn't the player he thought he could be, Miller lurked in the shadows.
Miller doesn't have to be a vocal guy in the huddle, Herman said, but it's a necessity that your quarterback is a leader. There are various ways to lead.
One of the stars of the day was Australian punter Cameron Johnston. He said going against the rush is OK. He experienced it while he trained Down Under.
Asked if he knows the rules of football, Johnston said yes. He's a former Aussie Rules football player.
Drew Basil has taken Johnston under his wing and taught him different nuances of the game and helped him with kicking.
Johnston said he's a big fan of Columbus. He said if he had gone to a more rural school, he probably wouldn't have liked it.
Kerry Coombs said he's explained to Johnston the goal is not to outkick the coverage. "We want zero return yards."
Mitchell said he was happy to get his black stripe off early in camp. He said it was one of the biggest goals he had. Becoming an entrenched member of the team was key.
Being on the other side of the field when Wilson is out there is difficult, Mitchell noted. But don't forget about the aforementioned punishing hit.
The biggest adjustment in the college game is the wear and tear of going against O-linemen, Mitchell said.
He may be the starter now at right tackle, but Taylor Decker said he won't get complacent. After not securing the starting spot during the spring, Decker said he was burning inside all summer. He won't blow this opportunity.
Gaining self-confidence was the biggest obstacle for Decker. He couldn't explain why he lacked confidence. But he said the coaches could tell it was there.
Hall said he's just trying to reestablish himself in the offense after missing most of last season with a knee injury.
Running back, slot, receiver – Hall doesn't care. He just wants to be on the field.
After an up-and-down career, Hall said he won't take anything for granted. He'll be going 100 percent in every practice, game, lifting session, etc.
Ezekiel Elliott said the biggest adjustment he needs to make in the college game is pass protection. Difficult when Ryan Shaizer and Noah Spence are bearing down on you. They're a tad bigger than high school players.
The freshman class has been the talk of camp. Elliott said it's because the group goes so hard all the time.
Ohio State has a complex playbook. Elliott said the stuff he knows already is getting easier, but there is still a bulk of the playbook he hasn't learned.
Some good quotes from Mike Vrabel:
"The definition of a pro is making the hard look easy."
"As a coach, I rarely sleep through the night. But as a player, I never missed sleep."
Vonn Bell said Everett Withers told the defensive backs he'll take the penalties on helmet-to-helmet hits. He's not saying play dirty, but you can't change your style of play. If an official calls a penalty, you just deal with the consequences.
Luke Fickell has been at Ohio State for 18 years. He said undefeated seasons have been the expectation each of those years. Nothing changes this year, even if the postseason is an option.
Rod Smith has an opportunity to carve out a big role by filling in for Hyde. He said just getting better is all he's trying to do. He's working on his all-around game, including ball security and pass-blocking.
Smith said he's become an aggressive blocker. That's his No. 1 priority.
In the offseason, Smith also worked on grasping the offense. Said he has it "down pat" now.
Coombs could not have spoken more positively about Roby. Coombs said Roby with without a doubt the top leader on the defense.
Gareon Conley and Vonn Bell – the total package, according to Coombs – are two freshmen who have stuck out the most.
"Gareon has been a very pleasant surprise." -Coombs
Several freshmen are likely to end up as piranhas.
Coombs said there's an "abundance of depth" at kick and punt returners. He said there's an opportunity to score a touchdown on every kick.
Jeff Heuerman said there's more excitement in camp this season. There were a lot of unknowns last year, the season before was a disaster and ended with a Gator Bowl loss. The staff has been around for a year, Ohio State went 12-0 last season and a national title is possible. It adds up to excitement.
That said, Heuerman said 12-0 is not even in their minds. 2012 is long gone.
There's a possibility that OSU could get up to 18, 19, 20 straight wins. Heuerman said it won't be a distraction. They keep it one game at a time, each game is a test. Complacency doesn't creep in.
C.J. Barnett said the off-field arrests this summer were not distractions for the team. "They made mistakes, they're paying for it and we move on."
Several guys on defense are trying to fill the size 25 shoes of John Simon. Bryant said he, Shazier, Roby and Pittsburgh Brown are the guys trying to fill the leadership void on defense.