The first regular season opponent Ohio State will face this season is the Buffalo Bulls. They're going to get plundered. It's not a mystery.
The final regular season opponent is the Michigan Wolverines. They require no introduction, additional buildup or hyperbole: It's the most important game in the world, every year. That isn't a secret either, nor is it an exaggeration.
And then if all goes according to plan, the Buckeyes' 13th opponent will be the very last Legends Division champion in Indianapolis, followed by a 14th game in Pasadena about a month later. There are two BCS bowls out there this year and it's no secret which one Ohio State wants more.
The Buckeyes will also face a unique 15th foe this season. It isn't explicitly listed among the opponentry, but they will be fighting it every weekend: Urban Meyer's impossible second-season standard as a head coach.
His remarkable precedent for triumphant second seasons blankets the entire schedule, and everyone knows it.
This brass ring that's been branded as The Chase finally commences at the end of the month with Meyer's entire staff back, plenty of familiar faces from an undefeated season returning and conspicuous title aspirations that closely resemble his monumental precedent that serves as that 15th opponent.
His antagonist - the fading demon he created at three separate schools - enters the season with a gaudy record of 34-4. It's got three distinct, menacing heads: Bowling Green, Utah and Florida.
To put that 34-4 mark in perspective, if you were to choose and combine Jim Tressel's three best seasons at Ohio State - 2002, 2006 and 2010 - you would end up 36-2. That's just a shade better while matching the Meyer hydra's BCS titles and perfect seasons.
But only one of Tressel's seasons carried a Year 2 challenge of making championship hay with what is still largely another coach's roster. None of Meyer's predecessors ran his offense, which should have made his transitions bumpier, not unlike Rich Rodriguez's experience in Ann Arbor. Clearly 34-4 doesn't scream of growing pains.
Tressel also benefited from John Cooper's players who were mostly square pegs fitting square holes for his system, and that makes this 15th opponent even more challenging: Tress and Coop have long had Ohio State accustomed to already being that good. The Buckeyes aren't sneaking up on anyone.
They weren't the 7-5 maddening mess the Gators were was prior to Meyer's arrival. A wasted 6-7 season in 2011 isn't terribly difficult to explain away either; that Buckeye team had been previously destined for BCS title contention. That 6-7 blip sits awkwardly between 12-1* and 12-0 seasons. It was an anomaly of the blippiest order.
If anything, Meyer's inherited Florida roster wasn't too dissimilar from what Tressel inherited at Ohio State in 2001. It was a program that was as culturally devoid as it was abundantly talented.
He didn't inherit a 2-9 program in Columbus as he did at Bowling Green either. While Meyer was guiding those Falcons to a 9-3 season in his second year there, the Utes of Utah were dropping six games in a row and wrecking their season. Two years later with Meyer in charge, most of those same Utes ran the table and won the Fiesta Bowl.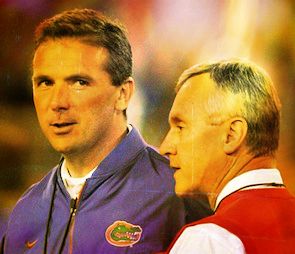 So when Meyer's 34-4 mark in Year 2 finally resumes accumulating statistics again against the soon-to-be-plundered Buffalo Bulls, it will be in the midst of a 25-1 run whose last win was against #1 Ohio State in Glendale.
That invisible, looming 15th opponent looks beastly because it is. None of Meyer's other second-year teams have contended with the expectations that his 2013 Buckeyes are facing.
His Bowling Green squad stayed unranked through late October. Utah began the year ranked 19th and proceeded to be the highest-ranked non-BCS conference (at the time) team throughout the season, but it didn't crack the top three.
Florida began 2006 ranked 7th and was expected to be better than before, but it was Tressel's Buckeyes with a preseason top-ranking, an early #1 vs. #2 meeting with defending champion Texas in Austin and all of the expectations to end up in Glendale.
Meyer's Year 2 precedent combined with this particular year's expectations for Ohio State provide the most unkind measuring stick for the 2013 Buckeyes. They won't be graded on a curve, and they aren't going to get a break.
Expectations for Year 2 have never looked like this: Ohio State is expected to go 13-0 just to earn a passing grade.
The problem is that there are still significant roster issues: The linebacking corps has absorbed too much attrition and recruiting whiffs. The smoldering disaster Jim Bollman left behind at offensive line still needs one more year of sensible recruiting numbers to finally divorce itself from his insidious practice of having a small group of unspecialized linemen serving as each other's backups on the depth chart.
Braxton Miller is the reigning B1G player of the year, but he was carried off the field in a third of Ohio State's games last season. The entire defensive line features new starters. There's a new punter who has never kicked in front of 100,000-plus screaming and/or highly-critical fans before this season.
This 2013 season is easily the biggest challenge of Meyer's career, with a season in which he cannot sneak up on anyone or absorb what could be considered a forgivable loss. There were three of those at Bowling Green and one at Florida.
Expectations for year 2 have never looked like this: Ohio State is expected to go 13-0 just to earn a passing grade.
He's got to go 13-0 to get to the preferred Pasadena bowl game, which means he has to go 25-0 starting last season. That would be the longest streak for any team since Southern Cal's, which was snapped on that field in Pasadena in 2006.
Regardless of how anyone wants to devalue Ohio State's non-conference slate, Big Ten schedule and potential conference championship game, it would literally be an historic achievement.
Only four programs have managed such streaks going back to 1980, and each of those teams - USC, Miami, Alabama and Nebraska - was a dynasty. If Meyer's Buckeyes simply rise to the expectation, they will get to be one too.
It all starts at the end of the month against the Buffalo Bulls. The Buckeyes - and everyone watching them - will be thinking of much more than Ohio State simply winning that Saturday, and everybody knows it.