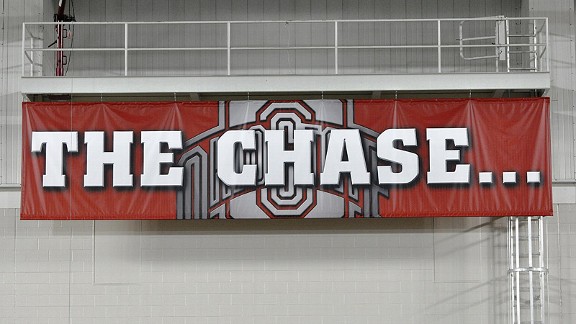 After 253 days, Ohio State football has returned.
The 2013 offseason was one of the longest in program history due to a postseason ban. But those eight months had fans on edge with anticipation. The Buckeyes bring back one of the top coaching staffs, offenses and a continually improving defense. Oh, and they signed a phenom at punter.
Life is good in Columbus.
One year after not being eligible to appear in the Coaches Poll, Ohio State starts the 2013 season ranked No. 2, not that it means anything to head coach Urban Meyer. He never mentioned polls in 2012, and he doesn't plan to start bringing them up this season.
"I'm kind of honored to be there," Meyer said on Thursday. "I remember one time we started 115th in the country (at Bowling Green), and that's a little more difficult. Starting No. 2, that means people have respect for what we did a year ago."
All the Buckeyes did was rebound from a disastrous 6-7 season with a perfect 12-0 record. Quarterback Braxton Miller also emerged as one of the best players in the country. He opens fall camp as one of several favorites to be a Heisman Trophy finalist. But all the rankings and predictions of individual success take a back seat to "The Chase."
"Offensively, I feel very strong about where we could be if we have a solid training camp," Meyer said. "Defense is where the issues are."
Not only did Ohio State lose a bulk of its defensive leaders from last year's undefeated team, the Buckeyes lost a majority of its defense, period. The front seven returns one starter – none on the defensive line. It's the first time in 28 years Ohio State has been forced to replace all four starters on the D-line.
Stockpiling four- and five-star recruits makes the replacement process much smoother. In the spring, the coaching staff expressed its concern about the inexperience. Then Noah Spence, Adolphus Washington, Michael Bennett and Joel Hale calmed those fears with a five-week blitzkrieg.
"All those guys are young, but they have some experience under their belt, so it's not like they're coming in fresh and don't know anything about the game or our system," said senior safety Christian Bryant. "This whole offseason they've been working as hard or harder than anyone else in the country."
Speaking to the media at Big Ten media days, Meyer gushed when Spence and Washington were brought up. He believes the duo can become as good as any defensive linemen in the conference. All the chatting about potential has Meyer understandably excited.
"I'm anxious to get to Sunday because all that won't be discussed one time," Meyer said. "High expectations have been discussed, but not about the number. We all know that doesn't matter."
High expectations are the norm in Columbus. That's been the case since the Buckeyes played in a bandbox along High Street called Ohio Field, now the site of Arps Hall, Ramseyer Hall and the Arps Garage. The tension accompanying the 2013 season is different, though.
There's a sense of urgency on the team and among the fan base. It's been more than a decade now since Ohio State last won a national championship. For Buckeye Nation, it may as well be 100 years. With a mix of veterans and youth, not to mention Meyer and the rest of his cohorts, there's reason to believe the Buckeyes could hoist the crystal football once more. 
A heralded recruiting class, some say the best in program history, reports this morning. Twenty-three members of the 24-person class are expected to be present, with the lone holdout being offensive lineman Tim Gardner who was sent home for disciplinary reasons and will not be part of the 2013 team. Also expected to report is Georgia Tech wide receiver transfer Jeff Greene.
If Meyer improves upon his 34-4 career second-year record, the freshmen will have made a large impact. But the seniors are not to be forgotten. The group includes Jack Mewhort, Corey Linsley, Andrew Norwell, Marcus Hall, Christian Bryant, Jordan Hall, C.J. Barnett, Kenny Guiton and Carlos Hyde.
The senior class has been through the ultimate ups and downs, from scandals, coaching changes, a miserable season, and then back up to a 12-0 record. Now, with only one more chance to capture a national championship, that core group of players is eager to shift the focus to on-field performance.
Two weeks of negative headlines was not how Meyer and Co. wanted to enter fall camp. And it's not just related to Ohio State for Meyer, who's had a trying offseason with current and former players in the news for the wrong reasons. In the tough-luck business of coaching, though, it's all part of the deal.
"I'm going to focus on the positives," Meyer said, "positives created by tremendous momentum from last year's team, to an excellent recruiting class, positive spring practice and one of the best academic performances in recent history at Ohio State. A good bunch of guys that are, for the majority, doing the right things, getting themselves ready for the 2013 season."
A season filled with great expectations.