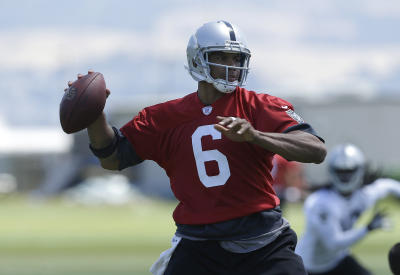 Jim Tressel once called Ohio State's quarterback "the most important person in Ohio."
After long-time QB coach Joe Daniels lost his battle with cancer, rather than find a qualified and proven mentor for this critical job Tressel elevated Nick Siciliano, his former player at YSU and his quality control coordinator to manage that position for the Buckeyes.
Siciliano coached quarterbacks for all three of Pryor's seasons at Ohio State. How did that work out for him now that he's playing for the Oakland Raiders?
Pryor worked diligently on his footwork and lower-body positioning to the point where he said his arm never gets sore despite a nonstop offseason of throwing passes.
Well that's a nice little trick to have in your bag. Anything else?
"I never really knew how to throw a football before," Pryor said. "It's coming along. I'm getting way better. I probably missed four or five throws out of 80, 85 throws today. I might ice my arm as a precaution tonight, but it feels great.".

"They've got me going in the right direction to be a pretty good quarterback who knows how to throw the ball," Pryor said.
A reminder that while Tressel was a wonderful program steward, failing to report his players to the NCAA for selling their belongings was only his second-worst crime against Ohio State football.
Also: Viva Tom Herman!