With the confidence of someone who pulled off wearing Superman's trademark "S" on his chest, Eric Glover-Williams proved he has another important element for a successful skill player – show-stealing ability.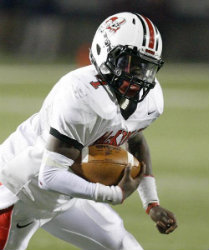 At Ohio State's second annual Friday Night Lights event, the 2015 Canton McKinley prospect took on big-name recruits – such as cornerback Damon Webb – and electrified the crowd.
It's difficult for fans to focus, considering the amount of action happening at all corners of the field. Glover-Williams, wearing a Superman cut-off, made it easy on them.
In one of his man-to-man drills, he called out Webb – who stepped out of line to square off against him. Glover-Williams proceeded to make a one-handed grab in front of Webb – with his eyes seemingly shut. It was one of, at least, four battles between the two.
Webb, a Buckeye commit, held his own, though. He picked off one attempted pass to Glover-Williams and locked down numerous other wideouts in his one-on-one drills. 
Despite the intense clash, there was a sense of mutual respect between Webb and Glover-Williams:
OSU CB commit Damon Webb spent time covering Canton-McKinley athlete Eric Glover-Williams at FNL. Webb: "I hope he becomes a Buckeye."

— Ari Wasserman (@AriWassermanBSB) July 27, 2013
Outside of those two, the crowd was relatively quiet. An exception being a couple of slick, leaping grabs from 2014 receiver Braxton Berrios. The Raleigh, N.C. native showed off his high-level athletic ability and ball skills, which are the main reasons why he now has an Ohio State scholarship offer.
Obviously Urban Meyer loved what he saw in Berrios. At one point, the OSU coach removed Berrios from drills, put his arm around him and held a casual conversation with the 5-foot 8-inch recruit. Both Meyer and Kerry Coombs appeared to establish a solid rapport with him. 
Berrios didn't come alone, either. Fellow North Carolinian and four-star receiver Trevion Thompson accompanied Berrios, and chatted up fellow camp members. He did not work out, however.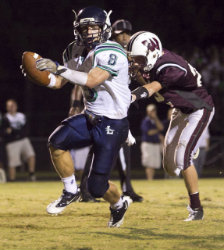 In the midst of the extravagant event, Meyer never lost track of two major recruits. Before it started, linebacker Raekwon McMillan spoke to the Buckeye head coach while other campers were checking in. The five-star Georgia prospect didn't work out, but he spent a significant amount of time with a group of 2014 Buckeye commits.
Also, athlete Curtis Samuel followed Meyer around for a significant portion of the camp. For a solid 45 minutes, the speedy 6-footer and Meyer roamed mid-field. Afterwards, Samuel spoke with Glenville coach Ted Ginn Sr. and numerous Buckeye commits.
Back on the field, 2015 recruit Jerome Baker showed off his speed in some running back, outside toss drills. His footwork and hands were on display, as well, in a nice display of versatility for the Cleveland Benedictine recruit.
Overall, Friday Night Lights played up the pageantry of Ohio Stadium and Buckeye history. The scoreboard and P.A. system played an endless loop of clips from last year's undefeated season (and 2 Chainz).
Multiple times, campers were even instructed to stop and watch motivational videos. As if that wasn't enough, 1995 Heisman Trophy winner Eddie George halted the festivities to give a speech.
Considering the mix of Glover-Williams – Webb battles, athletic recruits and 2012 highlights, Friday Night Lights lived up to a large portion of its hype.
---
Stay tuned to Eleven Warriors. We will fill the entire weekend with more coverage from Friday Night Lights.