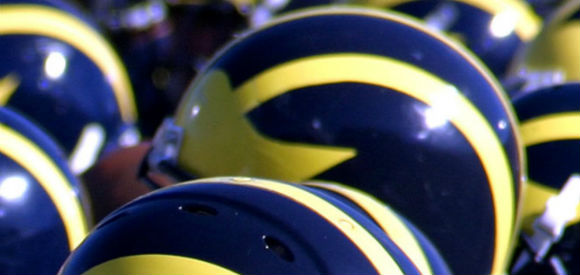 Ohio State football is now just 33 days away. As the Buckeyes make their final preparations for the 2013 season, so too should OSU fans.
You've already gotten the breakdown on the villains the Buckeyes will be facing in the first, second and third quarters of the season. It's time to make the final push and find out who to hate for the regular season's final fourth.
In staying consistent with the previous three installments of this series, we'll take a look at the key players the Buckeyes will have to contain to maximize their chances of getting to the Big Ten championship game and perhaps an appearance in the national title game against the 1-loss SEC team du jour.
Two of these opponents will be on the road. Ohio State will make its way to the wind tunnel known as "Memorial Stadium" in Champaign, Ill., to face Tim Beckman's Fighting Illini. Perhaps Beckman will have his first B1G victory by that time or perhaps not. Can the Buckeyes hang 50+ points on the Illini like last year and retain the Illibuck? Probably, but we'll see. Ohio State has won five straight in the series since the Daniel Dufrene fumble game that made everyone think the Buckeyes backed their way into the national championship against LSU.
After the trip to the Land of Lincoln, Ohio State hosts Kevin Wilson's upstart Indiana Hoosiers on Senior Day. A result a little more comfortable than this would be nice, fellas. Finally, the Buckeyes travel to the barren wastelands of That State Up North on Nov. 30 for The Game.
Here are your villains for the fourth and final segment of the 2013 Ohio State football schedule:
Illinois
After failing to win a conference game in 2012, no one in the Big Ten has a hotter seat than Tim Beckman. Improvement must come in 2013, but on paper it's hard to see where extra (or any) B1G wins might be lurking. The best opportunities for the Illini appear to be at Indiana and at Purdue, but I doubt they'll be favored in either. Beckman is trying to rebuild quickly with junior college players, including one named Geronimo. Despite their recent struggles, Illinois has some villains.
Offense: Senior quarterback Nathan Scheelhaase (#2) is coming off an injury-plagued 2012 season, but even when healthy he wasn't all that effective. In 10 games, Scheelhaase completed 149/246 (60.6%) for 1,361 yards and four touchdowns, with eight interceptions. He was also the team's third-leading rusher, with 303 yards on 125 attempts (2.4 YPC), scoring four touchdowns. Those numbers don't seem too bad, but he has not developed the way many expected. Junior Reilly O'Toole (#4) spelled Scheelhaase often last year, playing in seven games and completing 65/87 (74.7%) for 564 yards and six scores, against four picks. O'Toole isn't the running threat Scheelhaase is, but he's been the more precise passer.
Junior running back Donovonn Young (#5) is the leading returning rusher. Young gained a team high 598 yards in 2012 on 131 carries (4.4 YPC), with three touchdowns. He'll probably get more than 10 carries per game this season under new offensive coordinator Bill Cubit (formerly of Western Michigan).
The leading returning wide receiver for Illinois is senior Ryan Lankford (#12). He caught 37 passes for 469 yards and five touchdowns a year ago, but only made five receptions over the final eight games. Look for junior college transfers Geronimo Allison (no number assigned yet) and Martize Barr (#7) to potentially make an impact in the Illini passing game.
Defense: The bad news for the Illinois defense is that it only returns four starters. Based on how poorly that defense performed in 2012, having only four starters returning might also be the good news. The wind (no number assigned) always seems to be one of the biggest villains when Ohio State plays at Illinois. Memorial Stadium's wind has been a great equalizer in the past, wreaking havoc with Buckeye passes and making punt returns an adventure. Getting back to actual players...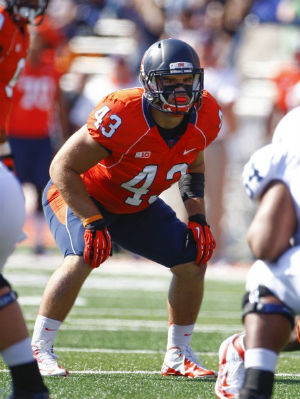 Sophomore linebacker Mason Monheim (#43) was a two-time B1G Freshman of the Week and Phil Steele's second-team All-American in 2012. Monheim led the Illini with 86 tackles as a frosh, with six tackles for loss, 1.5 sacks, an interception, two forced fumbles and a fumble recovery. He seems a lock for the "next great Illinois linebacker" mantle. Senior linebacker Jonathan Brown (#45) is pretty good when healthy. He missed three games last year, recording 59 tackles, a team-high 9.5 TFLs, 2.5 sacks, a forced fumble and a fumble recovery.
Junior safety Earnest Thomas (#9) is the lone returning starter in the secondary. Like Brown, Thomas has shown he's capable of making big plays. Thomas was fourth on the Illini with 69 tackles in 2012, with two TFLs, a sack, an interception and three forced fumbles.
Indiana
The Hoosiers are a popular pick among sports writers and bloggers to make a bowl game in 2013. It's hard to argue that stance when you consider what Kevin Wilson did last year with a young team. The culture appears to be changing in Bloomington and Wilson's offense averaged 442 yards and 30.8 points per game in 2012. If the defense catches up, watch out for Indiana. [Does spit-take at what he just typed.]
Offense: The Hoosiers have a three-headed quarterback battle entering camp, and I'm not even sure it matters who wins it. Junior Cameron Coffman (#2), and sophomores Tre Roberson (#5) and Nate Sudfield (#7) have all proven to be capable and efficient in Wilson's offense. Roberson completed 33/50 (66%) for 368 yards with two touchdowns and a pick last year, before breaking a leg in the second game. Coffman became the new starter, completing 247/407 (60.7%) for 2,734 yards, with 15 touchdowns and 11 interceptions. Sudfield came on in relief in seven games, going 51/82 (62.2%) for 632 yards and seven touchdowns, with one interception — the best TD-to-INT ratio of the three.
Redshirt senior Stephen Houston (#12) is the incumbent at running back. He carried 161 times in 2012 for 749 yards (4.7 YPC) and 12 touchdowns. He also caught 37 passes for 381 yards and four more scores. Two of his rushing touchdowns and one of his receiving scores came against Ohio State, including a 59-yard run. Hate.
Indiana returns almost everyone at a deep wide receiver position, including its three top guys — junior Shane Wynn (#1) out of Cleveland's Glenville High, junior Cody Latimer (#3) out of Dayton's Jefferson Township, and senior Kofi Hughes (#13). The two Ohioans did the most damage, with Wynn leading in receptions (68) and tying Latimer in touchdowns (6). Of Wynn's 660 yards last season, 76 came on one touchdown against the Buckeyes. Latimer had the most yards (805) and the longest average per catch (15.8). Hughes made 43 receptions for 639 yards and three touchdowns.
I'll add senior kicker Mitch Ewald (#16) here as well, because he's pretty good. Ewald was 20/25 on field goals last year, and 42/43 on PATs. He missed only two of 12 attempts of less than 40 yards and was 5/7 between 40 and 49 yards. He scored 11 points against Ohio State last season and executes a pretty mean onside kick.
Defense: Wilson lost some outstanding defensive tackles to graduation — namely Adam Replogle and Larry Black. I expect a lot of young guys and JUCO transfers to see time on the IU defense in 2013. That said, senior safety Greg Heban (#9) returns after leading the Hoosiers in tackles (91), solo stops (68), and interceptions (3) last year. You may recall his interception of Braxton Miller in the end zone that thwarted an Ohio State drive last season. Heban posted seven TFLs, eight pass breakups, a sack and a fumble recovery. He can make plays.
Redshirt junior linebacker David Cooper (#42) returns to the middle, where he made 86 stops a year ago. Cooper finished with three sacks, nine TFLs, three pass breakups and a forced fumble last season. Fellow linebacker Griffen Dahlstrom (#49) was Indiana's "Will" linebacker in 2012, recording 48 tackles, seven TFLs, a sack and a forced fumble. Redshirt junior Ryan Phillis is the D-line's leading returner. The defensive end out of Boardman, Ohio, made 34 tackles in 2012, with 3.5 TFLs and three sacks.
Michigan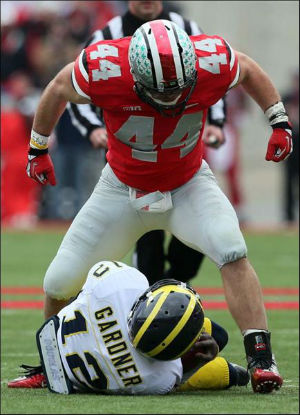 The Wolverines enter the 2013 season with some high-fallutin' ideas about Rose Bowls, championships and stuff. Their wide receiver quarterback already predicted a win over Ohio State. Obviously every member of the Wolverines squad is a heinous villain (lookin' at you, Kyle Kalis). However, some villains are more villainous than others.
Offense: Redshirt junior Devin Gardner (#12) will be the quarterback this year after the departure of quarterback wide receiver running back offensive weapon Denard Robinson to the Jacksonville Jaguars. Gardner completed 75/126 passes in 2012 for 1,219 yards and 11 touchdowns against five interceptions. (Hint: The pick he threw to C.J. Barnett is your favorite of the five.) On the ground, he gained 101 yards on 47 carries, but his 2.1 yards-per-attempt average is misleading due to sack yardage. (See also:) Gardner has wheels. He scored seven rushing touchdowns in 2012 and he caught 16 passes for 266 yards and four more TDs. He is your primary villain on the Michigan offense.
Fitzgerald Toussaint (#28) is not the name of an upscale Irish-Creole restaurant in the heart of downtown New Orleans (at least not that I know of...it could be, I've never been).  Toussaint is a senior running back from Youngstown's Liberty High School. He gained 514 yards on 130 attempts last year (4.0 YPC) and scored five touchdowns. Although he was Michigan's best running back, he didn't lead the Wolverines in rushing — Robinson did, with 1,266 yards. Still, he's a talented runner (being from Ohio and all) and the Wolverines missed his presence in their 26-21 loss in the Shoe last November.
Senior receiver Jeremy Gallon (#10) is a shifty and quick target and perhaps the top playmaker on the Michigan offense aside from Gardner. Gallon caught 49 balls a year ago for 829 yards and four touchdowns. He's good in traffic and surprisingly adept at walling off defenders for those famous Michigan jump balls we've seen in recent years, despite his (listed) 5-foot-8 frame. Senior Drew Dileo (#9) has a knack for making plays when the Wolverines need them most. He finished 2012 with 20 receptions for 331 yards and two touchdowns. Sophomore tight end Devin Funchess (#19) should be a more integral part of Al Borges' offense this season. With his size (6-5/228), Funchess will be targeted often in the red zone. Five of his 15 receptions last year went for touchdowns.
Senior left tackle Taylor Lewan (#77) protects Gardner's blind side. Adolphus Washington treated the All-American with great disregard on this play last year, but Lewan has both a solid overall career resume and a penchant for questionable blocks that flirt with felony status. Hate away, folks.
Defense: Let's start with another Ohioan, of which there are eleventy billion on the Michigan roster. Redshirt junior linebacker Jake Ryan (#47) is coming off an ACL tear, but is expected back in October. He may not be back to full speed even by the Ohio State game, but even an 80% Ryan is a quality player. The St. Ignatius graduate from Westlake led Michigan in tackles (88), solos (56), TFLs (16) and sacks (4.5) last season. Junior linebacker Desmond Morgan (#48) was third among Michigan tacklers in 2012, with 81. Eleven of those, as well as half a sack of Braxton Miller, came in the Shoe. 
The Glenville pipeline occasionally gets hijacked, and so it was with junior defensive end Frank Clark (#57). The former Tarblooder made only 25 tackles last season, but nine of those were TFLs and two were sacks. Expect those numbers to improve in 2013. Aside from being a Wolverine and an Ohioan who left the state, there are plenty of reasons for you to root especially hard against Clark when Ohio State visits Michigan. Among them are this hit on Miller last year. You might recall his second-degree felony conviction for stealing a laptop, for which Brady Hoke suspended Clark for one whole game — the beating everyone knew they'd take from Alabama — because obviously Urban Meyer is the lenient one.
In the secondary, senior safety Thomas Gordon (#30) and junior cornerback Raymon Taylor (#6) return for the Wolverines. Gordon made 81 stops with four TFLs and a sack a year ago, picking off two passes. Taylor made 45 stops and also intercepted two passes. Both will be important to Defensive Coordinator Greg Mattison's continuing rebuild of the Michigan defense. 
---
Forewarned is forearmed, as they say. And now you know who to watch out for — and the villains Ohio State will try to thwart — during the 2013 football season. #TheMoreYouKnow