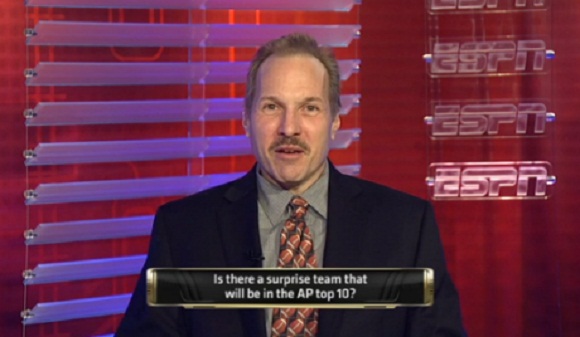 Phil Steele, prominent college football prophet who told ElevenWarriors earlier this month Ohio State has a chance at 12-0 this fall, released his daily blog post today ranking America's college football conferences. (SPOILER ALERT: SEC is #1.) The surprise, however, wasn't the B1G falling all the way to fourth, but that Steele says it's on par with the ACC. From the post:
The Big Ten has slipped in the conference rankings due to a lack of national title contenders and poor bowl performances, which includes a 2-13 combined record on New Year's Day in the past three years. However, it could be in store for a higher finish this year thanks to some advantageous scheduling. Unlike the past few years, Wisconsin and Ohio State, two of the perennial top teams from the Leaders Division, do not play Michigan State and Nebraska, two of the top teams from the Legends Division. I have the Buckeyes running the table and playing Alabama for the national title, while Nebraska, Michigan State and Michigan all made my preseason top 25.
and on the ACC:
There is no question that the ACC has had the talent to rank higher than this in the past couple of years. In April's draft, the league ranked No. 2 behind the SEC with 32 players drafted, led by Florida State's school-record 11 picks. What has hurt the conference is its on-field performance, going just 6-14 in nonconference play last year against the other BCS conferences. This year, the conference boasts three teams that made my preseason top 15, including No. 3 Florida State and No. 15 Clemson. The surprise this year could be Virginia Tech, which I have at No. 12, while Miami gives the ACC a fourth top-25 team.
I'll admit, I was a little angrier about the ranking until I read Steele's reasoning, which is pretty much rooted in fact. The question is, does this say more about the ACC or B1G at this point? Either way, it's time for the Wisconsins, Iowas, and Penn States of the Big Ten to step their game up.