Big Ten Media Day is happening tomorrow in Chicago.
The annual luncheon for fans - basically a $100 chicken breast that feasts on our emotions and wallets - goes down on Thursday.
You'll see the coaches sporting their summer tans as they dish on their teams in what can most kindly be categorized as prepackaged milquetoast. You want gory details on Carlos Hyde, Bradley Roby or any of the (I lost count) Buckeyes who ran afoul of something last week? You won't get them. You'll get carefully-constructed soundbytes.
There used to be more interesting figures at the B1G kickoff festivities, but they have been ghosted. They're no longer invited. Sweaty Bret Bielema and his stale Leinenkugel-scented suit, paranoid Ron Zook and his permanent hoarseness, overly-excitable Tim Brewster and his scorching meth habit and jittery John L. Smith won't be in Chicago. And that's sad.
But we'll never forget them, or their equally memorable compadres. Here's a look back at a few of the men who gave this week the unconventional flavor it deserves:
INDIANA WAS ONLY 12 PLAYS AWAY

Indiana's Bill Lynch is the Big Ten's worst head coaching hire of the century. There is no second-worst, just as no one remembers who finished behind Secretariat at the 1973 Belmont Stakes. It's that kind of blowout.
Lynch once went on a 1-21 stretch at Ball State with all of his own recruits. When Terry Hoeppner tragically succumbed to cancer after building the Hoosiers back to the point of being Bill Mallory-good, IU handed the reigns to Lynch.
It was breathtaking decision, as Ball State is barely 100 miles from Bloomington. They had to have known how bad he was, but LOL basketball school.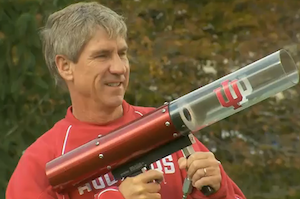 Anyway, Lynch was predictably awful and squandered Hoeppner's momentum quite efficiently. After a 2-14 stretch in Big Ten play, he showed up at 2010 B1G Media Day with a carefully-honed message: IU was only about 12 plays away from bowl eligibility.
He was entering his fourth season and - unlike virtually every coach in IU football history - did not inherit a total dumpster fire. But his position was firm: A dozen or so plays, and maybe he's 14-2 instead of 2-14 in Big Ten play. Right? [crickets from the media] [Zook suddenly feeling better about his situation] [Bielema gambling that another fart is just a fart] [Bielema losing that bet] [Bielema penguin-walking back to his hotel room]
Lynch gave his "12 plays" reasoning to every reporter and in front of every microphone. Once writers left the Indiana table, they could hear him repeating his message to the next group. Apparently it sounded good in his head.
The Hoosiers proceeded to go 1-7 in Big Ten play for the third consecutive year under Lynch, and he was dismissed. There is no word on how many squandered plays stood between IU and December in Detroit in 2010, but Kevin Wilson doesn't appear the kind of coach who cares to reason with failure. At least in public. On repeat.
JOEPA IS NOT WELL | Maybe He's just SLEEPY | NO HE JUST HATES THIS

From 1993 to around 2001, Joe Paterno was the best part of Big Media Day. He was full of energy and jokes at the expense of everyone - the media, his players, the other coaches and especially himself. He basically took that task from Hayden Fry, who was on his way into retirement.
Then something happened. Maybe it was age, maybe it was ummmmm something weighing on his mind, maybe he just grew disillusioned with the spectacle of discussing the prospects for his team for the 6,351st season in a row. He stopped joking. He stopped trying.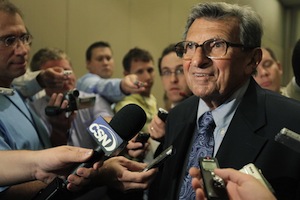 That created a noisier undercurrent to the already effervescent is this Joe's last year chatter that surfaced every season during his final decade. Some years he looked terrible, mumbled into his lap and was visibly irritated by every question. Others, he looked fine, mumbled into his lap and was visibly irritated by every question.
Paterno had already decided that going anywhere aside from his office or house to recruit (even Pennsylvania kids!) was exhausting by the final stretch of his career, so going to Chicago to answer everyone's stupid questions was as irritating as it was grueling.
He never wanted to be there. Paterno became a geriatric Judd Nelson in The Breakfast Club on Quaaludes, battling hemorrhoids (that last part is probably true; he did a lot of sitting. Everyone does at that age).
But even though he was in full-blown Queen of England mode at the end, being in the same room with Paterno put you at the foot of college football royalty. And he never lost to Bill Lynch. Penn State always won those games by at least 12 plays.
COOP JUST CAN'T SAY ENOUGH ABOUT EVERYTHING

John Cooper would talk your ear off, and you would be better for it. If you were able to spend 15-30 seconds with him you quickly realized why Ohio State recruited so well: Because Coop just sucked you in when you talked to him. You felt like the only person in the room.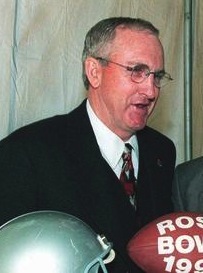 Then the public portion of media days and the Kickoff Luncheon would begin, and he'd go from the personable, affable guy on your couch recruiting your kid into a purveyor of prepackaged milquetoast and carefully-constructed soundbytes. 
Long before Jim Tressel began each of his sentences with we're so proud and ended them with and so forth, Coop routinely talked about how incapable he was of sufficiently talking, with I can't say enough. He couldn't say enough about his players. He couldn't say enough about his coaches.
He couldn't say enough about the fans. He couldn't say enough about the team. That was his statement: I can't say enough about Ahmed Plummer. You're looking at one happy football coach. But you wouldn't hear much beyond that. He had said enough.
Cooper's enthusiasm was willfully guarded behind the Big Ten podium, because he was in front of people who wanted to know if he was going to beat Michigan, since they had spoiled the Buckeyes' title hopes in [any year goes here]. Also, if he was going to beat Michigan. And finally, Michigan. Michigan. And Michigan.
It was fascinating to watch Cooper talk about everything except for the winged elephant in the room. Even as a fan who soared and suffered with the Buckeyes during the 1990s, you had to appreciate the palpable tension whenever he spoke. You can't say enough about that.
JUNKER SMELLS LIKE POLO SPORT AND GLADE AIR FRESHENER

The guy wearing the Century 21 jacket to the Kickoff Luncheon every year could have been a realtor taking time out from his job selling 800-square foot lofts on West Randolph for $400,000, plus monthly condo association fees. More likely, it was John Junker.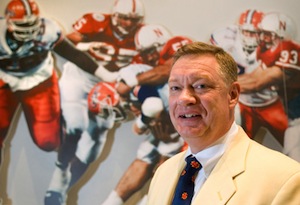 Junker showed up every year to represent the Fiesta Bowl as its president. He always wore that jacket that he's wearing in every result of every Google image search that contains "John Junker." And most impressively, he was the weirdest guy in a room of 1000 adult males asking college students for autographs.
Chicago strip clubs are notoriously lame (unless you enjoy women wearing pasties and $9 Bud Lights in neighborhoods where you're 100% likely to be mugged on your way out the door) which is probably why Junker always seemed...off at B1G media days. That was not his scene. This was.
Junky is currently awaiting a prison sentencing for garden variety dark money illegalities that almost seem made up. Even though he categorically represents the old boy's club making and funneling millions off of the backs of unpaid labor, B1G media days still misses his weirdness, that jacket and the glitter he probably still has on his chin from last night.
TILLER WOULD RATHER BE FISHING

West Lafayette almost seems like a fictitious place until you actually go there and see its gray-faced, dead-eyed citizens for yourself. When Purdue isn't busy being the B1G's most unpalatable destination - think: Kabul, but with fewer roads in and out of town - it's hard at work making you forget it exists.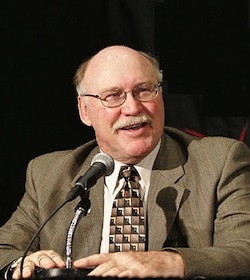 That wasn't the case when Joe Tiller ran things. Purdue played in five bowl games before he arrived, and it appeared in 10 of them under Tiller. He made Purdue interesting on the field, and - perhaps even more impressive - he made Purdue interesting to the media.
Granted, taking over for Jim Colletto and being succeeded by Danny Hope does nothing but exaggerate how much fun Tiller was to have at these things. He always came to Chicago via Wyoming, where he had been fishing. He would not hesitate to tell you how annoyed he was to have to take off his waders to do this shit.
After proceeding to roast every one of his colleagues ("Barry Alvarez went to the Harvard of the Midwest: Nebraska") he'd say, maybe, a sentence about Purdue football. Which was plenty. Because: Purdue.
Then, instead of heading to West Lafayette a mere two hours away, he'd go right back to Wyoming to keep fishing until he had to leave to start the season the following week. He did this just about every year he coached at Purdue.
Darrell Hazell, who holds a doctorate in Tresselspeak, makes his Purdue debut this week. Even though he'll run circles around human sofa cushions Colletto and Hope, he won't be nearly good-humored as Tiller. No one is.
SABAN IS SICK OF LLOYD CARR'S SHADOW

He went 1-3-1 against Purdue. He went 0-3 in bowls, losing those games by 85 points combined. In his fourth season in East Lansing his team failed to become bowl-eligible.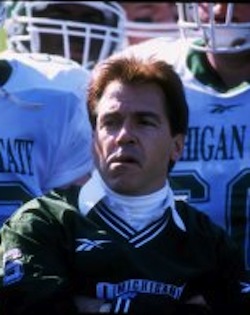 Yes, before Nick Saban became the SEC's greatest coach, he was a guy who had one decent season in the Big Ten at a school with all of the infrastructure necessary to be relevant.
His "triumphant" 1999 season coincided with one of the weakest Ohio State teams in 50 years and produced what today would be a Capital One Bowl invitation. He took Alabama to a Capital One Bowl once. It was a disappointing season, but he got to face his former employer.
Saban was the original personification of Little Brother in the state of Michigan. That descriptor might have come out of similarly-diminutive Mike Hart's mouth, but Saban championed the cause long before 'ol 0-4 said it on camera.
Two things made Saban interesting: One, if you attended the Kickoff Luncheon and were seated too close to the front of the room, you could barely see him over the podium (TJ Duckett could have put him in his pocket). The second was he tried so hard to tell jokes.
Humor is not Saban's strong point, especially in a room that has Glen Mason, Alvarez and Tiller. It's evident that he figured that out after he left East Lansing.
In hindsight he may have been trying to figure out his own public persona; aside from one weird season at Toledo, MSU was his first head coaching job - and it was a big one. Figuring out how to run a program is kind of like learning to tell a joke. A few years later he solved one of those things.
Eventually he settled simply mirroring his mentor, Bill Belichick. And he finally won a few bowl games.