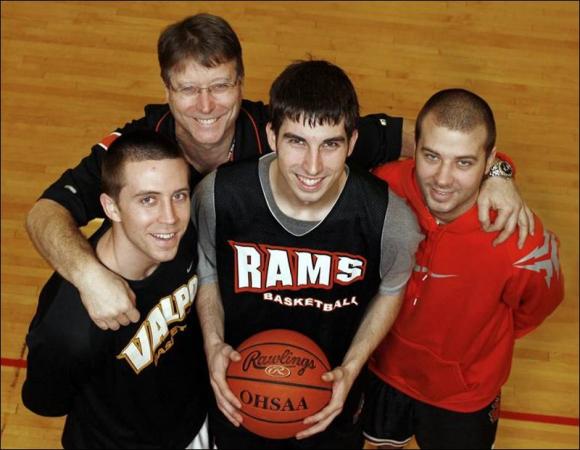 For a four-year period, from 2007-2011, watching an Ohio State basketball game meant seeing Jon Diebler make three-pointers. At least most of the time. He owns both the Ohio State and Big Ten record for made 3s in a career with 374. His propensity for connecting from long range led to the nickname "Threebler."
Two seasons after Diebler's departure, older brother Jake will call Value City Arena home. With Greg Paulus' promotion to assistant coach came the hiring of Diebler as video coordinator.
The Dieblers might not be the First Family of Ohio State hoops, but they're quickly becoming synonymous with the program.
"I feel very blessed to be here," said Jake, as his brother, Jon, nodded with approval. "I have been very fortunate with my brother playing here to see what this place means to him. In the back of my mind, I always thought it would be great to be a part of it. I'm honored to be here and excited to come back home and be around family and doing whatever I can to help this program."
The Diebler boys first became acquainted with the building in Old Columbus Town known as "The Schott" during standout high school careers at Upper Sandusky while playing for their father, Keith. Trips to the Final Four brought much attention to the small-town school located 64 miles up Route 23.
During Jon's sophomore year – Jake was a senior – the Rams finished 27-0 and won the state championship. Jake amassed 1,862 points during his career and was named the Division II co-player of the year as a senior. Five years prior, eldest brother Jeremiah capped off his career at Gibsonburg by leading the state in scoring and being named the Division IV co-player of the year.
All that hoopla was preceded by the most prolific offensive high school career in Ohio high school basketball history. Jon scored 3,208 points for Upper Sandusky – more than LeBron James, Jerry Lucas, Jim Jackson and Jay Burson. Diebler scored 77 points against Tiffin Columbian his junior season and averaged 41.2 points, 12.3 rebounds and six assists per game as a senior. All told, the Diebler brothers scored 8,641 points during their high school careers. 
At Ohio State, Jon created many more memories in his home arena, but it was his final game in the venue that still lives in Buckeye lore. Top-ranked Ohio State played Wisconsin on Senior Day in 2011, a month after the Badgers upset the then-undefeated Buckeyes. Jared Sullinger claimed he was spat on to which Bo Ryan responded, "Deal with it."
The rematch was a bloodbath. Diebler made seven three-pointers in a row, part of the team's 14 straight 3s to set an NCAA record. Ohio State won 93-65. For Diebler, it was part of a stretch where he connected on 17-of-20 three-point attempts, including a school record 10 against Penn State.
But ever since March 2011, no Diebler has been part of the Buckeyes. That will change Nov. 9 when Ohio State opens the 2013-14 season at home versus Morgan State.
"I have been very fortunate with my brother playing here to see what this place means to him. In the back of my mind, I always thought it would be great to be a part of it."
"I'm excited for him. It saves me a trip whenever I come home," joked Jon, who plays professionally overseas. "I'm thankful that Coach Matta gave him the opportunity. Jake is going to bust his butt and do what he has to do and help these guys out as much as he can."
Following a dazzling high school career, Jake played at Valparasio, the same place he's spent the past four seasons on the coaching staff.
"My family was really excited to have him back in Ohio, and I wanted him to come to," Jon said. "Ultimately, it came down to whether he wanted to leave Valpo, where he's had a great eight years. The people there are tremendous. Every time I go there in the summer they welcome me with open arms. I think that's what made it difficult, the people that are there."
But what awaits Jake, 26, at Ohio State is a head coach who has turned the Buckeyes into a consistent national powerhouse while elevating staff members to head coaching positions.
The video coordinator at Ohio State has been a starting off point for David Egelhoff, now the team's director of basketball operations, and Paulus. As video coordinator, Diebler is not permitted to coach or recruit, so he effectively took a demotion and pay cut. But the future opportunities were too great to watch pass by.
"I've looked up to Coach Matta ever since my brother started playing for him," Jake said. "To be around him and his staff was something I just could not pass up."
Likewise, Matta's eye has been turned to Diebler for some time. He was familiar with him during his high school career, then while Jon was at Ohio State. In recent years, Matta has crossed paths with Diebler on the recruiting trail.
"Once we knew that everything was going to go down, Jake's name was the first one everybody mentioned," Matta said. "I would see Jake on the road (recruiting) and he was as intense as he was when he won the state championship. He is a young guy who wants to be successful.
"Jake has spent a lot of time in our program. When Jon was here, if (Jake) ever had free time, he was here watching practice trying to learn as much as he could about how we do it."
Diebler said he consulted with Paulus extensively about what lay ahead. Paulus also came to Ohio State after being an assistant at a mid-major. The prestige of having the "assistant coach" job title is taken away, but Paulus comforted Diebler on the transition.
"Greg talked about expanding your knowledge of basketball," Diebler said. "When you're on the court, you kind of lose track of some of the things off the court that need to be done. Hopefully through this, I'll become a better and more well-rounded coach."
Watching from afar will be Jon. After being drafted by the Portland Trail Blazers in 2011, Diebler opted to play in Greece, partly due to the NBA lockout. Last season, he played in Turkey.
His rights have since been traded to Houston, but Diebler expects to go back overseas for the upcoming season.
"Houston is in a unique situation right now," he said. "It's just one of those things where if I get a chance to go into camp, whether it's this year, next year or some other time, I'll be ready. I love seeing the world, so it's fun being able to go overseas with my wife. We enjoy it.
"I've been very lucky to be in two nice cities, Athens and Izmir. Having my wife with me makes it more enjoyable. Obviously you miss friends and family, but to see the world at such a young age is great.
"Learning the cultures is fun. You have to go in there with an open mind and realize it's going to be different. I enjoy it. I like challenges and learning new things. Not a lot of 25 year olds get to see the world."
During the summer, Diebler must play the waiting game. He'll continue to work out and allow his agent to take queries on his availability. In September, it's back to Europe. 
"It's interesting not knowing where you're going to be," Jon said.
For Jake, that problem doesn't exist. Columbus and Ohio State are now home.