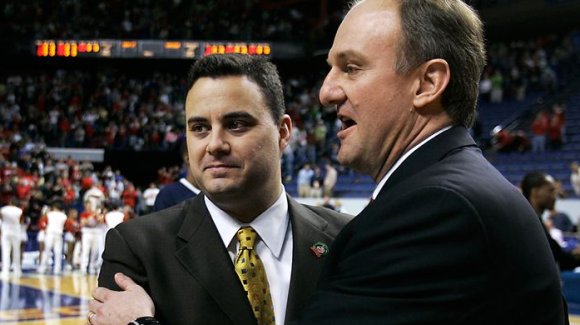 College basketball coaches are evaluated in a variety of ways on a number of key job responsibilities. 
Though certainly not an all-inclusive list, the average fan or pundit typically looks at a coach's overall winning percentage, their ability to win conference championships and how they perform in the Big Dance, how successful they are on the recruiting trail and what kind of coaching tree they build over the balance of their career.  
Thad Matta, despite his relative youth, both as a human being (Thad turns 46 on Thursday) and a head coach (13 years), is already building quite a body of work on each of those fronts. 
In those 13 years at the helm of a program, Matta has won 77% of his games (352-104), becoming only the 2nd coach in Division I history to win at least 20 games in each of those 13 seasons.
When it comes to championships, he's won the league regular season crown in eight of 13 seasons and captured the conference tournament title in seven of 13 years. And though he hasn't yet won a national championship, he's gone dancing 11 different times, boasting a national runner-up, two Final Fours, four appearances in the Elite Eight and six Sweet Sixteens. 
His recruiting prowess is recognized nationally and I recently broke down just how well he's fared at bringing talent to Columbus compared his predecessors in Columbus.
With Thad posting impressive-to-dominant results in the first three noted areas of responsibility, he's also making solid progress toward growing a first-class coaching tree. 
Matta's coaching tree got a little bigger and gained a little more clout just last week as Brandon Miller was named Butler's new head coach following Brad Stevens' departure for the Boston Celtics. 
Believe it or not, it was Matta who gave Stevens his first chance in the coaching profession, back in 2000, when brought on the then 24 year old kid as Butler's coordinator of basketball operations. Though Matta would jump to Xavier the following season, Stevens worked his way up as an assistant coach for six seasons before being named the Butler's head coach in 2007. Now, the former volunteer under Matta is now the head coach at one of the truly elite franchises in all of professional sports.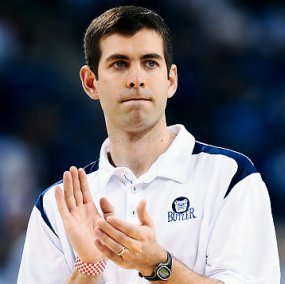 Miller, a star player under Steve Alford at SW Missouri State before transferring to Butler where he recorded 97 straight starts and three NCAA tournament wins in three seasons, was also given his first shot in the coaching profession by Matta, taking on the video coordinator gig in 2003. 
Matta took the Ohio State a year later and brought Miller along for the ride. Miller again served as Matta's video coordinator before leaving for an assistant coaching gig at Butler in 2007, only to return to Matta's staff as an assistant the following season until he abruptly resigned in June of 2011 citing a desire to spend more time with his family.
The hiatus lasted just one season, however, as Miller was back on sidelines, this time with John Groce at Illinois. Following his stint serving as Groce's special assistant to the head coach, Miller rejoined the Butler staff in April of this season, only to be promoted to the head coaching chair upon Stevens' move to Beantown. 
Speaking of Groce, he's also from the Matta tree since joining Thad at Butler back 2000 before coming with him to both Xavier and Ohio State. Groce left Columbus for the head coaching gig at Ohio University in 2008 and promptly took the Bobcats to two Dances in four years including a Sweet 16 appearance. 
In 2012, Groce was named the head coach at Illinois and delivered an NCAA tournament berth in his inaugural season. So, in five years as a head coach, he already has three NCAA trips and appears to have the Illini on the right path following a 23-12 campaign.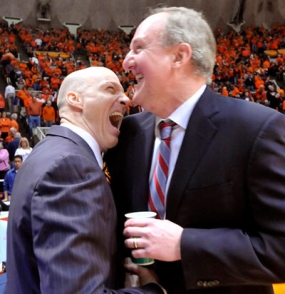 Sean Miller is Matta's 2nd-most successful staffer to date, behind Stevens, thanks to his fine work at Xavier and now Arizona. 
Miller served three years under Matta at Xavier before succeeding him as head coach. In four years leading the Musketeers, Miller's teams appeared in four NCAA tournaments, making both a Sweet 16 and an Elite Eight. His work at X paved the way for a promotion of sorts to Arizona where Miller has revived the program following the messy end of the Lute Olson era. In four years, Miller's Wildcats have gone to three NCAA tournaments, posting a Sweet 16 and an Elite Eight. 
Sean's brother, Archie, is also a Matta product, having served as a Buckeye assistant during the 2007-08 season. Sean joined his brother in Arizona for the following two seasons before taking the head coaching job at Dayton in 2011. Archie is 37-27 in two seasons guiding the Flyers with one NIT berth. 
Finally, Alan Major, an assistant under Matta from 2001-10, took the Charlotte head coaching job in 2010. Though he's just 44-48 in first three seasons, the 49ers have improved each season, going from 10 wins in Major's rookie campaign to 13 wins in year two before posting a 21-12 mark last season in Conference USA. 
In total, that gives Matta five active head coaches at the Division I level with another former staffer in charge of the Celtics. 
Also of note, though he's not currently a head coach at the D-1 level, Todd Lickliter served as a Matta assistant at Butler before taking over upon Thad's departure for the Xavier job. Lickliter took the Bulldogs to two Sweet 16's in six seasons before becoming Iowa's head coach in 2007. That gig didn't pan out as Lickliter finished no higher than 8th in the B1G before his ouster following the 2009-10 season. 
For a with just 13 seasons as a head coach under his belt, it's safe to say Matta's coaching tree is coming along quite nicely.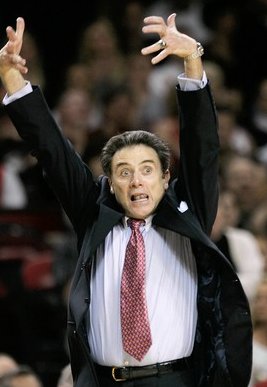 In search of some context, I decided to look at a few of Matta's peers and even a few legends in the profession to see how he stacks up. 
Tom Izzo, a head coach for 18 years and whom I, along with many, consider to be the finest coach in the B1G, is currently sitting at eight total head coaches under his tree, including five active. His most notable former assistants to hit the big time include Tom Crean, Stan Heath (USF) and Doug Wojcik (Charleston). 
Coach K, the proverbial gold standard in the college ranks, has cranked out just 10 head coaches, five active, in 38 seasons. His list of active guys is solid with Tommy Amaker, Mike Brey, Johnny Dawkins, Chris Collins and Bobby Hurley all leading programs but his grand total of 10 in nearly 40 years isn't all that impressive. 
What about Jim Calhoun, you say? In 40 years as a head coach, Calhoun can claim just eight former staffers that have gone on to become college head coaches. Currently, four are active but besides Kevin Ollie, who succeeded Calhoun in Stoors, the others are at small time schools like Quinnipiac and Stony Brook. Big whoop. 
Meanwhile, the legendary Roy Williams, in a combined 25 years at powerhouses Kansas and North Carolina, has churned out just nine head coaches during the quarter-century with five currently active. He does get bonus points for the ever-awesome Kevin Stallings (Vandy). Former point guard, Jacque Vaughn, didn't coach under Williams but is currently the head coach of the Orlando Magic. 
Again, this is just a sample, but in a fraction of the time, Matta already has either met or exceeded the coaching tree output of some of the all-time greats.
He's got a long way to go before he catches a guy like Rick Pitino, who has groomed 23 head coaches in 28 seasons including names like Tubby Smith, Billy Donovan, Herb Sendek and Jeff VanGundy, but there's no question Thad's capacity to spot and develop coaching talent is right up there with his ability to attract blue chip recruits, generate consistently high-performing teams and win championships.