In 2013, Urban Meyer made a concerted effort to secure playmakers, athletes who could and would scare the living daylights out of defensive backs and linebackers alike if they were to meet up one-on-one in the open field. Meyer's efforts were rewarded with the early pledges of Ohio's Jalin Marshall and Missouri star Ezekiel Elliott and with last hour additions of Dontre Wilson, James Clark and former Akron Buchtel star and JUCO signee Corey Smith; an epic haul of talented ball-carriers with speed and shake to burn.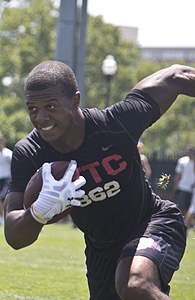 With Elliott, Wilson and Clark specifically, what Meyer reeled in were players that could impact the offense by lining up at a number of different positions, utilizing their skills to create mismatches all over the field. Of course their impressive talents don't mean that they are all destined to see the field at Ohio State this fall because Ohio State's already impressive collection of talent in the backfield will make it difficult to crack the lineup.
Braxton Miller. Carlos Hyde. Rod Smith. Jordan Hall. Bri'onte Dunn. Warren Ball. Ezekiel Elliott. Jalin Marshall. Dontre Wilson. James Clark. 
Say that three times in the mirror and Jim Bollman appears, at least according to an old wives' tale.
With that embarrassment of riches available to run Ohio State's offense for 2013 and beyond (only Hyde and Hall are scheduled to depart after this season), it's become a matter of want not need for the Buckeyes when it comes to recruiting the school's most historically relevant position; the tailback.
Can Ohio State squeeze one in this year? Do they want to? Are they just looking ahead at a loaded running back class for 2015?
For 2014, the numbers are simply not in the Buckeyes' favor when it comes to the idea of signing a pure I-formation tailback, and in my opinion that leaves a player like New Jersey's Jonathan Hilliman, with an impressive offer list, on the outside looking in. Hilliman visited Ohio State in early June, and while he's still very high on Ohio State, I believe the Buckeyes are looking for a very specific type of running back if they were to take the plunge on another one in this class. Of course, I say "another one" because exactly how the Buckeyes intend to use Akron St. Vincent-St. Mary product and Buckeye commitment Parris Campbell remains to be seen. Is he a tailback? Is he a wide receiver? Is he a defensive back? Who the heck knows at this point.
What if Parris Campbell is a running back? Then do the Buckeyes forgo the position completely for 2014?  Yes, I think that's the case — whether Campbell ever lines up at tailback or not — unless a very special running back decides that Ohio State is the place that's best for him.
A player like say, Derrell Scott, for example. 
I don't think there is enough hyperbole out there for me to adequately express how impressive Scott was in person upon seeing him at Ohio State on June 21st. This is a gamechanger, a touchdown threat every time he touches the ball, type of tailback. While he's forced into the role of a traditional I-back, Scott would certainly be just as dangerous with a fullback in front of him as he is lined up as more of a wingback if that's what was required of him. He's big enough to run between the tackles at nearly 6-foot-tall and a lean 180 pounds, but his feet and ability to change direction make him an ideal player in a running game that utilizes cutbacks and quick-hitters.
If Derrell Scott wants in you take him; no matter what. As it stands, the Buckeyes are in a race with Florida State and South Carolina for his pledge. If he in fact makes a return trip to Columbus for an official visit this fall as he intends to, then this one gets interesting. If it's up to me, which it's most surely not, it's Scott or bust as far as the 2014 class at tailback. 
Why? Because 2015 is a special group nationally, and the Buckeyes are in a great position with a number of them early. Who are the key names to remember? Here's a handful that will most certainly be talked about ad nauseam until signing day 2015. 
Jacques Patrick - Orlando (Fla.) Timber Creek High School
By this time, Patrick should be well known around the 11W lounge. He made a June visit to Ohio State and the Buckeyes made a big impression on the 6-foot-1, nearly 215 pound star. With nearly 50 scholarship offers already, Patrick will have a difficult decision to make, but the Buckeyes are in a good position early. Patrick is slated to come back to Columbus for a game this fall, and that visit could be vital as Ohio State hopes to stay in the front of his mind. HIGHLIGHTS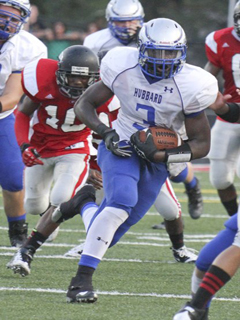 Damien Harris - Berea (Ky.) Madison Southern High School
As impressive as Derrell Scott was on the 21st in Columbus, Harris may have been the best running back in attendance. Built like a college sophomore already, Harris has an incredible first step to go along with great balance and vision. Oh yeah, he also runs a 4.36. Meh. Considered an early lean for Michigan, Harris left Ohio State singing a different tune, claiming that the Buckeyes were now a co-favorite of his along with the Wolverines. This will likely be a classic Ohio State vs. Michigan battle until the fax machine is fired up. HIGHLIGHTS
Larry Scott - Hubbard (Oh.) Hubbard High School
If you've ever been curious what a running back is supposed to look like, look no further than Larry Scott. This is a prototypical, big, fast and strong running back from northeast Ohio. While he doesn't have the top speed of Harris or the superhuman balance of Patrick, he's a very good tailback who will be national level recruit, and he already holds offers from Tennessee, West Virginia and Kentucky, among others. The biggest question with Scott is whether or not the Buckeyes come through with an offer, if they do, you can except him to end up in Columbus. HIGHLIGHTS
Mike Weber - Detroit (Mich.) Cass Technical High School 
Can Kerry Coombs make lightning strike twice? That's what he's hoping as he pursues Cass Tech star Mike Weber. Already holding a Buckeye offer, Weber will be a tough pull from the hometown favorite Wolverines, but Damon Webb's commitment to Ohio State has helped make serious inroads into the Michigan powerhouse high school. Weber will make another visit to Ohio State this summer when he heads south to Columbus for Friday Night Lights, and you can expect Ohio State's running back coach Stan Drayton to pay special attention to him as he did at the Adidas Sound Mind/Sound Body camp in Detroit in mid-June. HIGHLIGHTS