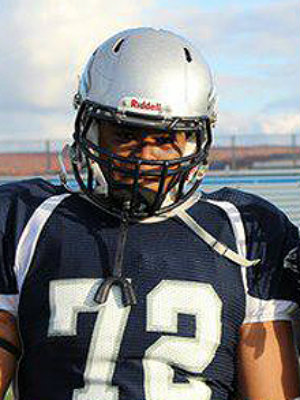 Michigan won the June recruiting crown and remains in the lead today after picking up three commitments this week. The Buckeyes, however, are making up ground, receiving a huge commitment from top-5 offensive tackle Jamarco Jones.
Michigan, Maryland, Rutgers, and Wisconsin each landed three commitments this week. The four schools account for 12 of the Big Ten's 17 commitments in the past seven days. 
As a result, we saw shifting in our rankings with Rutgers jumping up to third after picking up a few highly rated prospects. Wisconsin's and Maryland's three verbals also bumped them up two spots. Wisconsin is up to seven from nine and Maryland goes from 12 to 10. 
Although the Wolverines still lead, a commitment from Jermaine Eluemunor this week could give us a new leader next week. We'll have the latest on Eluemunor all week, so don't change that dial.
Now, on to the rankings!
14. Indiana
Indiana continues to bring up the rear in the B1G football recruiting rankings, earning no pledges during the previous seven days. 
For the Big Te's sake, the Hoosiers get it going and start to do better than noted powerhouses Bowling Green, Tulane, Nevada and Marshall on the recruiting scene.
Random and maybe interesting note: Five of the six Indiana commits are linemen. The only non-lineman is unranked quarterback Alexander Diamont. 
13. Purdue
Darrell Hazell and the Boilermakers added a commitment this week from kicker Austin McGehee of Arkansas. McGehee had no other offers, but  is ranked as the 7th overall kicker by 247Sports. 
Purdue quarterback commit David Blough received rave reviews for his performance at the Elite 11 camp. The three-star QB appears to be a steal for the Boilermakers and many have even begun to make the Drew Brees comparison. Blough's only other offers were New Mexico State and Memphis, but Purdue may have to fend off other suitors after his impressive camp showing.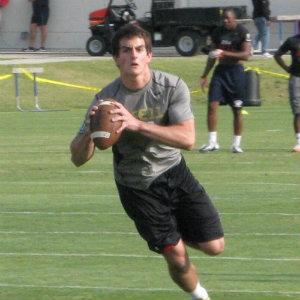 12. Minnesota
Minnesota falls two spots in this rankings after Illinois and Maryland landed commitments this past week. 
The Gopher's five man class is small in numbers, but Jerry Kill has attracted quality talent including four-star running back Jeff Jones and All-American offensive lineman Connor Mayes.
I'm interested to see how Kill completes this class. A bowl game this year could only help his cause on the recruiting trail. 
11. Illinois
For the second-straight week, Todd Beckman and the Illini went head-to-head with MAC schools to land a commitment, this time for unranked wide receiver Malik Turner. The 6-foot-1, 205-pound, Hoosier State receiver had offers from Northern Illinois and Ball State before committing to the Illini.
Illinois continues to beat up on the MAC schools, while the majority of the Big Ten has been attracting Big Ten caliber talent. Honestly, I am a bigger fan of Minnesota's recruiting class, but Illinois has two more recruits at the moment. 
10. Maryland
Maryland jumps right back up to 10th after falling to to the back of the pack last week. The Terrapins added three new commits, including two three-star prospects. 
Offensive tackle Brendan Moore of Texas is the highest-rated of the three new pledges, checking in as a three-star with a grade of 85 according to 247Sports. The 6-foot-4, 260-pound tackle's offer lists includes Missouri, Houston, Boise State, and other smaller schools. 
Maryland also added two defensive end commitments: three-star Tyler Burke and unrated Brett Kulka, both of Pennsylvania. Burke had offers from Rutgers, Connecticut, North Carolina State, Pittsburgh, Syracuse, Temple, and Wisconsin. Kulka's offer list is less impressive with Akron, Bucknell, Buffalo, and Kent State. 
9. Nebraska
The Cornhusker class falls two spots to ninth in our rankings after a quiet week in Lincoln. 
It's a little surprising to see Nebraska struggling on the recruiting trail in 2014 after third-place Big Ten finishes in each of the previous two cycles.
The good news is that Bo Pelini and the Huskers have plenty of time to climb back into contention. Nebraska is considered the favorites to land highly-rated defensive tackle Peyton Newell and wide receiver Monte Harrison. 
8. Iowa
The Hawkeyes continue to keep Iowa's talented prospects in-state, landing three-star TE/DE Matt Nelson over Nebraska, Iowa State, Florida State, Arkansas, Notre Dame, Stanford, and Wisconsin. 
So far, Iowa has been able to land four of the state's top five prospects according to 247Sports. The only top five in-state talent they missed on was No. 2 prospect, Allen Lazzard, who decided to suit up for the rival Cyclones.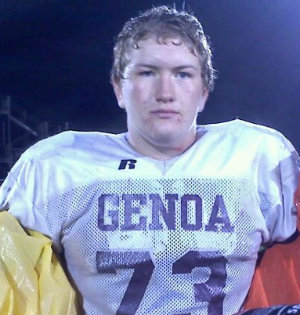 7. Wisconsin
The Badgers had a big week, securing three new verbal commitments to push them up two spots in our rankings. 
The highest-rated prospect to commit to Wisconsin this week was three-star outside linebacker Taiwan Deal. The DeMatha product with the cool name held quite a few offers including Michigan State, Iowa, Virginia Tech, Tennessee, Cincinnati, Vanderbilt, and West Virginia. Deal's commitment could also help with high school teammate and four-star wide receiver Cameron Phillips. Phillips recently named a top five of Wisconsin, Virginia Tech, Virginia, West Virginia, and Rutgers. 
The Badgers also came into Ohio to grab offensive guard Michael Deiter from Genoa Area. Deiter had offers from Nebraska, Georgia Tech, Illinois, and West Virginia. He is the first commitment from Ohio in Wisconsin's 2014 class. 
Bucky also landed unranked safety Austin Hudson from Florida this week. The 6-foot-2, 190-pound Hudson's only offers were Holy Cross and Jacksonville State. He had earned his offer at camp a few days prior to committing. 
6. MICHIGAN STATE
Michigan State remains sixth in our B1G recruiting rankings after missing out on Jamarco Jones. Jones committed to Ohio State over the Spartans and Wolverines, spurning the Mitten State for the Buckeye State. Many felt that the Spartans were gaining ground on Ohio State for Jones, but it was too little, too late.
The Spartans have a solid recruiting class so far in 2014, but many Spartan fans are still waiting for that big commitment. Michigan State has missed out on top prospects Drake Harris, Jamarco Jones, and Lawrence Marshall, with Marshall and Harris both going to the hated Wolverines.
Despite Kentucky dominating the second and third tier prospects in Ohio, Michigan State has still managed to put together a solid class. 
5. Northwestern
Northwestern falls a spot after a quiet recruiting week in Evanston. Pat Fitzgerald and the Wildcats capitalized on a ten win season in 2012 with an impressive start to this seasons' recruiting class. Continued success on the field and Northwestern's plan to build new facilities will continue to make Evanston a more attractive place to play college football. While Northwestern will most likely not be competing for the nations top recruits, they can survive off Chicagoland and downstate Illinois, while landing some of Ohio's second and third tier prospects. 
Obvious note: Ohio's second and third tier prospects are very, very good. Kentucky is really focusing on these prospects in Ohio right now. Can Northwestern out-recruit Kentucky?
4. Penn State
The Nittany Lions fall a spot in this week's rankings despite landing a commitment from Troy Vincent Jr. 
Vincent Jr., a four-star cornerback from Maryland, committed to Penn State over offers from Arizona State, Cal, Illinois, North Carolina, Michigan, Michigan State, N.C. State, Wisconsin, and many others. He is the son of the former Badger that played 15 seasons in the NFL, most notably with the Philadelphia Eagles. This is a big get for Bill O'Brien and Penn State, snatching a legacy recruit from a fellow Big Ten school
O'Brien continues to impress on the recruiting trail despite dealing with sanctions. His success is highlighted by the fact that he's running laps around most of the league while dealing with the crippling penalties from the Jerry Sandusky tragedy.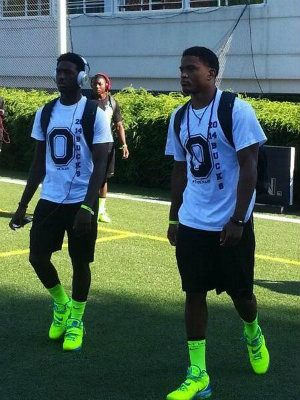 3. Rutgers
Rutgers makes a big jump from fifth to third in this week's rankings after picking up three more commitments to place their total at 20. That's a big number for July.
Safety Kiy Hester became Rutger's highest-rated verbal after selecting the Scarlet Knights over Michigan State, Vanderbilt, Arkansas, Ohio State, Michigan, West Virginia, and numerous other schools. The four-star safety decided to stay close to home and play for Rutgers. Four-star, in-state wide receiver Adonis Jennings also chose Rutgers over Arizona, Clemson, Boston College, UConn, and others. The 6-foot-3 wideout is the Scarlet Knights' second highest-rated commitment. 
The third commitment of the week came from unranked defensive end Jimmy Hogan of New Jersey. The 6-foot-5, 225-pound Hogan will remain in-state over offers from UCF, Temple, and UConn. 
Rutgers' large number of commitments is a big part of their third-place ranking in our index. The Scarlet Knights have five more commitments than Michigan, the school with the next-most at 15.
2. OHIO STATE
Ohio State landed a huge commitment this week when Jamarco Jones committed to the Buckeyes over Big-Ten rival Michigan and Michigan State. Jones is the third offensive lineman to commit to Ohio State in the '14 class, joining fellow tackle Kyle Trout and guard Marcelys Jones. Ohio State had long been considered the favorite for Jones, but Michigan State's late push left many Ohio State fans nervous until he ultimately announced for the good guys.
Ohio State could be close to adding a fourth commitment to their offensive line haul. UCLA soft-commitment Jermaine Eluemunor really like what he saw on his visit to Columbus and could decide to flip "soon". The highly-rated JUCO tackle would be the third OT in the class and would fight for a starting spot right away. The 6-foot-6, 300-pound Eluemunor has offers from many of the top schools including Ohio State, Alabama, Oklahoma, Florida State, Texas A&M, and UCLA. 
Landing Jones put Ohio State temporarily ahead of Michigan for first on our scorecard, but Michigan closed with three commits to retake the lead. Look for Ohio State and Michigan to seesaw in the team rankings in the coming months. Landing Eluemunor in the next week should allow the Buckeyes to jump the Wolverines in next week's recruiting rankings. 
1. MICHIGAN
Michigan was able to keep the top spot in our rankings by the slimmest of margin, after landing commitments from two players after their camp performance in Ann Arbor: wide receiver Freddy Canteen and defensive back Brandon Watson. Canteen is a three-star receiver and rated as the No. 103 wideout in the country according to 247Sports. He held offers from Rutgers, Maryland, UConn, Hawaii, Temple, and Tennessee before committing to the Wolverines. Canteen's high school teammate, Brandon Watson, was also offered at camp and committed to Brady Hoke. Watson is a two-star defensive back, but his offer list is solid for such a lowly-ranked recruit. Watson's offers include Rutgers, Boston College, UConn, and Temple. 
Michigan's third commitment of the week came earlier today when outside linebacker Noah Furbush pledged to the Maize and Blue. The three-star linebacker from Kenton, Ohio had offers from Northwestern, Nebraska, Tennessee, Vanderbilt, Illinois, Indiana, Michigan State, Missouri, and others. This move doesn't change the rankings, but does give the Wolverines a little bit of breathing room ahead of Ohio State.
---
Rankings Overview
| No. | School | Commits | Scout ★ AVG | Rivals ★ AVG | 247 ★ AVG | ESPN ★ AVG | Overall ★ Avg |
| --- | --- | --- | --- | --- | --- | --- | --- |
| 1 | Michigan | 15 | 3.57 | 3.54 | 3.47 | 4.00 | 3.65 |
| 2 | Ohio State | 14 | 3.57 | 3.36 | 3.77 | 3.62 | 3.58 |
| 3 | Rutgers | 20 | 3.00 | 2.80 | 3.00 | 3.11 | 2.98 |
| 4 | Penn State | 12 | 3.33 | 3.25 | 3.42 | 3.42 | 3.36 |
| 5 | Northwestern | 12 | 3.09 | 3.17 | 3.33 | 3.36 | 3.24 |
| 6 | Michigan State | 12 | 3.27 | 3.08 | 3.50 | 3.44 | 3.32 |
| 7 | Wisconsin | 10 | 3.50 | 3.00 | 3.43 | 3.22 | 3.29 |
| 8 | Iowa | 9 | 3.13 | 3.11 | 3.43 | 3.29 | 3.24 |
| 9 | Nebraska | 9 | 2.67 | 2.78 | 2.78 | 3.50 | 2.93 |
| 10 | Maryland | 8 | 2.40 | 2.71 | 2.86 | 3.32 | 2.83 |
| 11 | Illinois | 7 | 2.83 | 2.57 | 2.80 | 3.00 | 2.80 |
| 12 | Minnesota | 5 | 3.40 | 3.00 | 3.29 | 2.80 | 3.12 |
| 13 | Purdue | 6 | 2.80 | 2.40 | 2.67 | 3.00 | 2.72 |
| 14 | Indiana | 6 | 2.67 | 2.50 | 2.75 | 3.00 | 2.73 |