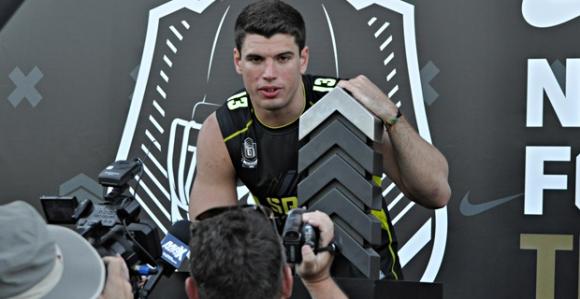 There was a time when Woody Hayes, Bo Schembechler and Bear Bryant drove cars that seemed to rival the length of football fields around the Midwest and South in search of future stars who could win Big Ten and SEC titles. Aside from in-home visits, the three venerable coaches used phones to contact recruits – rotary telephones, that is.
In the past half-century, and even going back 25 years, the game of college football has changed so much and in so many different capacities that the Big 3 coaches of yesteryear might not even recognize the sport they helped revolutionize.
Gone is any semblance of the option offense, including the vaunted wishbone. So too are 220-pound linemen, the fumblerooski and the field goal kicking tee. Replacing run-first offenses – and in some cases run-only offenses – are the pass-happy spread sets that can be found from Pullman, Wash., to Tampa, Fla. But perhaps the most noticeable change is the year-round recruiting industry.
As money in the game has skyrocketed, most notably in coaches' salaries, the pressure to win, and win often, has become almost overwhelming. You're just as likely to hear someone in Columbus, Ann Arbor or Tuscaloosa talk casually about college football in February and May as you are in August and October. Coaches are the No. 1 factor when it comes to laying the foundation for a winning culture, second come the players. At the heart of that is recruiting, a 12-month, never-ending saga that plays out in the public eye. 
The changes in technology since the 1970s make the decade look like an episode of the Flintstones while 2013 is straight out of the Jetsons. Texting, Twitter, Facebook and other forms of social media have changed the landscape of recruiting forever. Coaching staffs send tens of thousands of texts to recruits, code words on Twitter have become in vogue and even apps are popping up – all in the name of chasing a national championship.
Observers of the process have become just an enthralled in their team performing well on the field as they do on the recruiting trail. When Ole Miss secured one of the best classes in the country in February, Mississippians celebrated as if Archie Manning was back under center.
Relating to 17- and 18-year-olds can be tough for middle-aged coaches, though Urban Meyer, Hugh Freeze and other fortysomethings give off a hip, youthful vibe. It helps when you have kids the same age. In Meyer's case, his two daughters are college volleyball players. Still, a young web-savvy recruiting guru is an asset.
Meyer and Ohio State have one of the best in Mark Pantoni. Described as an "internet junkie" and "grinder" by Meyer, Pantoni is the brains behind the Buckeyes' recruiting efforts. He and Meyer first became acclimated with one another when Pantoni was an intern at Florida. That position soon evolved into a full-time job. Almost immediately, Pantoni was regarded as one of the top recruiters in the country.
"He is my right-hand man in recruiting," Meyer said.
The hours of the job approach 100 per week, but when you have a brain that doubles as a database time is only a number. Organization is one of Pantoni's specialties. Ask him to name the top 10 freshmen in the state of Ohio and it's as easy as 1-2-3.
When it comes to Twitter, Pantoni is an expert. He's made "5 Star Friday" and #TheTakeOver part of the vernacular at Ohio State. Pantoni is also fluent in coded tweets, sending out messages on Friday after the commitment of offensive lineman Jamarco Jones that read, "BOOM!!!!!" "I just ran a full lap around the Woody" and "This is what I'm going to be eating tonight" with a picture of pancakes.
Coded tweets have become part of college football recruiting. Until prospective players sign their national letters of intent, staff members are not permitted by NCAA rules to mention a recruit by name. But a cleverly worded message of 140 characters or less skirts the rules.
The University of Georgia and LSU have taken social media to a new level with the creation of apps titled "The Georgia Way" and "The Les Miles Method." Georgia's app is essentially a rundown of the program's history, highlighting traditions, the coaching staff and Bulldog alums in the NFL.
"It's a great tool for our coaches to have when they go into recruits' homes to show their parents, show the recruits. It's kind of an icebreaker," said Georgia video coordinator Brett Greene. "They can sit there for 20 or 30 minutes and the mom or dad who hasn't had a chance to come over here can come here on a visit. They can sit there for 20 or 30 minutes and see everything about Georgia, see everything about Athens, our facilities, academics and all that." 
It's no secret that the current generation wants information instantly and in a sleek, glossy manor. It generally comes via smartphone, which makes an app a no-brainer.
"Kids these days, they want to see cool things on the phone," Greene said. "They want to see flashy things like videos. They want to see pictures, interactive stuff. The app has all that stuff. It has interactive animation, it has videos. That's what kids are looking at.
"Obviously they stay on Twitter and Instagram all day long, so we wanted to make sure that stuff was connected to our app so they can stay in touch with that. I think that's what is catching high school kids' eye now."
But there's also the ugly side of recruiting. Cheating has long been part of the sport, and it's at its height during the recruiting season. Another recent development is the surge in offering middle schoolers. Eighth-graders and even some seventh-graders are being offered scholarships. It's viewed by some as a sleazy gesture, especially when you consider 13-year-olds have life-altering events still to come in their adolescence. Lane Kiffin has been most prolific at extending offers to members of the eighth-grade subset, which comes as little surprise.
The growth of social media in recruiting has made it easier for coaches to reach out to young players, but it has also sent secondary violations soaring. The NCAA has been inundated with cases involving text messaging in particular.
Just weeks after being named Ohio State's head coach, Meyer said "good luck" as he crossed paths with then-recruit Noah Spence.
"I went to say 'hello' and 'good luck' to his coach and as I was walking off the field Noah said 'hello,' and I said, 'good luck,' before the game," Meyer said in May 2012, after the Plain Dealer reported Ohio State's secondary violations. "Nothing more. Nothing to hide. All good."
Another mishap involved athletic director Gene Smith and alumni association president and two-time Heisman Trophy winner Archie Griffin. The pair appeared in a personalized video for Ezekiel Elliott when he visited Ohio State's campus. Such productions are against NCAA rules.
"It's nothing that troubles me," Smith said. "They're inadvertent mistakes."
With endless forms of communication and no expiration date on recruiting, kids will continue receiving texts, reading coded Twitter messages about themselves and possibly being an innocent bystander in rule breaking.
It's an era with which Hayes, Schembechler and Bryant would be unfamiliar.