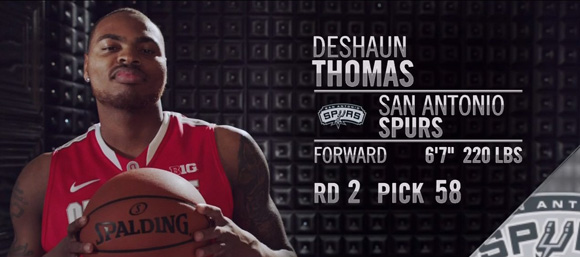 Deshaun Thomas' dreams of being drafted are now complete, though it looked bleak as Thursday night turned to Friday morning. Finally, the former Buckeye sharpshooter was taken 58th overall by San Antonio. Apparently there were no hard feelings after Thomas refused to give the Spurs his cell phone number during the workout process. 
Thomas is Thad Matta's ninth first-round or second-round selection and he preserved a seven-year streak of having a Buckeye drafted.
After an offensive tear during the 2012 NCAA Tournament that saw him average more than 20 points per game in Ohio State's run to the Final Four, Thomas became a hot topic when it came to possible players who would enter the draft. But he stayed another season in Columbus, where he led the Big Ten in scoring (19.8 ppg).
Thomas finished his career No. 9 in all-time scoring at Ohio State with 1,630 points. His total of 733 points last season is third most in Ohio State history. During his three years as a Buckeye, Thomas was part of a Sweet 16, Elite Eight and Final Four. Ohio State won two Big Ten regular-season titles (2011 and 2012) and two Big Ten Tournament titles (2011 and 2013) during that that span.
"My three years at Ohio State have been the best years of my life," Thomas said this spring. "I have grown tremendously as an individual and as a basketball player.  I intend to return to finish my degree, but I believe that now is the best opportunity to pursue my dream and begin my career as a professional basketball player.  I will always be a Buckeye and am blessed to be a part of the Ohio State University family."
Thomas started the final 76 games of his career and appeared in 113 total games as a Buckeye. He is one of 25 players in program history to have at least 1,000 points and 500 rebounds. But his draft stock has steadily declined.
Thomas didn't help himself at the predraft combine when his test results were underwhelming. He registered the sixth-most body fat – 9.1 percent – and his 12.94 lane-agility test time was the slowest among 51 players. Teams were also wary of his defense and ability to connect from beyond the arc. All he needed, though, was one opportunity, and he'll get it with the Spurs. The journey will begin at the NBA Summer Leauge in Las Vegas. 
"To see Deshaun grow into the man he has become has been amazing," said Ohio State head coach Thad Matta. "His accomplishments on the floor speak for themselves but I am just as proud of him and what he has done off the floor. We recruited him offering the opportunity to grow as a person and player and that is exactly what happened. I know there is much more in-store for him in the future and I am proud to have been able to coach him."
Thomas' notable career accomplishments:
2013 John R. Wooden Award All-America
2013 Associated Press Third Team All-America
2013 Sporting News Second Team All-America
2013 USBWA All-District V Team
2013 First Team All-Big Ten, coaches/media
2013 Oscar Robertson Trophy finalist
2012-13 Preseason All-America
62-Career NCAA tournament rebounds, 4th all-time
72-Made 3s, No. 10 all-time, season (2012-13)
83.4-FT pct. (.834/141-169), No. 6 all-time, season (2012-13)
94-Career wins
143-Career made 3s, No. 8 all-time
205-Ohio State career NCAA tournament points, 2nd all-time
260-Thomas made FGs, No. 8 all-time, season (2012-13)
584-Thomas FGA, No. 2 all-time, season (2012-13)
733-Thomas season pts., No. 3 all-time, season (2012-13)
1,630-Career points for Deshaun Thomas, No. 9 all-time