Ohio State, Michigan State, Indiana, and Rutgers were all pretty busy on the recruiting trail this week with each landing three new verbal commitments for the 2014 class.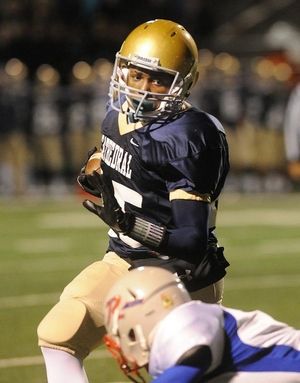 Michigan and Penn State failed to land a commitment for the second straight week. After a big recruiting week two weeks ago, Nebraska was quiet this week. Maryland was the only other school to not land a verbal commitment in the last seven days. 
Despite the Big Ten schools adding 19 new commitments, there was not much movement in the rankings. Minnesota and Maryland flipped spots in the rankings with the Gophers moving up to 10th and Maryland down to 12th. Iowa and Wisconsin swapped positions at eight and nine. 
Ohio State landed three commitments this past week, but they still remain in second to Michigan. Landing Jamarco Jones on Thursday could make the team rankings interesting next week.  
Continue reading for the latest B1G Recruiting Rankings and the latest on each schools recruiting classes.  
14. Indiana
The Hoosiers added three verbal commitments this week, but that was not enough to move them up in this weeks rankings. The three commitments this past week doubles Indiana's total commitments from three to six. 
Many college football fans were surprised when Indiana stole OT Delroy Baker out of Florida from the Gators. The 3-star OT had offers from Florida, UConn, Florida State, Miami, Missouri, Iowa State, USF, and more. His crystal ball had nine of ten writers predicting him to commit to Florida. Stealing Baker from Florida is a huge get for Kevin Wilson and the Hoosiers. 
Indiana's other two commitments this week didn't create any internet buzz like Baker. Guard Wesley Martin from West Milton, Ohio committed to Indiana over Ball State, Bowling Green, Kent State, Miami, and Ohio. Martin is the second player from Ohio in Indiana's current six man class. Indiana's third commitment comes to Bloomington from Georgia. The lowly ranked DE, Willie Yarbary, had an offer from Cincinnati and numerous small programs such as Furman, Georgia Southern, and Wofford. 
13. Purdue
Like Indiana, Purdue stole a commitment from Florida this week that had twitter buzzing. OL Denzel Ward had a 100% crystal ball to Florida (17 writers) before surprisingly committing to Purdue. Denzel Ward is a one time decommitment from Michigan. He had offers from Ohio State, Florida, Michigan, Oklahoma, Texas Tech, and Arizona State. This is a huge commitment for Darrell Hazell, who has struggled to get it going on the recruiting trail for the Boilermakers. 
The Boilermakers did miss out on one of their top recruits this past week when WR Terry McLaurin committed to Ohio State over Purdue and Missouri. Purdue was considered the favorite before McLaurin earned an offer from Ohio State at camp on Friday and ultimately committing to the Buckeyes on Sunday evening.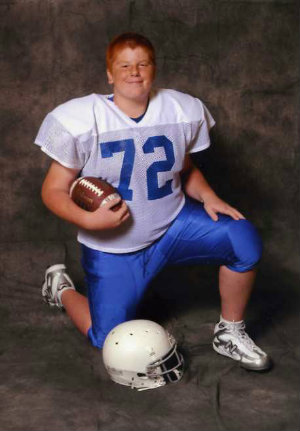 12. Maryland
Maryland falls two spots in this weeks rankings after being one of four teams to not secure a verbal commitment.  
Maryland could be close to landing their sixth commitment this week. 3-star DE Tyler Burke is down to Rutgers and Maryland and plans to decide soon. It appears the Terapins are the favorite for Burke, who also has offers from Wisconsin, UConn, Pitt, N.C. State, and Syracuse. 
11. Illinois
Coach Tim Beckman was able to beat out his former school, Toledo, for LB Henry McGrew this week. The 6-foot-3, 227-pound LB choose Illinois over Toledo, Idaho, Iowa State, and Kansas. 
Beating out schools like Toledo, Iowa State, Idaho, and Kansas in recruiting will not make beating schools like Ohio State, Michigan, and Wisconsin in football very easy. Hopefully Tim Beckman realizes that he still isn't at Toledo. 
10. Minnesota
Minnesota continues to add to a class that I am impressed with. It's a very small class with only five commitments at this early stage, but Coach Kill is putting together a very good class for the Gophers' standards. 
The Gophers landed Center Connor Mayes from Texas last week. The 6-foot-5, 320-pound center had offers from Texas A&M, Oklahoma, TCU, Texas Tech, Baylor, UConn, Colorado, Kansas State, Kansas, Houston, and others. I'm impressed that Minnesota was able to go down to Texas and steal away a recruit from the top schools in the area. 
Minnesota's five commitments all come from different states (Kansas, Texas, Wisconsin, Illinois, and Minnesota). As long as Minnesota can hold on to 4-star RB Jeff Jones, Gopher fans should be pretty pleased with Coach Kill's recruiting. I say that every week, but Jeff Jones is a OSU caliber running back. 
9. Wisconsin
Ben Strickland is Wisconsin's DB Coach. He makes only $140,000 a year. Why is this even worth mentioning? He landed yet another recruit and he is second in 247Sport's Big Ten Recruiter Rankings. Mike Vrabel leads the rankings. 
Wisconsin, lead by the recruiting of Strickland, landed instate LB Dominic Cizauskas. Unranked by 247Sports, Cizauskas also had offers from Ball State, Minnesota, Northern Illinois, and D-2 schools. 
Strickland is credited for landing six of the Badgers seven recruits. Give the man a raise!
8. Iowa
Iowa refuses to recruit Florida, but apparently they don't have a problem with recruiting New Jersey. No offense to New Jersey, but Florida is known for having a lot of high quality football recruits.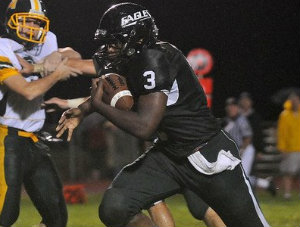 Iowa landed DE Jameer Outsey from New Jersey over Pitt, Buffalo, and Akron. The 6'3, 225 pound DE with a 4.6 forty is unranked by the recruiting websites. Instate OG Keegan Render also committed this past week. Render had offers from Iowa State and Northern Illinois. 
7. Nebraska
Nebraska had a quiet recruiting week after the prior week resulted in quite a few new verbal commitments. 
Zack Darlington is the Husker's top prospect in the nine man class. Darlington is currently rated as a 3-star QB, but I would expect him to add his fourth star before Signing Day. 
We also continue to wait for current Nebraska commit Jason Hall to flip to Texas. He continues to say that he is still considering Texas and Oklahoma, as well as Nebraska. Hall grew up a Texas fan and many expect him to eventually flip. 
6. MICHIGAN STATE
Michigan State had a solid recruiting week by adding three new commitments to put their class at 12 commitments. Headlining the class is one of the new commits, RB Gerald Owens. Owens is a 6'1, 246 pound RB that reports a 4.65 forty time. The 80th overall player according to 247Sports had offers from Boston College, Florida State, Rutgers, Illinois, South Carolina, Wisconsin, West Virginia, and Temple. Time will tell if Owens will be the next big RB at Michigan State. Le'Veon Bell, Jehuu Caulerick, and T.J. Duckett are all big RB that have found sucess in East Lansing. 
The Spartans also landed CB Jalen Watts-Jackson and DT David Beedle, both from the State of Michigan. Both prospects are currently unrated by 247Sports. Watts-Jackson had offers from Central Michigan, Eastern Michigan, and Idaho. Beedle had offers from Illinois, Cincinnati, and pretty much the entire MAC conference. 
Michigan State fans are patiently waiting for a decision from highly rated OL Jamarco Jones. Jones would surely bump up the Spartans in next weeks rankings. Jones is also considering Ohio State and Michigan. 
5. RUTGERS
Rutgers was active on the recruiting trail, adding three commitments this week. The Scarlet Knights remain fifth in the B1G rankings, mostly in part of their 17 commitments. Rutgers has the quantity, but still lacks the quality of many of the other recruiting classes in the Big Ten. 
Rutgers secured commitments from DE Donald Bedell, FB Jacob Kraut, and OLB Brandon Russell. Donald Bedell is the highest rated of the three, checking in as a 3-star DE with offers from UConn and Temple. FB Jacob Kraut from Florida is the sixth ranked FB by 247Sports and is a 2-star with offers from Maryland, Troy, FIU, Middle Tennessee State, UAB, and Western Kentucky. OLB Brandon Russell, also from Florida, is unrrated and his only other offer was from Western Kentucky. 
4. Northwestern
Northwestern came into Ohio for the third time this recruiting season to land 3-star S Nathan Hall from Sylvania Southview. Hall had offers from Bowling Green, Pittsburg, Toledo, and Western Michigan. Hall was offered after an impressive camp performance in Evanston. He is the brother of current Northwestern DB Jimmy Hall. 
The addition of Hall puts the Wildcats right on the heels of Penn State for third place in the Big Ten rankings. 
Northwestern made the cut for TE Garrett Dickerson. Michigan and Stanford also made the cut, while Ohio State and Alabama was eliminated. Dickerson is rated 124th overall by 247Sports. Stanford is thought to be the leader for Dickerson.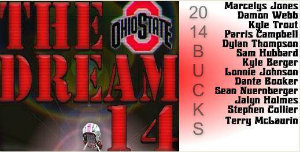 3. Penn State
No new commitments for Penn State for a second straight week. 
Penn State recently made the top five for ATH Malik Hooker. The 4-star ATH named a top five of Ohio State, Penn State, Michigan, Pittsburgh, and West Virginia. Landing Hooker would give Bill O'Brien another dynamic play maker on offense or he could play in the defensive secondary. 
As I mention every week, Bill O'Brien has done a great job at Penn State, both on the recruiting trail and even on the field. 
2. OHIO STATE
Ohio State fans have enjoyed a busy recruiting week. DE Jalyn Holmes started things off by reportedly committing, but not really committing, and then committing (again?) the next day. Landing the highly rated DE Holmes is a huge get for Zack Smith and the Buckeyes. Many were surprised by the commitment after many reports suggesting that he was a strong Florida State lean. 
Ohio State had a huge camp on Friday. WR Terry McLaurin impressed the staff enough to earn an offer and eventually committed to the Buckeyes on Sunday. The speedy McLaurin chose the Buckeyes over Purdue and Missouri. TE Mike Gesicki also impressed Urban Meyer and the staff enough to earn an offer. Unlike McLaurin, Gesicki did not commit. 
Underrated QB Stephen Collier of Georgia was also offered and committed to Ohio State this week. Ohio State found their QB for the 2014 class when Tom Herman offered the Elite 11 QB and he accepted. While Collier is only rated a 3-star at the moment, look for him to be bumped up to 4-stars soon enough.
Ohio State fans will be watching closely to Jamarco Jones' announcement on Thursday.  The Buckeyes appear to have a good shot at landing the highly rated OT over Michigan State and Michigan. Doing so would put Ohio State right on Michigan's heels for the number one spot in the B1G Recruiting Rankings. 
1. MICHIGAN
Michigan did not land a commitment again this week. The Wolverines last picked up a commitment when OLB Chase Winovich chose the Wolverines on June 1st. 
Michigan is still in the race for Jamarco Jones. Landing Jones would widen the gap in the rankings for the Wolverines and would boost them back up in the national rankings. 
Michigan has lead the rankings each week since we started the rankings here at ElevenWarriors this month. 
Rankings Overview
| No. | School | Commits | Scout ★ AVG | Rivals ★ AVG | 247 ★ AVG | ESPN ★ AVG | Overall Avg |
| --- | --- | --- | --- | --- | --- | --- | --- |
| 1 | Michigan | 12 | 3.67 | 3.55 | 3.67 | 4.00 | 3.72 |
| 2 | Ohio State | 13 | 3.54 | 3.31 | 3.75 | 3.64 | 3.56 |
| 3 | Penn State | 11 | 3.27 | 3.18 | 3.36 | 3.36 | 3.29 |
| 4 | Northwestern | 12 | 3.09 | 3.17 | 3.33 | 3.36 | 3.24 |
| 5 | Rutgers | 17 | 2.93 | 2.71 | 2.87 | 3.08 | 2.90 |
| 6 | Michigan State | 12 | 3.27 | 3.08 | 3.50 | 3.44 | 3.32 |
| 7 | Nebraska  | 9 | 2.67 | 2.78 | 2.78 | 3.50 | 2.93 |
| 8 | Iowa | 8 | 3.14 | 3.13 | 3.50 | 3.40 | 3.29 |
| 9 | Wisconsin | 7 | 3.67 | 3.17 | 3.50 | 3.40 | 3.44 |
| 10 | Minnesota | 5 | 3.40 | 3.00 | 3.29 | 2.80 | 3.12 |
| 11 | Illinois | 6 | 2.80 | 2.67 | 2.80 | 3.00 | 2.82 |
| 12 | Maryland | 5 | 2.60 | 2.80 | 2.80 | 3.67 | 2.97 |
| 13 | Purdue | 5 | 2.80 | 2.40 | 2.80 | 3.00 | 2.75 |
| 14 | Indiana | 6 | 2.67 | 2.50 | 2.75 | 3.00 | 2.73 |