Bradley Roby is a bad man.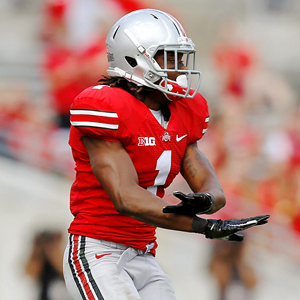 Buckeye fans have known it since he stepped on the field as a redshirt freshman in 2011. 
During that season, Roby tallied three interceptions (tied for the team lead), 47 tackles, nine passes defended (good enough for ninth in the B1G) and 3.5 tackles-for-loss.
The performance earned Roby notoriety in the locker-room, as the coaches presented him with the Buckeye 1st Year Defensive Player Award at season's end.
But Roby's freshman campaign was just a taste of what the Georgia product was able to achieve. In 2012, Bradley proved he was one of the best corners in the nation.
Statistically, you could make an argument he was the best. His 19 passes defended (17 pass break-ups and 2 INTs) led the nation and his 17 break-ups tied the OSU single season record. 
He was named a 2012 first-team All-American by ESPN, a second-team All-American by The AP and Walter Camp, and was named a first-team All-B1G player by both the coaches and media.
Roby's record-setting season garnered him a semi-finalist nod for the Thorpe Award, but that wasn't good enough for No. 1.
"The Thorpe Award, I feel like I should have been in the finals last year, but I can't really control stuff like that. That's definitely on my list. But I really want to be the defensive player (of the year), the Bednarik. I definitely want that one."
With that said, Roby has made a conscious effort to put team first in 2013. He believes if he is able to lead the Silver Bullets in the right direction, individual awards will follow:
 
"It starts with leadership. I have to show leadership to make our whole defense better, because you can't be a Bednarik winner on a bad defense. … I'm worried about everybody else first, and all my accolades that are out there are going to fall in place."
It's no secret the 2013 season will be Roby's last in Columbus. If everything goes as planned there's no question Bradley's name will be called during the first round of the draft.
He's a supreme talent that is able to change a game from the cornerback position. Opposing offenses must plan around him, and the Buckeye defense feeds off of his game-changing intensity.
2013 looks bright for Roby as NFL scouts are salivating at the chance to land the Buckeye star. So let's take a look at what is making said scouts hot under the collar with Roby's top 5 passes defended of 2012.
#5 Nebraska
Roby had his best game of the season against the Cornhuskers. Both of his 2012 INTs came against Nebraska including a 41-yard pick six.
Here's No. 1 going HAM in the endzone and subsequently ruining WR Kenny Bell's evening.
#4 Michigan State
Roby changed the game against the Spartans with a ridiculous punt block. But it was workman-like plays like this that let Dantonio know throwing to Roby's side on third down is ALWAYS a bad decision.
#3 Cal
This play should have been a catch for Cal, unfortunately for the Golden Bears Roby has next level closing speed in his tool-kit.
#2 Miami
Here's a rare clip of Roby getting beat on a vertical route. QB, Zac Dysert put the ball exactly where it needed to be, but Roby had other plans. This is No. 1 willing an incompletion.
#1 Penn State
Truth-be-told I have no idea how Roby made this play. This is a player relying on unreal instinct to know exactly where a ball is based on a receiver's eyes.
What follows is the moment Bradley Roby unfolded a beach chair, firmly planted it in the sand and declared himself a citizen of Roby Island, population: 1.
Honorable Mention (That Should Have Been Included)
Thanks Urban Nation Army you're absolutely right, this should have made the cut. Luckily the speed of edits on the Internet is almost as fast as Roby's closing speed.