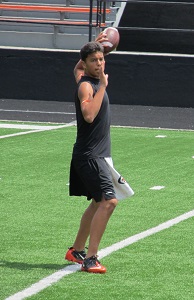 It doesn't take long for the gloom and doom crowd to turn around when it comes to recruiting. In fact, all it really takes is one large bit of unexpected good news.
Whether it's a commitment or just a player naming Ohio State as his leader, Buckeye fans are similarly wired as every other group of fans in the country; they want good news and they want it now and often.
After Sunday's disappointment about losing Derek Kief to Alabama, Buckeye fans took solace in knowing that this week was a big one chock full of intriguing on-campus visitors. Most of them we knew about (Jalyn Holmes, Trevion Thompson, Sterling Jenkins, etc.) but some of the intrigue, like the arrival of California's Brandon Dawkins was a surprise.
As this incredible busy week hits the middle point, Ohio State is hoping to make an impact for 2014 and beyond and have done so — to this point — with a couple key visitors left.
Here's what we've gathered so far, including the skinny on a player who may be the top player in the class of 2017. Yes, 2017.
Today's big news was the rumor that Norfolk (Va.) star Jalyn Holmes had committed to the Buckeyes on his visit to Columbus. Unfortunately for the site reporting it, that report was immediately refuted by Holmes. While it appears the Buckeyes are in an excellent position to land the country's 4th-ranked defensive end, the slip from the media outlet was not something Ohio State nor Holmes' camp was happy about. When the rumors of Holmes' commitment came out Eleven Warriors worked to get verification and we were told that the reports were premature, if not inaccurate, so we didn't report it. I expect Holmes to be a Buckeye when all is said and done, but the question becomes when does that happen.
Movng on.
Yesterday Ohio State hosted a number of key visitors including a player who Buckeye fans will want to keep a very close eye on for the next four years, incoming Massillon freshman quarterback Danny Clark. By all accounts, Clark will be the starting quarterback for the Tigers in the fall and he was very impressive at Ohio State, standing out against players three-to-four years ahead of him. At 6-foot-3 and 200 pounds, Clark has the physical tools of a high school senior and impressive mechanics that are impossible not to rave about for a player who has barely hit 14 years old.
"Clark was very impressive," said a source who was in attendance. "He's got all the tools and is a player who will be watched very closely over the next few years."
Despite the fact that he's not even in high school, Clark is a prime candidate for Ohio State down the line and Buckeye fans ought to get used to hearing his name.
Another player that Buckeye fans should familiarize themselves with is the 6-foot-8, 325 pound Pennsylvania lineman Sterling Jenkins. Jenkins arrived on campus today and is a key target (along with Memphis OL Drew Richmond, who visited last weekend) along the line for the 2015 class. Jenkins got his first taste of Ohio State in the first weekend of June when he participated in the NFTC on campus, but he was unable to spend time with coaches or players because of NCAA rules prohibiting recruiting during third-party camps on college campuses. 
"I want to meet staff," Jenkins told me prior to his trip. "I'm looking forward to seeing the guys I see on all the "all-access" YouTube videos." 
A number of people have already predicted that Jenkins is a battle that could come down to Ohio State and Michigan, but the big junior-to-be says that's not true.
"I'm wide open to any school right now," he said. "I guess (people) think that because I like Coach (Michigan OL coach Darrell) Funk I already have my mind set on them and that's just not the case. I'm really just starting to explore and my recruitment is just starting. I hope I don't get too excited on any visits and get fans riled up just by saying I really enjoyed a visit or something."
Jenkins wants to be an English professor following football, and he's a kid who won't say much without thinking about it first, so his recruitment will be a fun one to follow.
Matt Elam is a late addition to this week's visitors, and he's a large (literally) target for the Buckeyes. The 6-foot-6, 350 pound Elam has seen his recruiting "star" skyrocket in the last few weeks as offers from Notre Dame and Ohio State turned this battle, thought to be a Kentucky/Alabama war, into a much more difficult to call race. Both the Buckeyes and Irish will get visits in the next week from the Elizabethtown native, and he's looking forward to seeing some of the country's most established football programs up close.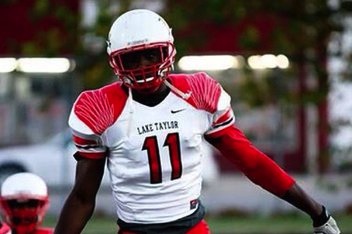 "I know a lot of people think I am all Kentucky," Elam said. "But I am definitely still thinking about Alabama, Louisville, Notre Dame and Ohio State."
Elam's size is not his only asset, he tells me that he is runs the 40 in almost 4.9 seconds every time out. Ohio State will roll out the red carpet for this one.
Trevion Thompson, a primary wide receiver target from Durham (N.C.) visited Ohio State yesterday and with the loss of Derek Kief earlier in the week, Thompson becomes a major focus for the Buckeye staff. While he says Ohio State is in his top two schools (along with Clemson) it appears they are playing from behind here. Eleven Warriors will hope to get an update on Thompson's visit soon.
As for Kief, the loss for Ohio State might have been one more of perception than talent, as they do feel they can sign a player as good come February, but losing Ohio's talented players hurts. According to a source close to the Buckeyes, they wanted Kief and recruited him hard and absolutely would have taken him, but did not feel that his loss is something they are unable to overcome.