The Miami Heat and San Antonio Spurs continue their back-and-forth battle for an NBA title – a six game series that will end this week, in Miami.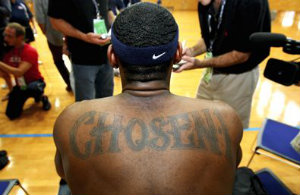 Once the trophy is raised, some of these guys will shed a tear and consider how crazy it is that they've accomplished a childhood dream, considering how little fanfare they created coming out of high school. 
Certainly, there is a guy that has so deeply indulged us with his clearly undervalued importance to us peasants, since the day he was deified.
Others are a reminder that players develop at different ages, and can flourish once they're placed in the right college environment.
Even in an era of widespread communication, those with the slightest hint of NBA talent can still slip through, unnoticed by major Division-1 college coaches. 
The following players were lightly recruited coming out of high school. Maybe, their championship mentality and determination were shaped by how they were perceived coming into college:
Tim Duncan, St. Dunstan's Episcopal High School, St. Croix, Virgin islands
Lost in what has become a hall-of-fame career is how Tim Duncan ended up here.
He was born in the U.S. Virgin Islands, not exactly the ideal place to groom a championship and Olympic medal winning basketball player. It is, however, a great place for someone with aspirations of making the Olympics as a swimmer.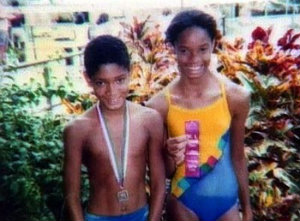 That was Duncan's first dream – to follow in his sister's footsteps, aiming to make the 1992 games in Barcelona. If you think Michael Phelps is a genetic freak, imagine Tim Duncan in the water.
Unfortunately for a young Duncan, he had to put his swimming career on hold after Hurricane Hugo damaged much of his hometown's training facilities. More importantly, his family was dealt a cruel blow when his single mother succumbed to breast cancer. 
With the help of his brother-in-law, Ricky Lowery, who played for Capital University in Bexley, a 14-year-old Duncan picked up a basketball.
Despite his impressive stature, he was obviously raw. Still, he caught the attention of Wake Forest coach Dave Odom, after going up against Alonzo Mourning, in an all-star game on Duncan's native island.
"When I saw him play, I said to myself, 'Had he played in the continental U.S., there would be a holy war for the guy,'" Odom told the LA Times, in 1995.
According to that article, Duncan was ranked behind fellow Demon Deacon recruits  Makhtar N'Diaye and Ricardo Peral.
Both of them went on to have professional careers overseas, but probably won't be viewed, historically, as the best players at their positions.
Kawhi Leonard, Martin Luther King High school, riverside, calif. 
Kawhi Leonard is another classic "late bloomer," but never lacked in work ethic or talent.
In his freshman year of high school, Leonard missed basketball tryouts, and, instead, focused on playing football. He then shot up five inches and did not make the same mistake his sophomore year. That didn't net him much in the way of scholarship offers, only attracting the interest of UC Davis and other Big West Conference schools.
He transferred high schools heading into his junior year, and, landed on San Diego State's radar later that season. He would eventually grow to 6 feet 7 inches tall, but still didn't get any attention from the major Pac-10 schools
Perhaps, schools (and, later on, NBA teams) thought of him as a "tweener" – too small to play power forward, but not athletic enough to play small forward. Guys like that tend to prove people wrong, all too often.
Late in his senior season, Rivals ranked him as a 4-star recruit, and placed him in the top 10 at his position.
Leonard decided to commit to the Aztecs, anyway.
"Everyone said, 'Why didn't you go to a bigger school, why didn't you go to the Pac-10?' " Leonard told the LA Times, in 2009. "If I waited it out, I probably would have got them. But I wanted to go with who loved me first."
With his outstanding perimeter defense, hustle and sold three-point shooting, he's now a vital piece of a Spurs team that is a game away from an NBA title.
Dwyane wade, 
Harold L. Richards High School, Oak Lawn, Ill. 
Marquette University is now seen as a basketball powerhouse – a Big East school, who has failed to miss the tournament in the last eight seasons. But, before Dwyane Wade, the program made the tournament sporadically, grasping to reclaim the glory of the late 1970s.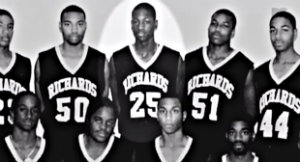 How did they end up with such a transcendent talent? Well, to those who think athletes "ain't come to play school," Wade will tell you that it was his ACT scores that held him back.
A late growth spurt and dominant play in the basketball paradise Chicago got his name out there, but it was not enough to overcome his academic issues.
Despite that, former Marquette coach Tom Crean (give him credit for being a good recruiter) saw the limitless potential Wade had.
According to Wade's autobiography, Crean told him, ""I want to be your first call because this is how important you are to Marquette and our future."
That could be dismissed as typical coach-to-recruit rhetoric, but it's not like Crean had much competition. Marquette, Illinois State and DePaul were the only schools to offer Wade a scholarship. Plus, for as good as he was out of high school, he still wasn't a McDonald's All-American worthy talent.
He went on to lead the Golden Eagles to a Final Four berth in 2003, and is now one of the top guards of his generation.
Norris cole, dunbar high school, dayton, Ohio
Former Ohio State guard Daequan Cook, in part, aided Norris Cole's lack of recognition.
While at Dayton's Dunbar High School, Cole played the role of a traditional point guard, mostly setting up, and playing off Cook, who led Dunbar to a Divison II state championship in 2006.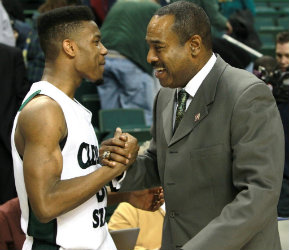 Many times, a guy with Cook's ability to attract scouts will help to find undervalued talent. This wasn't necessarily true, in Cole's case. His only offer, heading into his senior year, was from NAIA's Walsh University (a frequent Ohio State scrimmage opponent) in North Canton.
Cole is a year younger than Cook, and took control of the Dunbar squad, leading them to a second state title in 2007. Despite earning the MVP of the state tournament that year, Cole's only offer came from Cleveland State.
Perhaps, other schools felt as though he was too undersized, and not enough of a natural scorer. He didn't necessarily develop into one, until his sophomore year at Cleveland State.
That year, Cole finished second on the team in scoring, and lead the Vikings to an NCAA Tournament upset of fourth-seeded Wake Forest, with his 22-point performance.
Cole went on to put up huge numbers the rest of his career in the Horizon League, including a 41-point, 20-rebound, 9-assist game against Youngstown State, in his senior season.
Coincidentally, Cole's Miami Heat and Cook's Oklahoma City Thunder faced-off in the NBA Finals, last year.
---
So, to strictly college basketball fans: even if Ohio State comes away with a "disappointing" recruiting class – or if we laugh at the school up north's incoming talent – it's important to realize that championship talent can arrive when you least expect it.