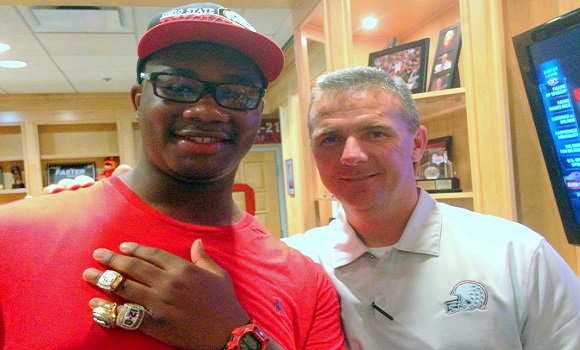 There's been a lot of hullabaloo and fussin' and cussin' about Ohio State's offensive line recruiting in the last year and a half. As the Buckeyes start to ever so slowly turn some of their recruiting focus from finishing the 2014 class to starting the 2015 class, it appears that they've decided to address that issue as much as possible.
One of their primary targets for 2015 is Memphis (Tenn.) University School offensive tackle Drew Richmond, a 6-foot-6, 300 pound hulking brute who grew up, according to the soon-to-be junior, a Buckeye fan.
"This was my first time at Ohio State," Richmond said following his visit. "I did grow up rooting for Ohio State, so there were a lot of expectations. I always thought Ohio State just had the coolest uniforms and I remember the way that Coach Tressel would lead the troops out on the field; they'd lock up arms and they'd walk out, it was so hype."
Richmond pushed off from Memphis on Thursday afternoon and arrived in Ohio on Thursday night. He and his coach stayed overnight in Springfield at his coach's father's home before making the final leg to Columbus on Friday. From there it was a whirlwind 24 hours for the star lineman.
"I really enjoyed the visit," he said. "I spent time looking at everything, talking to the players, coaches and academic people. I spent a lot of time with Jalin Marshall, Vonn Bell, Ryan Shazier and Curtis Grant and a couple other people."
Of course, the true face of the Ohio State program is head coach Urban Meyer and Richmond spent some one-on-one time with the big man himself.
"Meeting (Coach Meyer) went really well," he said. "He told me that I'm the type of guy they need along the offensive line and that he wants me on board. I didn't have any predetermined thoughts on what his personality would be like, so it was cool to meet him."
Richmond participated in last weekend's Rivals Five-Star Challenge in Chicago and said that he came away impressed with the camp and felt that he gained some valuable knowledge. The attention and recruiting pressure are not yet getting to the Memphis monster, though. He is planning on taking some time to make sure that he makes the right decision for his future. Prior to his Ohio State visit, he tried to remain measured in his approach, realizing he would not get the full "feel" for what Ohio State has to offer with an empty stadium and quiet campus.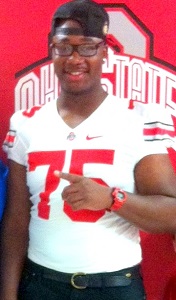 "I'm not close to committing anywhere at this point," Richmond said. "I knew that the trip to Ohio State was going to be good, but as far as setting "the bar" for future visits I don't think so, because this trip didn't have that feeling of 100,000-plus people and the buzz around campus. I still enjoyed it so much, though. I think next year I'll have a better idea timetable for when I'd commit because that's when coaches can really start actively recruiting me."
Now Richmond will focus on his summer, although he intends to make a visit to Georgia before really settling back into being a teenager. He admits that he'd like to get back to Ohio State this summer but doesn't see it happening at this point.
"I doubt it, but I do want to," he said when asked if he might return for Ohio State's "Friday Night Lights" camp in late July. "I'd also really like to make it up for either the Penn State or Wisconsin games, but I don't think it'll be able to happen, sadly enough. I've got homecoming one of those weekends and the other we play a game out of state."
Growing up a Buckeye fan, making his first visit to Ohio State as a coveted recruit, Richmond was awed by the feeling of being at Ohio State.
"It was a dream feeling, honestly," he added. "Seeing your dreams come true is amazing. Everything at Ohio State met my expectations and in a lot of ways exceeded them a bit. Heck, even the donuts were amazing at Schulers Donuts."