It's Friday and Eleven Warriors is back with another edition of the Ohio State football recruiting notebook. A lot happened this week and we're here to break it down.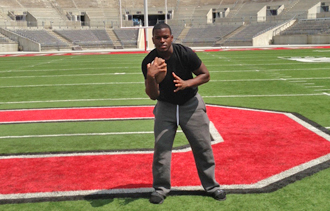 The Buckeyes received commitment number 10 for the 2014 class earlier this week in the form of kicker/punter Sean Nuernberger. We will discuss what his commitment means later in the notebook.
Ohio State hosted their first one day football camp last Sunday. We'll talk about the players who attended the camp and tell you if the Buckeyes have a legit chance at landing these recruits.
One of the top players in the 2015 class visited Ohio State this past week. We'll tell you who it was and how the visit went after the jump.
The Ohio State coaching staff hasn't handed out too many offers over the past couple of weeks, but they did manage to offer a few recruits last week. We'll take a look at the players the Buckeyes recently offered later in this week's edition of the recruiting notebook.
We will also tell you which Buckeye targets committed to other schools in the last seven days.
Join us after the jump as we take a look at the past, present, and future of Ohio State recruiting.
THE BUZZ
Urban Meyer and his coaching staff reeled in their tenth commitment of the 2014 recruiting class in the form of Buckner (KY) Oldham kicker/punter Sean Nuernberger. He will be expected to come in next year and handle the kicking duties from day one when he arrives in Columbus in summer 2014.
After picking up Nuernberger and Australian punter Cameron Johnston, who is already enrolled at Ohio State, the Buckeyes won't have to worry about recruiting specialist for a couple of years.
The Buckeyes hosted their first of three premier football camps last Sunday. There were many recruits in attendance, including many players who have already committed to play for Ohio State next year. The focus was on two un-committed prospects in Jersey City (NJ) St. Peter's Prep running back Jonathan Hilliman and Hilton Head Island (SC) Hilton Head defensive tackle Poona Ford.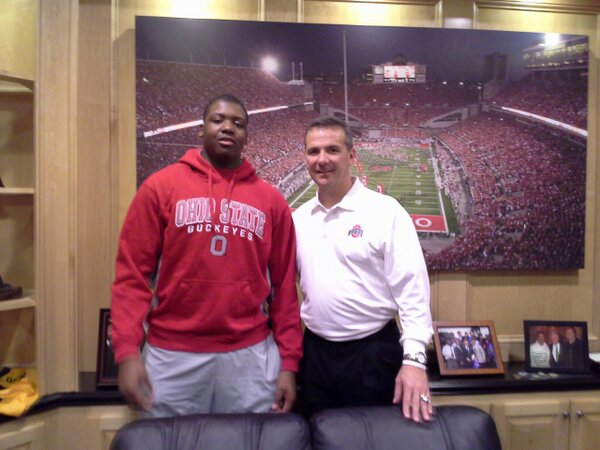 Hilliman came away from the visit very impressed and I think he will end up as a Buckeye when his recruitment comes to a close. He wants to take a couple more visits to make sure he can make an informed decision. The Bucks definitely hold a sizable lead right now and I think his offer his offer is a committable one.
There were mixed reviews on Ford's performance at the camp. He is undersized, standing at only 5-11, but has very long arms and carries he weight well. I don't think he has a committable offer to OSU right now and I think he'll end up at Tennessee or South Carolina as things currently stand.
The football camp was not the only time top recruits were visiting Ohio State last week. Orlando (FL) Timber Creek running back Jacques Patrick came to Columbus last Tuesday. Patrick, one of the top players in the 2015 class had an awesome visit and is planning on coming back to watch the Buckeyes take on Penn State under the lights this fall. It will be a very hard battle to win, but the Buckeyes will have a chance to win this race.
Chicago (IL) De La Salle Institute offensive tackle Jamarco Jones is just a couple of weeks from announcing his decision between the Buckeyes, Michigan, and Michigan State. He is visiting each of his finalists this weekend, starting with Michigan State on June 15th, followed by Michigan June 16th, and he'll wrap things up with a visit to Ohio State on June 17th.
It's going to be close, but I think Jamarco will announce for Ohio State on Wednesday June 27 at his high school. 
The Ohio State coaching staff offered a total of six recruits over the last week. Two in the 2014 class, three in the 2015 class, and one in the class of 2016.
The 2014 recruits offered were Hyattsville (MD) DeMatha offensive tackle Brock Ruble and Brentwood (TN) Academy defensive linemen Derek Barnett, who is very interested in the Buckeyes.
The three offers made in the 2015 class went out to Cincinnati (OH) St. Xavier linebacker Justin Hilliard, Washington (DC) Friendship Academy defensive back Ashton White, and Frostproof (FL) athlete Kaleel Gaines.
Finally the 2016 recruit the Buckeyes offered was Scotch Plains (NJ) Fanwood defensive linemen Rashan Gary.
HAPPY TRAILS
The past week was a busy one as far as commitments go. Five players the Buckeyes had on their recruiting radar committed to rival schools. Three of these players had OSU offers, while two of them did not.
Two of these players will be attending the same school next year as Crestview (FL) Senior defensive end Denzel Ware and Lima (OH) C.C. defensive back Darius West joined Kentucky's very strong 2014 class. Ware held an offer from the Bucks, while West did not.
The biggest loss for the Buckeyes was probably Scranton (PA) Lackawanna C.C. offensive tackle Jermaine Eluemunor who committed to the UCLA Bruins. Eluemunor still plans on visiting Ohio State on June 21st, but is likely to stick with UCLA when it's all said and done.
Another high profile Ohio State target who was never offered, committed to another school as Toledo (OH) Central Catholic quarterback DeShone Kizer, decided to play his college ball in South Bend for Notre Dame.
To round out the "Happy Trails" section of the recruiting notebook, Cedartown (GA) running back Nick Chubb committed to Georgia last week. He held on offer from the Scarlet and Gray, but he was a Georgia lean from day one.
LOOKING AHEAD
The Buckeyes are hosting two very big visitors this weekend in Garden City (NY) Nassau C.C. offensive tackle Chad Mavety and Fort Lauderdale (FL) University School cornerback Quincy Wilson.
Mavety is scheduled to arrive on campus Friday, while Wilson is slated to arrive on Saturday. I think the Buckeyes are the favorites for both of these recruits. This is a great chance for Urban Meyer and his staff to extend their lead.
There are also a bevy of other important Buckeye targets visiting next week. An impressive list that includes the likes of Zack Darlington, Trevion Thompson, Donte Williams, Sterling Jenkins, and Jayln Holmes will be on campus.
Eleven Warriors will have updates on all of these visits once they are complete.
Lastly the Ohio State is hosting their second one day camp on Friday June 21st. We'll be taking an in-depth look at that camp in next week's edition of the Ohio State football recruiting notebook.