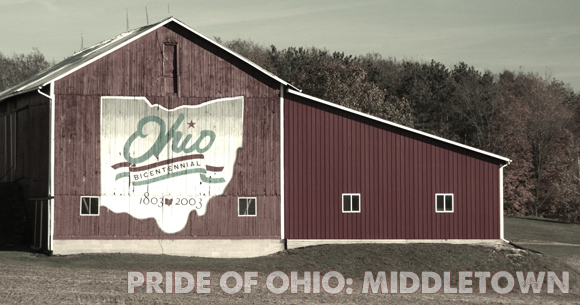 Everyone puts a different value on recreational hobbies. Invariably, though, most are attracted to sports, whether it's participating or spectating. The southwestern Ohio city is Middletown is one of those places that embraces its sports side.
The city of almost 50,000 is home to dozens of superstar athletes. Jerry Lucas, Cris Carter, Gay Brewer and Kayla Harrison all call the All-American city home. It gained that moniker in the 1950s when the National Civic League bestowed the honor.
"We've had a good run of athletes come out of Middletown," said mayor Larry Mulligan, a lifelong resident. "It's certainly good to see them do well."
Lucas and Carter starred at Ohio State before Hall of Fame professional careers, Brewer won the Masters and Harrison was an Olympic gold medalist in London last summer, but high school sports are at the heart of Middletown.
"There's a lot of spirit around," Mulligan said. "Football and basketball always draw a lot of attention and are followed closely in the local papers and around water coolers."
When August rolls around and two-a-days begin, the conversation ratchets up about the Middletown Middies and Bishop Fenwick Falcons. The two schools own a combined 19 state championships.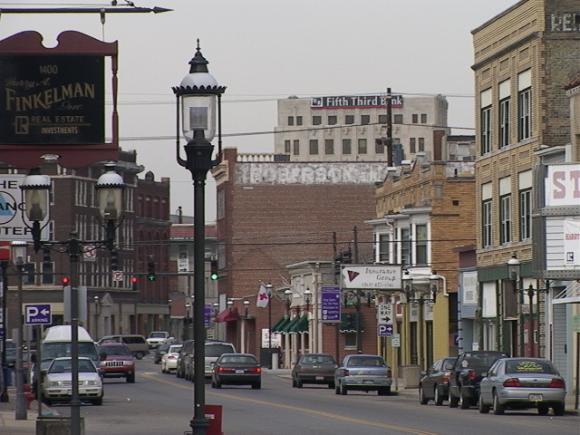 From 1944-1957, the Middies' boys basketball program won seven titles. A state record 76 consecutive victories came at the tail end of that championship run, a streak engineered by Lucas. Legendary head coach Paul Walker coached at Middletown for 30 years, compiling a 562-136 record.
The Falcons have won at least one state title in the Big 3 boys' sports of football, basketball and baseball. In 1974, they won the football and baseball championships.
On Friday nights in the fall, Barnitz Stadium is the most popular place in town. Chances are you'll find Mayor Mulligan mingling with fans. The 60-year-old stadium has been a staple in Middletown residents' lives for generations. But like all old venues, a time for renovations comes. In a display of togetherness, the Middletown Community Foundation donated its largest grant ever – $500,000 – to help renovate the 7,000-seat stadium.
It's all part of a project to help spur revitalization in downtown Middletown.
"What Barnitz has been and will continue to be is a gathering place for the community," said Middletown superintendent Greg Rasmussen.
Former and current Ohio State Buckeyes have called Barnitz home. Carter, Todd Bell, Sonny Gordon, Jeff Cothran, John Peterson, Andre Amos and Jalin Marshall all played for Middletown, attracting large crowds to the venerable stadium.
Middletown, Ohio
Population: 48,962
Where: 39.515, -84.398
County: Butler and Warren
Zip Code:

 

45042-45044

Area Code: 513
Fun Fact: Brooklyn Decker (supermodel), Susan Perkins (Miss America, 1978), Clarence Page (Pulitzer Prize-winning author, journalist) and Carling Coffing (winner of Golf Channel's "Big Break") all call Middletown home.
"They're loyal followers, for sure," Mulligan said. "Barnitz Stadium, it brings a lot of people out to cheer on the local teams. There's a lot of energy and excitement."
Middletown is located in a section of the state that hasn't traditionally been warm for Ohio State, but many residents cheer on the Buckeyes. The city is full of fans for many area teams, though. Cincinnati, Dayton, Xavier, Miami, Wright State, Kentucky and Louisville all have supporters in Middletown.
The past year has seen a series of celebrations in town. Carter, Lucas and Hamilton have each been honored at various times.
In May, the "Hometown Hall of Famer" tour made its way to Middletown, where Carter spoke to students with the goal of inspiring them and helping them achieve their dreams. 
"For me, I was very lucky that I had people to help cultivate my dreams, but at the end of the day, those dreams were still my responsibility," said Carter, who will be enshrined in the Pro Football Hall of Fame in August. "So tonight, I want you all to go home and write down your dream. Middletown High School has been known for many things, but what will it be known for when you leave? It is up to you to leave your own legacy."
A few months earlier, in February, it was Lucas, one of the 50 greatest basketball players of all-time, who received recognition from his hometown. The Middies renamed their court in Lucas' honor, as did Sunset Park, where Lucas played as a youth. In front of a standing-room only crowd, Lucas called the ceremony "a tremendous honor."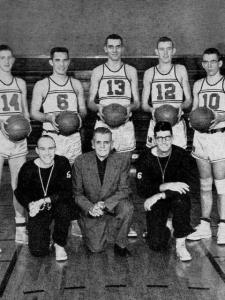 "I am extremely grateful," the Hall of Famer said. "This is a very special time."
August of 2012 was Harrison's moment in Middletown. The city welcomed her home from London with a parade. The first American to win the gold medal in judo, Harrison was serenaded with chants of "U-S-A."
She spoke to students and encouraged them to set high goals and proceed ambitiously in accomplishing them.
"I'm living proof it can happen," Harrison said.
Said Mulligan: "The message centered around 'it's not so much what you're doing on the field, it's beyond that.' The roots and solid foundation was provided in Middletown."
It continued the act of giving back, which is a hallmark of all close-knit communities. Everyone benefits from others actions at some point. When the opportunity arises to make a difference, people who come from humble roots go through on it. Carter, Lucas and Harrison have displayed their selflessness in the past and present, and the trio is sure to step forward in the future.
"They're good role models for folks who are coming up or going through adversity," Mulligan said.
Since its inception 180 years ago, Middletown has been a community of workers. Steel factories represent the blue-collar mentality. That work ethic has been passed down and continues to this day. It's why on the football field and basketball court, the Middies and Falcons are rarely outworked by opponents. 
"Part of it is tradition," Mulligan said. "One of the current themes is pride, and that's not just around athletics. It is community. People have an expectation around here. Some of the folks that have been around here for generations make sure kids are focused on the right things.
"People appreciate hearing a good story and being a part of success. It may come from the Sunday pulpit, the dinner table or just friends and relatives. That really builds the tradition and excitement."
Pride of Ohio: St. Henry | Martins Ferry | Piqua | Amanda | Lakewood | Centerville | Warren | Middletown