Last June, Urban Meyer had his assistants grade themselves as coaches based on recruiting, coaching, public relations, and student athlete relationships. Meyer then sat down with each coach to offer his constructive criticism. One common theme throughout the performance reviews was the need to improve on recruiting.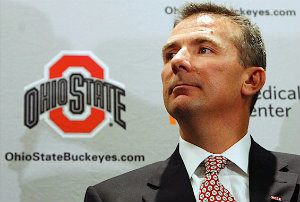 Since the reviews took place, Ohio State finished with one of the top recruiting classes in the nation and are off to a solid start with the 2014 class. It is yet to be seen whether or not Urban Meyer will be satisfied with the coaches' improvement on the recruiting trail when he does the next round of performance reviews. 
Grading a coaches performance on the recruiting trail can be difficult. Coaches do not always recruit their positions (or only their position). For example, Mike Vrabel was the main recruiter for WR Lonnie Johnson and ATH Parris Campbell. Also, many times multiple assistant coaches (and Urban Meyer) are actively recruiting one player. It is hard to give just one coach credit for landing a recruit. 
After the jump, I offer my grades on each of the assistant coaches for their recruiting performance in the 2013 and 2014 classes. 
QB/OC Tom Herman
Many Ohio State fans consider Tom Herman to be the best recruiter, not named Urban Meyer, on the staff. Herman gave himself a four in the section of 'productivity in recruiting'. One thing that caught my eye was that he gave himself a three for 'turns in all paperwork on time and complete' under the recruiting section. Coach Meyer did not leave any comments on Herman's performance review. 
Herman's Texas ties have been very beneficial to Ohio State's recruiting efforts. He has spent time at Texas, Texas State, Rice, and Sam Houston State before heading to Iowa State and eventually Ohio State as offensive coordinator. Ohio State and Herman were able to land QB JT Barrett, WR Dontre Wilson, and LB Mike Mitchell from the State of Texas. The duo of Herman and Meyer were able to close on WR James Clark on an in-home visit. Herman also assisted with the recruitments of TE Marcus Baugh and WR Corey Smith. 
In 2014, Coach Herman's focus is to find a QB for this recruiting class. It is still early but it appears we have missed on DeShaun Watson and Kyle Allen. Brandon Harris, Rafe Peavey, and Zack Darlington are other targets. Herman would have earned an A+ if he landed or was in good shape for a QB in 2014. 
Grade: A
RB Coach Stan Drayton
Urban Meyer challenged Stan Drayton to get a big time recruit in his performance review. Drayton gave himself a five in the recruiting department and mentioned that he has been instrumental in helping other coaches recruit. 
Coombs and Drayton were able to land RB Ezekiel Elliott despite Missouri making a late push. He also was the main recruiter for two in-state defensive lineman in Tracey Sprinkle and Donovan Munger. Drayton also has been in charge of recruiting Glenville as he has landed Chris Worley and Marcelys Jones. Marshon Lattimore and Erick Smith are two of his biggest targets left in this recruiting year. Stan was also a secondary recruiter for Parris Campbell Jr. We will give Stan Drayton a B+. He has done his job well and RB depth doesn't appear to be an issue, but he has not exceeded expectations on the recruiting trail. 
Grade: B+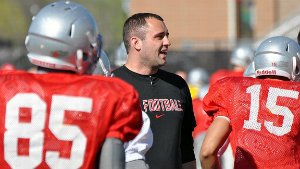 WR Coach Zach Smith
Zach Smith has had the least success when it comes to recruiting. Meyer noted that Smith's recruiting production needed improvement and that he needed to work on being thorough and intense in the recruiting process. Coach Smith was very hard on himself in his self-evaluation. He graded himself as a two in overall recruiting. He commented that he needed to be more aggressive with WRs and have conviction on area recruits. Ohio State has struggled in the Virginia area, which is the area that Zach Smith covers. Coach Smith is only 28 years old and still has plenty of time to improve on the recruiting trail. He is learning from some of the best in the business. 
In 2013, Zach Smith was only the primary recruiter on one signee, WR Corey Smith. He helped Tim Hinton land Jalin Marshall, but Marshall was considered a lock from the get go. He also was the secondary recruiter for WR James Clark. However, it is worth noting that Urban Meyer took OC Tom Herman to the crucial in-home visit instead of WR coach Zach Smith. 
He is young and will continue to get better. We've had a solid WR haul, but only one was recruited by Smith. We'll give him a C+ and needs improvement. 
Grade: C+ Improvement needed. 
TE/FB Coach Tim Hinton 
Tim Hinton is probably one of the most underrated recruiters on the staff. Tim Hinton has spent years at the HS level in Ohio, which has benefited in recruiting. Urban Meyer praised Hinton for HS relations and producing in recruiting. He did suggest being more thorough and intense in recruiting. Coach Hinton gave himself a five for overall recruiting and commented that he had four commits in the 2013 class. 
Tim Hinton landed TE Marcus Baugh, DB Cameron Burrows, WR Jalin Marshall, and OL Evan Lisle. That is a pretty impressive four man class for one assistant to pull in. Hinton has really been working the state of California hard, but thus far he has only been successful in pulling the number one TE out of California. Tim Hinton would have earned an 'A', but his lack of commitments in 2014 will push him down to an 'A-'. 
Grade: A-
OL/co-OC Ed Warriner
Ed Warriner is one of the top offensive line coaches in the country. That is why Ohio State hired him. He has somewhat struggled on the recruiting trail to date. Urban Meyer mentioned that he needs to work on building relationships in recruiting. Meyer also noted that he needs to close on OL recruits. Warriner rated himself as a four in recruiting, mostly because he helped recruit Taylor Decker, Kyle Dodson, and Joey O'Connor in 2012 after coming aboard with Urban Meyer.
In the 2013 class, Ohio State only signed two offensive lineman. Warriner was the secondary recruiter for both Timothy Gardner and Evan Lisle. He also helped land Eli Apple out of the New Jersey area, which he helps recruit. In 2014, Warriner has gotten an early verbal from Kyle Trout. Warriner has Ohio State in a good position to land RB Jonathan Hilliman, OG Demetrius Knox, OT Chad Mavety and OT Jamarco Jones. Since we are only grading the 2013 and 2014 class, Warriner grade might seem a little low. If he closes the deal on Hilliman, Knox, Mavety and Jones he will quickly move the 'B' to an 'A'. 
Grade: B with potential to be an A. 
LB/DC Luke Fickell
Luke Fickell has always had a reputation as a good recruiter. Fickell rated himself as a four in recruiting and said that he felt he sold the university well thru tough times. I think everyone would agree with that assessment. Urban Meyer noted that Fickell needs to be more intense in recruiting. Fickell has always seemed to have a more laid back personality, which could explain why Luke Fickell has been more of a secondary recruiter for Ohio State. It appears to me that Urban uses Tom Herman, Mike Vrabel, and Kerry Coombs in the lead role recruiting. Many prospects have raved about Luke Fickell, although he isn't the one that is their main contact. 
Luke Fickell was the main recruiter for Kyle Berger and Darron Lee. He helped in the recruitments of Chris Worley, Billy Price, JT Barrett, Joey Bosa, Mike Mitchell, Trey Johnson, Jayme Thompson, and Dylan Thompson. While he was considered a secondary recruiter for those guys, he had a big impact on Mitchell, Johnson, and Bosa signing with the Buckeyes. We give Luke Fickell an A-.
Grade: A-
DL Coach Mike Vrabel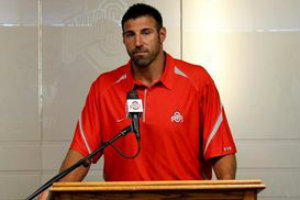 Mike Vrabel is challenging Tom Herman for the title of best recruiter on the staff. Coach Meyer offered up a lot of constructive criticism for Mike Vrabel. Meyer noted that he wanted to see Vrabel land a top recruit (specifically mentioned Joey Bosa) and also see him take the same approach to recruiting as he does playing (no excuses, W/L). A positive that Urban noted was Vrabel's relationship with recruits. Mike Vrabel gave himself a four in recruiting. He stated "I can always be better in recruiting." You have to love that attitude. 
In the 2014 class, Vrabel is off to a fast start with commitments from Dante Booker, ATH Parris Campbell, WR Lonnie Johnson, and DL Dylan Thompson. He is credited for landing DT Billy Price, DE Joey Bosa, CB Gareon Conley, while assisting with DL Michael Hill, DL Donovan Munger, DL Tyquan Lewis, and DL Tracy Sprinkle. Mike Vrabel gets an 'A+' for the work he has done in both classes. 
Grade: A+ 
S/Co-DC Everett Withers
Withers might have the biggest get of the 2013 recruiting class when Ohio State landed Vonn Bell on Signing Day. One of Urban Meyer's things to work on for Coach Withers was to land a difference maker. I think everyone could agree that he did so with landing Vonn Bell. Everett Withers rated the productivity in recruiting as a three and commented 'must identify the top (3-4) recruiters'.
Coach Withers landed Vonn Bell, Trey Johnson, Tyquan Lewis, Michael Hill, and Jayme Thompson. He helped land Darron Lee and Cameron Burrows. It was impressive to see Withers land four out of state recruits for Ohio State. He used his ties to the Carolina-Georgia region to expand Ohio State's recruiting grounds. In the 2014 class, Withers has also helped Coach Coombs in landing Damon Webb. Pulling Webb from Michigan was a huge get for the Buckeyes. Withers has been huge in the recruitment of Raekwon McMillian and has been important in expanding Ohio State's in the south.  
Grade: A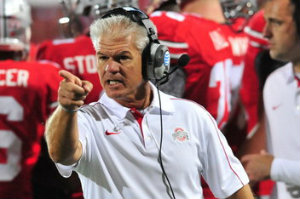 CB/ST Kerry Coombs
Urban Meyer called for Kerry Coombs to close on a big time recruit and praised him for his HS relations. Kerry Coombs gave himself a three on recruiting productivity and wrote that 'it remains to be seen'. Coombs bring energy to the staff and seems to be a coach that players would like to play for. 
Coombs has done very well on the recruiting trail. He recently gained punter Cameron Johnston and kicker Sean Nuernberger. Two important gets for the Buckeyes. His Cincinnati ties came in handy to land OLB/DE/ATH Sam Hubbard. He also landed a huge member of the 2014 class in CB Damon Webb. In 2013, Coombs was the main recruiter for RB Ezekiel Elliott, CB Eli Apple, and OL Timothy Gardner. Derek Kief from Cincinnati is also being recruited by Coombs and Ohio State appears to be in a good position. Coombs gets an 'A' for his seven commitments with six coming for out-of-state (one coming from out of country). 
Grade: A