On Monday, veteran ESPN writer Ivan Maisel penned a typical off-season football column where he threw together some stats about college coaches taking head coach jobs in the NFL. Lo and behold, his not-so-deep analysis told him that the Pac-12 (or 8, or 10, whatever) is the place to be if you're aiming for the top echelon of football coaching. In the process, he couldn't resist taking a shot at the beleaguered Big Ten, pointing out that the conference has sent only 1 head football coach to the same job in the pros since 1971.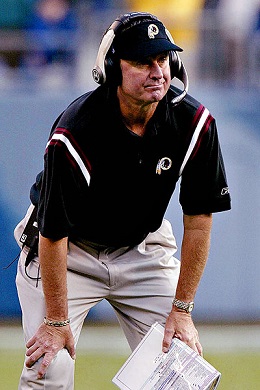 Forgetting for a moment the qualifications that enabled this favoring of one conference above all others (must be head man here, then go and be head man there the next season), there was something else that jumped out at me: there have been only 9 Pac-12 coaches that have made this specific jump in the last 20 years. That's not a lot, especially when you consider the amount of turnover that occurs among NFL head coaches on a routine basis (there have been 22 firings just in the last three years). In other words, his stats only look significant when you consider them on a percentage basis. The fact is that not a lot of college coaches make this jump, period.
The SEC also took a beating in his analysis, and it's kind of amusing that of the three coaches from that conference who jumped directly to the NFL, two of them were dismal failures (see picture at left for one) and had to come back to the college ranks to regain their winning ways. Considering what the big SEC power schools are paying their head football coaches, they're probably better off anyway.
Still, I couldn't get over how much Maisel was leaving out when he ran his back-of-the-envelope numbers. For one thing, the coaches identified are heavily concentrated around two schools: Stanford and USC. For another, many of the coaches on the list have struggled in the NFL ranks, which might explain why we don't see this jump happening that often. 
Then there is the standard conventional wisdom that the Pac-whatever has always been a "wide open" conference featuring high-flying pass-happy offenses that simulate the NFL game more closely than, for example, that nasty old Big Ten with its lumbering run-heavy attacks. To Maisel's credit, he didn't jump into bed with that story, but he did flirt with it a bit.
To answer this, and perhaps provide more depth on the subject, I thought I would take a closer look at some of the high-profile examples given in the story. Is there really an advantage to being in one particular conference when NFL owners come calling, or is it just a qualification bias playing itself out in the statistics? You be the judge.
JIM HARBAUGH
There is no question that the former Michigan quarterback has been an unqualified success in both the college football ranks and in the NFL. At Stanford he turned around a moribund program and made it a national powerhouse. And you could hardly do better than he has done since joining the San Francisco 49ers as head coach, leading them to the NFC championship game in his first season and then to the Super Bowl in his 2nd. 
Was the fact that he coached in the Pac-12 a huge factor? More likely, the 15 seasons he spent as an NFL quarterback and the two years he spent as quarterback coach for the Oakland Raiders (one of which included a Super Bowl appearance) was a bigger factor. Outside of being a former NFL head coach, there is no better qualification for the top job on an NFL team than having served as one of the top assistant coaches on a successful NFL team. Not only that, but having lots of connections in the NFL via 17 years of employment there might have helped a bit. 
One more thing to think about: Harbaugh's Stanford teams ran an offense that was more typical of the Big Ten than the supposedly high-flying Pac-12. He used a blocking fullback in their basic offensive set, and often went with two tight ends in a jumbo formation. In his last two seasons there (2009 and 2010) combined, Harbaugh's teams ran the ball over 60% of the time, even with Andrew Luck as their quarterback.
STEVE MARIUCCI
Mariucci was the head coach of California for exactly one season (1996), after which he took the head coaching job with the aforementioned 49ers. By the standards of most NFL franchises, he did quite well during his 6 seasons in San Francisco, winning 10 or more games in 4 of those 6 years. However, the San Francisco 49ers of that time were no ordinary NFL franchise. They had won 10 or more games in 14 consecutive seasons prior to Mariucci taking over, and brought home three Lombardi Trophies in that span.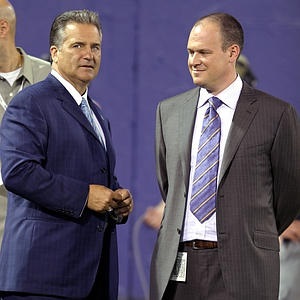 Just winning a lot of games was not enough for the top SF brass, and Mooch was fired after winning 10 games but losing in the playoffs following the 2002 season. His subsequent tenure in Detroit was even more forgettable as he never won more than 6 games in any of his three seasons there.
Did Mariucci benefit from the glow of the Pac-12 in getting the coveted job taking over for 2-time Super Bowl winning coach George Seifert? Perhaps, but his lackluster 6-6 record at Cal would not have impressed many. I'm thinking that the four seasons he spent as quarterback coach under Mike Holmgren, one of the most successful NFL coaches of the last 50 years, were probably a bigger factor.
DENNIS GREEN
The author and performer of one of the most memorable post-game press conference meltdowns of all time is also a Pac-12 alumnus, so to speak. Green coached at Stanford for three seasons (1989-1991) before moving to the NFL to coach the Minnesota Vikings. Green had and up-and-down career as a head coach, winning 10 games or more five times in his ten seasons in Minnesota. His tenure at Arizona was less successful, and he has not coached in the NFL since the Cardinals fired him after the 2006 season.
How did Green move from Stanford to the NFL after compiling a losing record in his three seasons there? It's complicated, but the common denominator is Bill Walsh. Green served as an assistant under Walsh at Stanford in 1977 and developed a relationship with the future legend. He served under Walsh again with the 49ers (sensing a theme here?) before returning to Stanford as offensive coordinator. Having NFL experience and an important connection like Walsh is what can get you a plum job in the NFL even if your college head coaching resume is less than sparkling.
Incidentally, Walsh is another name from Maisel's list. As it turns out, he also went from Stanford straight to the NFL, and again it was the 49ers who hired him! Could proximity have something to do with it, maybe? I'm sure it didn't hurt. It also didn't hurt that Walsh had served for eight seasons as an assistant coach in the NFL, working for the greatest football coach of all time, Paul Brown. 
We could go on and on with this. Another thing that Maisel doesn't mention is that some of the names on his list (Pete Carroll, Dennis Erickson) had already been head coaches in the NFL before coaching in the Pac-12 and then jumping back to the pros. And he makes no mention of that fact that two of the last three on his list (Carroll and Oregon's Chip Kelly) made the jump at least in part because they were anticipating future NCAA sanctions that might cripple their respective programs.
What do you think: valid analysis or qualification bias? Also, when do you think we will see a Big Ten head football coach make the jump again (it hasn't happened since 1984)? Ladies and gentlemen, the floor is yours.