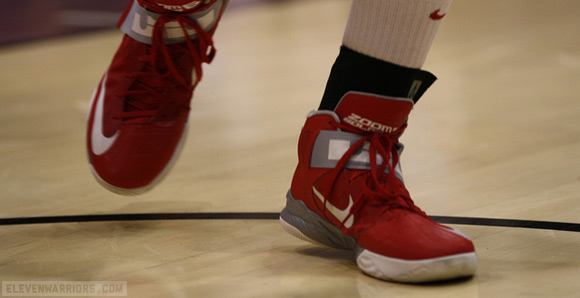 For the first 26 years of his life, LeBron James wowed his home state fans with a blend of skills few had had ever possessed. It came packaged with a quiet resolve and gracefulness amid all the hysteria.
No athlete in the state of Ohio was more beloved than James. He was the patron saint of sports throughout the Buckeye State, perhaps eclipsing Jim Tressel's stature. But in the summer of 2010, James threw most of that support away with one ill-planned decision.
Leaving Cleveland in any fashion was going to prompt outrage. Doing so on national television and playing it off as helping the Boys and Girls Club of the oh-so-impoverished Greenwich, Conn., is another matter entirely. The resulting fury was predictable.
But while many in Ohio developed a strong dislike for James, the feeling was not mutual. He remained devoted to the state where he was born and raised, most especially the city of Akron and the Ohio State Buckeyes.
"I'm a huge Ohio State fan," James told me at the Ohio State-Duke game in November 2011. "Always have been my whole life. I'm going to continue to support them. Not only is it one of the best sports programs we have in America, it's one of the best schools. I've always said if I had an opportunity to go to college that (Ohio) State was on the top of my list. I'm happy to still be here. I would love to get a degree and do those things. We'll see. It'd be great if I could come here."
Dwyane Wade, who was standing next to James, laughed, saying, "Yeah, yeah, just because they wear his shoes and all that stuff."
But this isn't a laughing matter to James. He genuinely likes the Buckeyes and has shown his affinity for the scarlet and gray over the years. In a 2003 Sports Illustrated story chronicling his senior season at St. Vincent-St. Mary, James celebrated wildly in a Los Angeles hotel room after Ohio State defeated Miami in the Fiesta Bowl to win the national championship.
Today, James also has close ties to the University of Kentucky due to his friendship with John Calipari and William Wesley who is better known as Worldwide Wes. The friendship started from James and Calipari sharing the same agent - Leon Rose. But when James dropped Rose for LRMR and childhood friend Maverick Carter, the relationship did not sour. 
James has been to Kentucky on multiple occasions, but drawing the most headlines was a visit in 2011 when he and UK alum Rajon Rondo traveled to Lexington and participated in a day full of pick-up games with the Wildcats. Calipari has used the connection as a recruiting tool and Big Blue Nation has grown fond of James. He's also spent time at Duke with Mike Krzyzewski, the head coach of the Olympic team. 
James still insists, though, that Ohio State was his school of choice had the NBA mandated he attend college. He listed the Buckeyes, Duke, North Carolina, Florida and Louisville as his final five during his junior year of high school. However, James was a member of one of the last draft classes that didn't have to stay at least one year in college. It became clear early on that James would be entering the NBA Draft, so the recruiting hoopla never materialized around the superstar. 
In recent years, James has shown his Buckeye fandom by attending sporting events. He was at the 2006 Texas game in Austin and the 2008 Penn State game in Ohio Stadium. Both times he stood on the Buckeyes' sideline. James appeared on ESPN College GameDay prior to the Penn State game decked out in scarlet and gray.
James was still everyone's favorite son in 2008, and he received a warm welcome from Buckeye Nation. That was not the case when he and Wade strode into Value City Arena for the Duke game. The duo was serenaded with a chorus of boos, something they're familiar with nowadays. The Miami Heat has become one of the most hated teams in sports history. 
"I kind of shake it off at this point," James said. "I'm here to support (Ohio State). Fans are going to be fans, I understand that. This is all about Ohio State basketball, not about LeBron James."
In the past year, with talks of a possible return to Cleveland swirling, some fans have begun to forgive James. Someone who never wavered on their support was Urban Meyer. The Ohio State head coach was not afraid to express his support for the fellow Ohioan even when opinions on James tended to be harsh.
"I'm a huge Ohio State fan. Always have been my whole life."
"I love LeBron James. A competitor, good person," said Meyer, prior to the start of the 2012 football season. "You never hear about anything off the field with him."
Meyer's relationship with James dates back to his days as a two-sport athlete at St. Vincent-St. Mary. As the Notre Dame wide receivers coach, Meyer had his radar pointed squarely on James, who was an All-Ohio wideout.
During his sophomore season, James caught 42 passes for 820 yards and seven touchdowns. The next year brought 61 receptions for 1,245 yards and 16 touchdowns – and a broken finger. By that point, James was one of the top football players in a talent-rich state.
Unbeknownst to Meyer, James was also the top high school basketball player in the entire country. Meyer offered "The Chosen One" a football scholarship from Notre Dame.
"'Thank you very much, I'll consider it,' and his coach started laughing," said Meyer, recalling the exchange with James.
"I didn't know what he was laughing at, so we went down and sat in a room and he said, 'Do you know who that is?' and I said, 'No' and he said, 'LeBron James' and I said, 'Who's LeBron James?' and he said, 'He'll be the next Michael Jordan' and I go, 'Come on.'"
All these years later, it looks like a prophetic statement. James has been named league MVP four times and is competing for his second straight NBA championship. If he retired tomorrow, James would be considered among the game's all-time greats. 
Meyer believes much of the same would have happened if James stayed with football.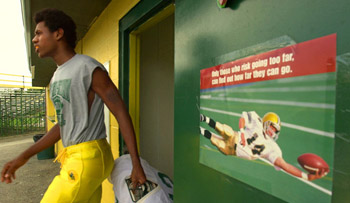 "He would have been a first-round draft pick, a Hall of Famer," Meyer said. "Obviously he's a winner."
The recruitment of James may have been unsuccessful, but Meyer too is rated neat the top of his profession. He's had two undefeated seasons and won two national championships in just 11 seasons as a head coach.
The admiration between football coach and basketball player is mutual. When Meyer was hired, James went to Twitter to express his joy over the move. Asked about Meyer's status as a Buckeye, James said, "I'm really excited about him. Urban Meyer is a winner, all the way from Bowling Green to Utah and then down to Florida. If he brings what he's been able to do, especially with recruiting, to the Big Ten, we could see our school back in the national championship again."
As the college football season nears, Ohio State's time has returned. The expectations after a 12-0 season in Year 1 have expectations soaring. If the Buckeyes do make it to Pasadena, legions of fans will travel west with them.
And one who lives in South Florida, who happens to be the best basketball player in the world, might just accompany them.
"It's amazing. The fans come out and support their team," James said. "There's great team spirit at (Ohio) State."