On July 1st, 2013, Ohio State will finally rid itself of the greatest monster of the 21st century, the man Dave Zirin called "the dark heart of higher education" on national television: Elwood Gordon Gee.
Good riddance, I say. Every day since word of the off-the-record comments were heroically leaked during the doldrums of summer, I have awoken and asked myself, "When will the Ohio State trustees alleviate this headache?"
Up until yesterday afternoon, my prayers had been ignored.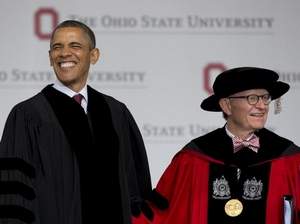 With Gordon Gee on the outs, let's just say I haven't been this jacked up since the United States got the drop on Osama bin Laden, sent a squad of trained goons into his compound, vacated his skull, and entombed that SOB's corpse in an unmarked grave at the bottom of the sea.
Does Gordon Gee deserve the same fate as bin Laden? When objectively looking at the criticism against Ohio State's disgraced leader, it's not a ludicrous question.
Ohio State fans may write the naysayers off as "internet haterz," but they would go against sages like Rick Pitino, Pat Forde, and Matt Hayes.
Thomas Jefferson, who knew a thing or two about unchecked tyranny, would quake in his knickers at the prospect of a cage match against the aforementioned triumvirate of American intellectual muscle. 
When I read the disgusting, dehumanizing comments Gordon Gee made against Catholics, I wondered who would stand up against this monstrous bully.
It sure as Hell wasn't going to be the completely underfunded, not-for-profit Catholic Church.
Every night I clutched my rosary and asked, "Who will come to the aid of a voiceless organization like the Catholic Church against the bigoted president of an institution that made a Catholic the highest-paid state employee?"
The clouds parted on June 1st. From the sky, clad in gold armor and on a chariot of fire, rode Rick Pitino to answer my prayers. This upstanding Man of God socked Gee in his smirking kisser, calling him a "pompous ass" and saying he was "really boiled" by the remarks.
When Gee later apologized, Pitino questioned the sincerity and said "the board made him do it."
Jesus would be proud!
People say God works in mysterious ways, and what is more mysterious than sending a sociopathic serial adulterer who paid for his mistress' abortion to the defense of the Catholic Church?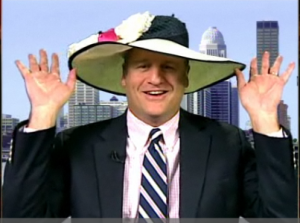 Speaking of products of Pitino's sexual trysts, Pat freakin' Forde dropped the definitive hot take on Gee's shambolic retirement.
Fightin' Forde starts with five(!) one-sentence paragraphs.
He pulls no punches, however, and speculates Notre Dame is laughing at the demise of E. Gordon Gee... another act which would be very Christlike.
Notre Dame is the same institution that killed a student during a windy football practice in November of 2010.
It's also a program that covered-up sexual assaults. One victim committed suicide and the other was too scared of retribution to testify against her attackers. 
Don't worry, though, everyone involved is still employed. (Except the student videographer and the victim of a sexual assault.)
Is this any concern to Forde? Hell no, because when you have two-ton brass boulders masquerading as testicles, no contextualizing is a concern to your self-righteous agenda. 
In many ways, Gee clearly was a successful university leader. The most obvious was his ability to fundraise, helping transform the Ohio State campus and several others he led. 

Time Magazine named him the nation's best college president in 2010. He certainly is among the nation's most visible.
Did these clear-cut reasons why Ohio State made Gee the highest-paid college president in the country stop Forde from using Gee's past off-hand remarks as a vehicle to push his opinions? No, because Forde spits ether, no matter how ugly:
And when it came to greedily chasing athletic revenue via corporate raiding of other conferences – to the detriment of the overall stability and health of college sports – many were willing partners with their ego-driven commissioners. Gee's comments to the Athletics Council championing a "predatory" approach to Big Ten expansion illustrate fully where he stood on that issue.
There's so much ownage in this quote I won't be surprised if Gee retires again later today.
How dare Gee champion a "predatory" approach to Big Ten expansion! How dare he try to proactively navigate the seas of billions of dollars in network TV telecast money!
How dare the president of a conference's flagship university advocate something benefiting the conference to which that university belongs!
Why doesn't he advocate a passive approach to Big Ten expansion? That way the SEC and its cohorts can pick apart the B1G's corpse a few years down the road.
To what depths do the horrors of the Gee administration delve? Matt Hayes, senior writer at one of America's premiere investigational outlets, Sporting News, answered this question with the logical opinion Ohio State is "the most blindly loyal and recklessly protective culture in college sports."
Move over, Jerry Sandusky, there's a new Sheriff in town!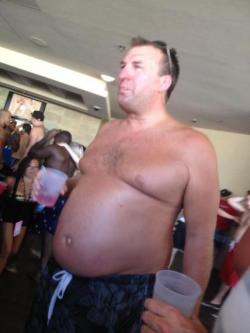 It was only a joke. It was just a lie. It was only a gold pants trinket.


The world is too sensitive, you know. Like no one has ever lied at their job. Like players shouldn't be able to sell something given to them by the university.

And on and on and on.

Until, that is, someone in the most blindly loyal, recklessly protective culture of any college campus in America decides enough is enough. Then they just cut you loose and let you bleed.
Who amongst us can't remember what a blackeye it was for Ohio State when Gee delivered an impassioned defense of Terrelle Pryor's intrinsic right to sell memorabilia given to him by the university?
I was on a 72-hour bender like Matt Hayes when this quote dropped. I'm not sure if it happened, but the Hague should check it out because it sounds like Gordon Gee may have committed a war crime.
Also, is there any way we could get an identity on this "someone" who cut Gee loose to watch him bleed out? I would hate to see Ohio State go the route of many developing countries by replacing one bloodthirsty autocrat with another.
If this "someone" can pull strings like that, are we sure we've even begun to unravel the enormity of Ohio State's crimes?
Gee has been offending people and embarrassing the university for years. His latest insults of Notre Dame, Catholics, Louisville, Kentucky, the SEC, Bret Bielema—have I missed anyone?—finally did him in. Prior to that, he was the weird uncle who raised a ton of money, so the university put up with him.

Tressel had become so beloved and so successful at Ohio State, he was as untouchable as Woody Hayes. That's right, the same Woody Hayes who wasn't fired—despite legendary antics—until he was caught punching a player on national television.
Get 'em, Hayes! Of course, Jim Tressel, a man unceremoniously fired, was as untouchable as Woody Hayes, another man unceremoniously fired. 
What shining examples of unchecked power run rampant in college sports: Two dudes who were fired for their misdeeds! 
This piece is heading to its thunderous conclusion.
Go ahead and make fun of the guy who killed trees in Alabama. Or the Tennessee fans who named their kids Peyton.

No one does crazy like Ohio State.

More than 16 months ago, Ohio State welcomed new coach Urban Meyer with open arms, despite the odd and controversial way he walked away from another mega program. Blind loyalty, all right.

Makes you wonder what Meyer will have to do to eventually get run.
Ohio State fans shouldn't make fun of a man who poisoned a grove of trees due to a backwater college football rivalry, no sir; not when their school employs Gee, a man who kills people.
They also shouldn't make fun of the president of the University of Alabama's defense of racial segregation. Gee told a joke, whereas Robert Witt spoke from his gentile heart. It's that Southern sincerity Northerners know nothing about.
E. Gordon Gee Steps Down
Ohio State fans were foolish in welcoming Urban Meyer. We thought we were getting a young, charismatic coach with national titles.
It was much darker than that. Will Urban sacrifice a virgin in the bowels of the Shoe to gain acceptance into the tight-lipped crime family running rampant at Ohio State?
Only time will tell.
... When all this criticism against  Gee is added-up, who isn't awestruck by the deep critical thinking required to amass such a sweeping indictment?
I am a simple-minded hypocrite incapable of getting out of the way of my self-righteousness and preconceived opinions.
That's why E. Gordon Gee had to be shown the door.