Toledo 2011. Navy 2009. Ohio 2008. Wisconsin 2008. 
These  games were just four ugly, unfulfilling wins against decidedly inferior opponents from the last five years. Sure, the Buckeyes won each of these, but it certainly didn't feel like it.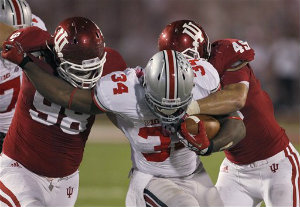 The traditional wisdom is that college football teams find their groove about midway through the season, so early games can often be closer than we would expect and hope. 
The important thing is whether these close wins can be chalked up to the team still trying to find its identity or whether they are harbingers of future losses. 
The deeply unsettling, last-second win over Toledo in 2011 was just a preview for the coming offensive issues that team would have. Bauserman showed his ceiling as a quarterback, the running backs averaged just slightly over three yards a carry, and the defense failed to get consistent pressure on the quarterback. These issues would show up time and time again that season. 
What if the Buckeyes are a little slow out of the gate against Buffalo or San Diego State in 2013? Would we be alright with that? Would it mean anything? 
With those questions in mind I took a look at last season's unfulfilling wins. Honestly I had trouble complaining about much from last season because the Buckeyes went 12-0, Urban was our head coach, the offense was always exciting to watch, and the defense showed signs of improvement late in the season. 
The chart below is my attempt at putting some numbers on that unsettling feeling. All else equal, there were a lot of opportunities for ugly wins in 2012, with 12 total wins to choose from, potential growing pains with a new coaching staff and scheme, and after coming off of a 6-7 season. 
|   | MiA | UCF | CAL | UAB | MSU | NEB | IN | PU | PSU | IL | WI | UM |
| --- | --- | --- | --- | --- | --- | --- | --- | --- | --- | --- | --- | --- |
| F/+ | -40.5 | -12.3 | -29.9 | -37.9 | -2.2 | -3 | -29.4 | -29.8 | -7.9 | -39.2 | -2.5 | -3.6 |
| Spread | 20.5 | -1.5 | -10 | -21 | 3.5 | 22 | -16 | -10 | 10.5 | 5 | 8 | 1 |
To get a handle on quantifying ugly wins, I pulled F/+ and Vegas betting data to determine the games where the Buckeyes should have won big, but just squeaked by. For both measures I highlighted the "ugly" games in red.
F/+ gives us a statistical estimate of team strength, so I looked at the biggest differences in F/+ between OSU and its opponent, then listed the differences above. I then highlighted the games with closer than expected scores.
Next, I considered the Buckeyes' closing line compared to the final score to determine which games the Buckeyes performed worse than Vegas had projected. I listed the difference between the spread and the outcome in each cell - negative numbers indicate games in which the Buckeyes failed to cover the spread. 
Observations: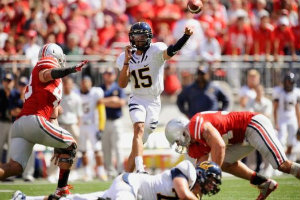 A few initial reactions: Just like we've said before, the Buckeyes should have won every game they played last season, though the F/+ numbers have Ohio State, Michigan State, Nebraska, Wisconsin, and Michigan as all roughly similar (they're ranked within six places of one another across the entire FBS). Vegas only picked against the Buckeyes twice, by a total of 3.5 points. 
So while going undefeated was certainly not guaranteed, it was not a totally incredible outcome given the schedule and statistics. 
Second, there were far more ugly wins than usual last season. Of the games in red, I don't think UCF really qualifies as an ugly win, but UAB, Cal, Indiana, and Purdue were definitely ugly. 
After the UAB game Meyer said that, "It's glaringly obvious we've got to get a lot better or we won't win next week. I really had confidence this was going to be an Ohio State-looking team, and it wasn't." Sure, some of that is motivational coach speak, but Meyer was being honest - the team displayed poor tackling, bad coverage of short passes, a weak passing game, and an ineffective run game without Miller breaking big runs. 
It was more of the same against Indiana, as the Buckeyes gave up 352 yards to Indiana's quarterbacks. The game never really felt in doubt thanks to the explosive Buckeye offense, but the early season problems on defense still made the game close. 
If there was any lesson from the early season ugly wins, it was that the passing defense would give Meyer fits during the conference schedule. Purdue's Caleb TerBush hit Akeem Shavers for an 83-yard touchdown on the very first play from scrimmage in a game that would ultimately be decided by Kenny G's overtime heroics. 
The problems behind last season's ugly wins were recurrent throughout the season, but the Buckeyes never lost a game because of them. In many ways the Buckeyes were lucky in that respect.
However, as bad as the wins over UAB, Cal, Indiana, and Purdue were, the wins over Nebraska and Penn State were equally impressive. Nebraska was just three points away from the Buckeyes in F/+, while the Buckeyes were only favored by three points. As you're aware, the Buckeyes exploded for 63 points and covered the spread by 25. 
All of this is to say that ugly wins probably do say something about how the team will do down the stretch. If the Buckeyes are to continue onwards to 26-0 and a national championship, then they will likely need to overcome some ugly, close wins early on. It will be important to pay attention to what the Buckeyes struggle with during these early match ups.